Leveraging Weven Tools Leading Up to an Event
The logistics that go into creating a successful experience for your clients should not leave you (or your clients!) feeling overwhelmed.
As a venue host, it's important to ensure the wedding planning experience is as seamless as can be for both you and your clients. Executing an event successfully by syncing the full lifecycle of a venue-client relationship into one place with Weven's venue management system allows for efficient and necessary collaboration.
To help guide hosts, we created a detailed timeline on how to leverage your Weven tools in the months leading up to an event, the weeks and days prior, and even ways to make the most of the system post-event!
 
Table of Contents:
2-3 Months Out
1 Month Out
Week/Day Of
Past Event
 
2-3 MONTHS OUT
 
Final Tasks
Tasks and reminders help set expectations and eliminate the feeling of being overwhelmed. You no longer have to notify your clients when an action item is due on their end - instead, set up reminders for each task to Weven will send notifications automatically!
By providing your clients with clear guidance on what and when is expected through tasks, you are paving the way for a successful event. When your couples log into their Planning Portal, they'll see all of these necessary to-dos and can mark as "complete" as they work through the list. As the venue, you can click into each event to see tasks at a high-level and quickly understand where each event stands.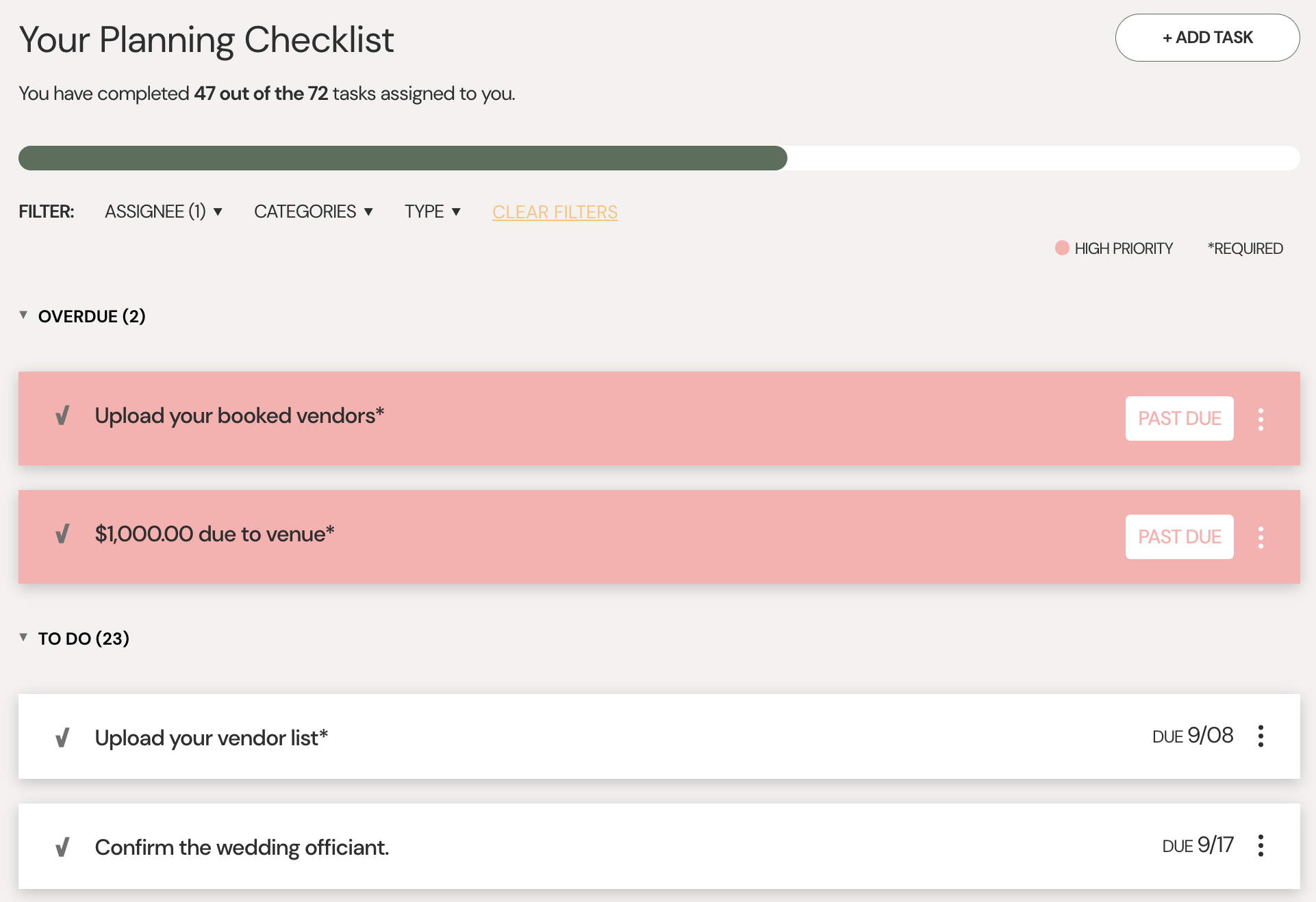 COIs + Documents
The Weven system allows you to easily collect and manage all of your clients' documents in one place. Through their Planning Portal, your clients can upload their floor plans, seating charts, COIs, and so much more, providing important insights for you and your team. With all key documents in one central location, all parties have clear, actionable steps for planning which eliminates searching in your inboxes for them. You will receive automatic updates when your clients upload key documents, vendor information, or other event details into the system.
Notification Preferences
Have multiple teammates at your venue handling different responsibilities leading up to an event? Make sure each user sets up the necessary notification preferences so you only receive emails from Weven about the important information. The person managing financials may only need Payment Alert notifications, whereas your in-house event planner might need to be notified each time a client uploads a document to updates their event details. Apply the relevant changes by heading to Settings, selecting Host Profile, then open Your Preferences.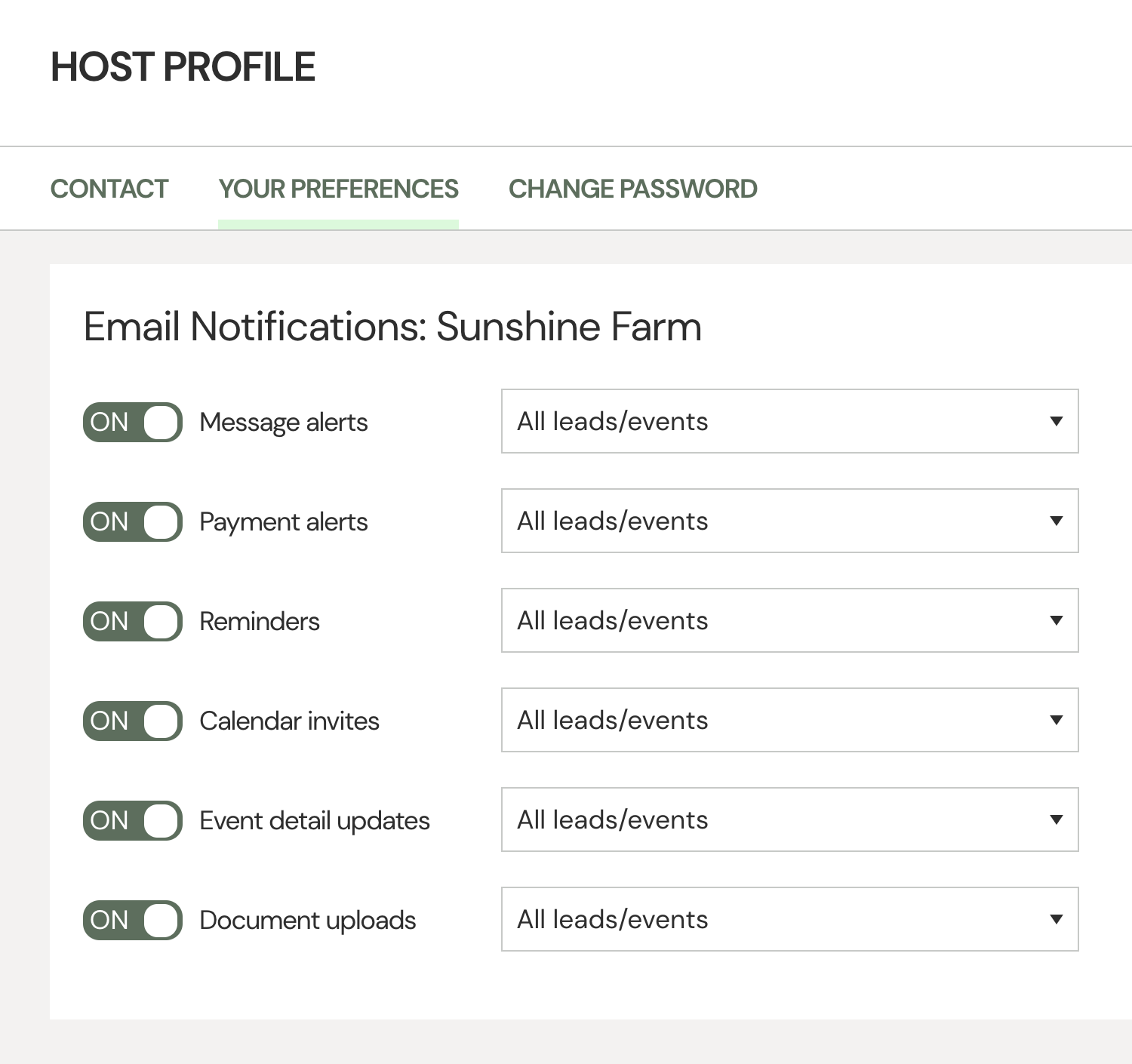 Adding Necessary Users
Planners, Financiers, & Supporters
Couples may have friends, family members, planners, etc. who are involved in the planning process. With different user permissions, couples can invite whoever necessary to join their wedding planning portal.
Planner: Couples can give their planners access to the Planning Portal so they may upload documents, add vendors, etc. on their clients' behalf. This is a great way to make sure everyone is on the same page. Also, everything can be printed for those day-of binders!
Financier: Say mom or dad is helping with payment but the couple doesn't want them having access to change important event details in the portal. Financier role allows them to complete payment links but not make changes to planning details
Supporter: Great for MOH/family/friend who the couple wants to have some insight into the planning, but not be able to make changes, get involved in correspondence, etc
 
1 MONTH OUT
 
Generate Links for Outstanding Payments
With Weven's venue management system, you are not only able to request payment from clients, but also automatically send reminders for those payments. Consider saving additional reminders with greater frequency (i.e. daily starting 1 day after due date until complete) increasing the reminder frequency for any outstanding payments this last month as you get closer to the event date. Automatic reminders are a helpful way to 'nudge' your client about final payments.

Requesting Final Details
At this point, make sure you have everything you need o collect from couples, such as seating charts, guest counts, guest meal selections, etc. For efficiency, you can add an attachment link to a message that sends clients directly to the Document Upload tool. (When messaging, Request > Document Upload)
If you are interested in using the Document Builder Tool to create a questionnaire or timeline form, reach out to your Weven CSM!
Confirming On-Site Accommodations
Have on-site accommodations? Reach out to your Weven CSM to create a form for collecting room assignments, selections, etc.
Setting internal to-dos for the team
Your couples will remember your attention to detail, so make sure you and your team have all your ducks in a row by creating tasks that are assigned to the venue. Does the lawn need to be mowed on the Tuesday before an event? Create a task and either mark as "visible to the client" if you want to provide peace of mind, or set as visible only to your team so it remains internal-facing.
Check in with Coordinators/Planners
This time is when the "admin" of the team should have visibility into what the coordinators and planners of the event have been organizing — at a high-level, you can easily see their status and make sure everything is lined up and scheduled accordingly for the event day.
Double-check Your Notes
Notes are a great way to share updates about events or check in on the status of other team members. Be sure to look back into your notes section for any forgotten internal notes at this point to prevent potential miscommunication! These notes are private to your venue and can be printed out for easy reference.

WEEK/DAY OF
 
List of Vendors
Head over to the Vendors tab on your dashboard to pull contact info, print out a hard-copy (or stay digital, save a tree!)
Final Documents
Within the Documents Tab, gather all necessary documents to print and have on hand, such as COIs, timelines or floorplans for the event.
Final Payments
Day of expenses that can be generated on the go (ex. last minute amenity add-on, extending the rental period an extra hour for more set-up time, etc.) Any day-of expenses can quickly be paid via credit card!
Day-of Timeline
By taking advantage of Weven's document builder, both you and your client can generate a 'Day-Of-Timeline' to reference on event day to stay organized and save time enjoying the special day.
 
PAST EVENT
 
Internal
Set internal tasks to remind yourself of post-event tasks, such as returning your clients' security deposit. Remember to say congratulations to the newly-weds and thank them for choosing to have their special day at your venue with internal tasks. Maintaining relationships with clients is very important for referrals! To make things easier, venue hosts can set up venue-assigned a task due 12 months from event date as a reminder to wish the couple a happy anniversary.
Update your vendors! Had a vendor come onto the property and really left an impression? From within a past event, navigate to the clients' list of vendors to quick-add a vendor you'd like to recommend to your clients in the future.
For Client
One of the best ways to gather pictures of events at your venue is to ask previous couples to have rights to their photo galleries. Create a task for the client to send over a link to their beautiful wedding photos and share the love on your social media, website, and more!
Ask your happy newly-wedded clients to leave a review of their experience celebrating at your venue. We suggest waiting 3 weeks after the wedding to reach out to your couple asking them for a review (ideally after they have gotten back from their honeymoon). Try not to reach out too late - reaching out close enough to the wedding helps them write an honest and excited review. Venue hosts can also set up venue-assigned tasks as a reminder to request couples to leave reviews!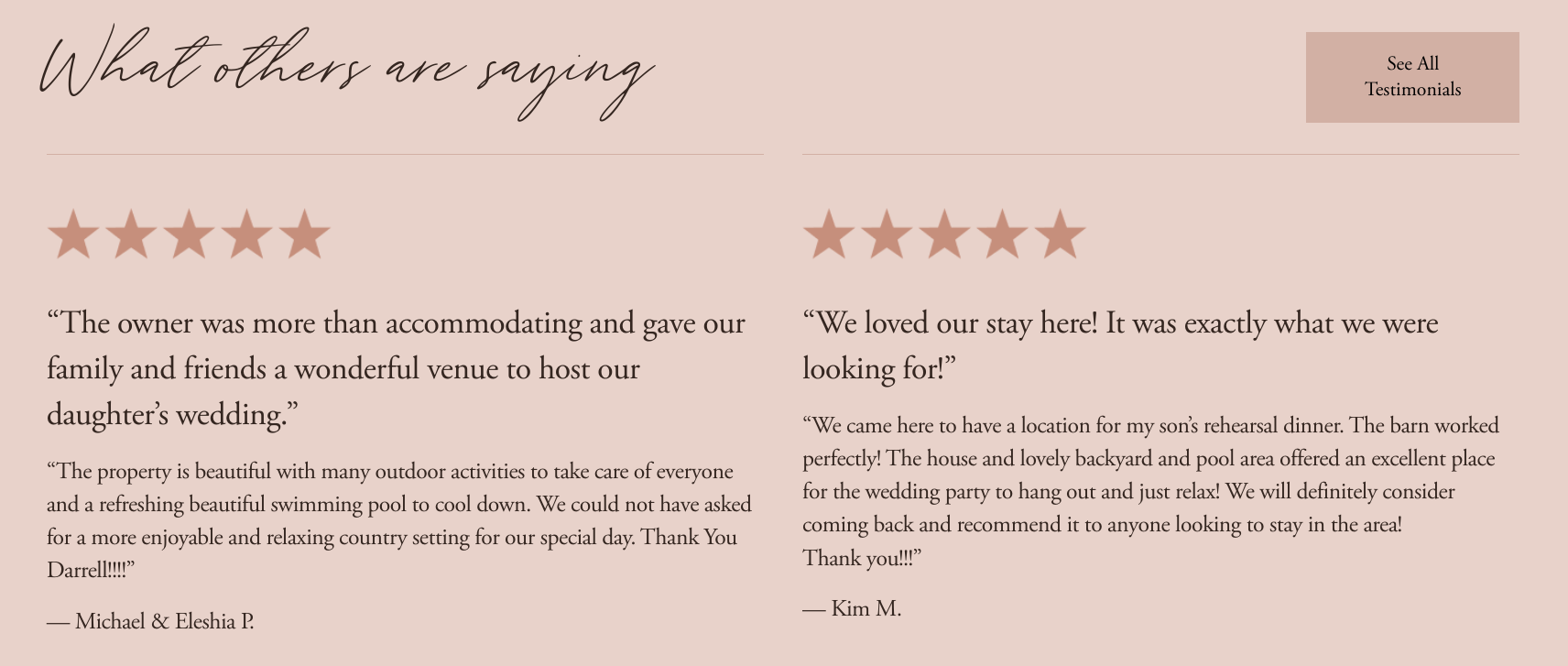 (Credit: The Melissa Barn at HD Ranch)
 
By leveraging Weven's tools, it makes it easy for you to streamline your events and give your clients an overall better online planning experience from start to finish.
 
If you are a current Weven venue host and would like to learn more about a specific feature, head over to your 'Resource Library' for tips, tricks, and best practics.
Not a Weven venue just yet and looking to streamline your events? Schedule a Free Weven Demo with our team today!