How to Get Couples to Give Your Wedding Venue 5-Star Reviews
Just like we would ask our family and friends for recommendations, online reviews can influence consumers' behaviors and strengthen a venue's credibility.
Positive reviews have the power to gain customer trust - which is pretty important for couples looking for a venue to plan their big day! Price and reviews are the two biggest determinants for couples as they consider contacting wedding professionals for their big day (WeddingPro).
We've compiled helpful tips and answered common questions on getting 5-star reviews for your venue! (for both brand-new and established wedding venue hosts!)
 
"Is it too early to ask my clients for a review?"
It's important to ask clients to write a review on their experience at your venue when everything still feels fresh - this allows your clients to write an honest and exciting review! We suggest asking your clients for a review within 1-3 weeks post-event. Before hitting the one month mark is ideal - it is likely enough time to have gotten back from their honeymoon and post-wedding festivities, yet close enough to the wedding date.
Weven Pro Tip: With Weven's task features, you can create post-event internal tasks assigned to the venue to remind yourself to email over a review request.
 
"I want to have my clients comment on a specific amenity we offer - how can I get them to leave a review on it?"
If you are looking to have your clients leave a review regarding an amenity your venue offers, you will need to personalize your message to them and ask about it specifically. For example, if your venue has newly renovated on-site accommodations, craft a message asking about their experience, such as:

"I thought for sure this couple we hosted would leave a review for us but they haven't yet!
To better your chances of getting a client to write a review for your venue, it's best to make their review process as easy and convenient as possible. Some tips on doing so:
Include a direct link to the desired site you would like a review on (ex. Google, Facebook, etc.)
Provide a sample review for them to go off of
Be specifc what you are asking and ask direct questions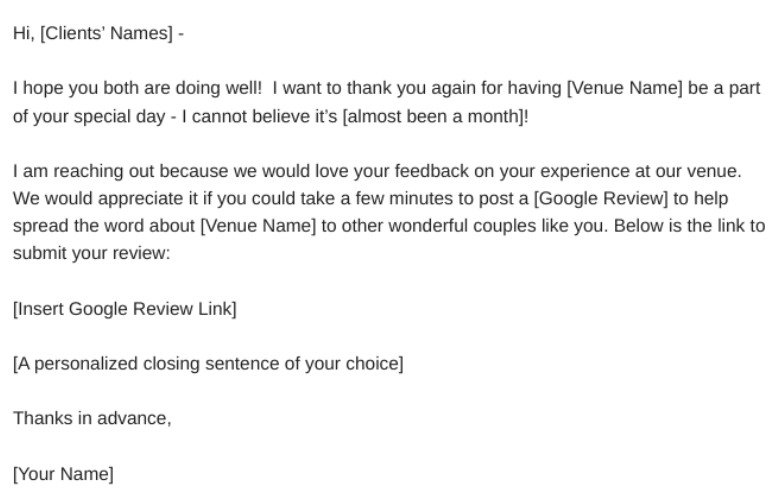 "I recieved an amazing review from a client on my Facebook page - can I reuse it on other sites?"
Although you cannot share this as a review on other sites directly, you can showcase them through social media posts, email newsletters, your website, etc.! Check out some wonderful feedback clients wrote about these Weven venues:

"Help! I recieved a negative review - what do I do?"
When it comes to getting a negative review, be sure to give yourself some time to understand your client's concerns and what exactly made them unhappy before jumping to the keyboard. Come up with a thoughtful response and acknowledge what went wrong. Offering a short and sweet, yet sincere apology can help make things right with a negative situation. Unforutnately, you cannot always change the opinion of the clients, but the way you go about repsonding to a negative review can ease concerns of future clients looking to book your venue.
"73% of consumers would overlook a negative review if the brand posted a thoughtful response." (Power Reviews 2022)
Not a Weven venue yet? Schedule a Weven Demo with us to learn more!