New England Summer Camp Venues for a Perfect Nontraditional Wedding Weekend
Do you want to get married in a quiet embrace of nature and have 100+ of your closest friends and family hang out together, play lawn games, swim, and have a cookout-style breakfast in the morning?
I mean, yes. Right? A summer camp wedding venue might be your option. Nontraditional and outdoors-oriented, we love how customized summer camp wedding venues can be for each couple's unique personality. Groomsmen versus bridesmaid soccer match? Family mix-and-match volleyball tournament? Or just sitting by a tall fire relaxing with your favorite drinks and some s'mores after a long night of dancing and celebrating?
 
Why Summer Camp-Style Weddings Are Becoming More Popular:
With a summer camp wedding venue, you get to customize the space to be a world of your own for guests for a single night or entire weekend. We love seeing couples use a nontraditional outdoor venue to create an experience for their guests they would never get elsewhere. Like all Weven venues, you can book your summer camp and will be allowed to bring any wedding vendors you prefer - your favorite caterers, that DJ or band you love, a bartender to mix all your favorite drinks, etc. And maybe best of all, this customization and celebration are happening in total privacy. Our summer camp venues block out the entire weekend for your wedding, so you and your guests are alone to celebrate and take in the full joy of the wedding you created!
Whether hidden on the edge of a lake with mountain views in Maine or sequestered in a pine forest on the south shore of Massachusetts, we have some private and gorgeous summer camp wedding venues. Many of these spots include cabins for your entire wedding party to spend the night - so these venues are more than just a one-day opportunity.
 
Mansfield Center, Connecticut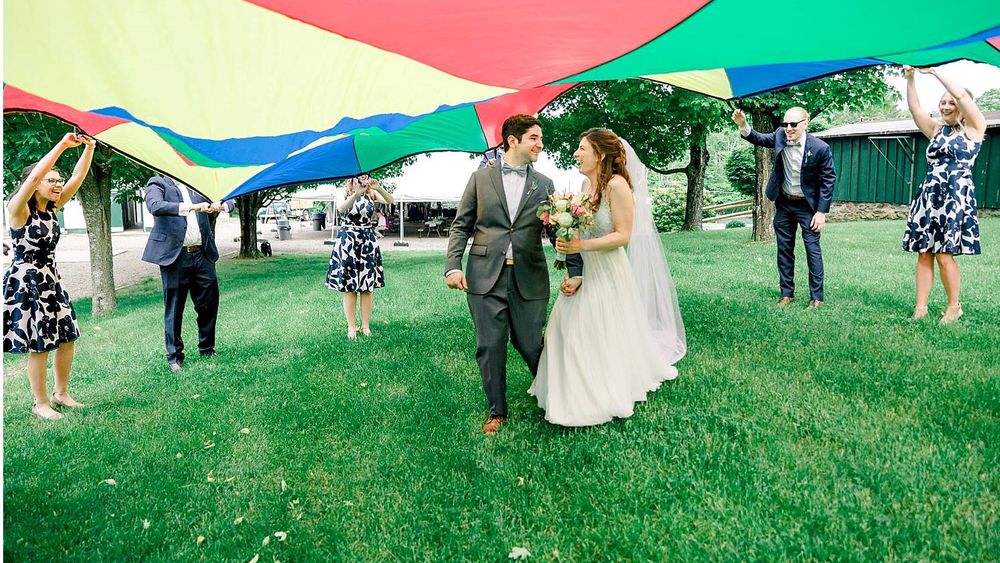 Photo Credit: Danyel Stapleton Photography
Just 40 minutes outside of Hartford, CT, Holiday Hill pairs an elegant lofted post-and-beam barn with the amenities and fun of a traditional summer day camp. Utilize the indoor barn space for a ceremony site, cocktails and dancing, or intimate seated dinner. For larger events you'll have access to the on-site 60'x90' tent for up to 280 guests for a fully tented outdoor reception.
Looking to enjoy an entire weekend filled with family, friends and relaxation? This venue features over 25 acres with walking trails and countless sporting courts and activities. From its two 25-yard swimming pools, to its basketball courts, children's playgrounds, miniature golf course, and softball and soccer fields, your guests are sure to find something to enjoy, leaving memories that will last a lifetime.
 
Oxford, Maine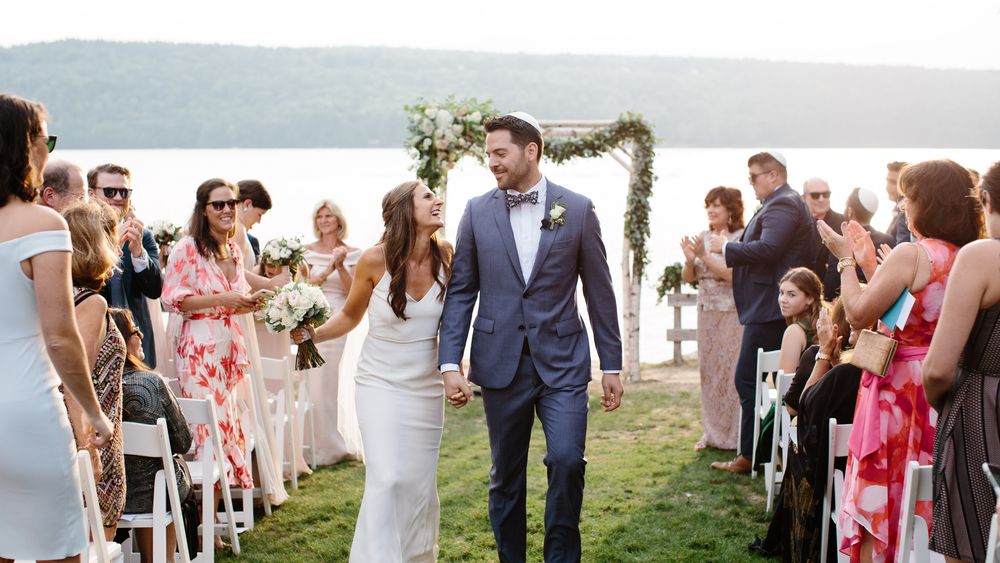 Photo Credit: Lara Kimmerer Photographer
 
When you want your wedding to be a full weekend of friends and family coming together, there is no better place than having your own private lakeside camp in Maine. Away from all the distraction of the city, guests can have their own private cottages fully equipped with beds and bathrooms. During the day guests can paddle in the lake, organize inter-family soccer matches or hike in the surrounding acres of pristine Maine wilderness.
With the expansive grounds couples can choose to have a ceremony in a private wooded area, surrounded by the tall oaks and pines of the Maine wilderness, with no sounds but that of the music for your ceremony. Or couples can have a lakeside ceremony looking out of the rolling hills of southern Maine, facing due west to capture a perfect sunset behind the bride and groom. Several large fields near the cabins provide plenty of opportunities for tented receptions where couples can create their own ambiance and experience. Or the hand crafted wood timbered lodge in the center of camp can be the perfect venue for an indoor seated reception.
 
Duxbury, Massachusetts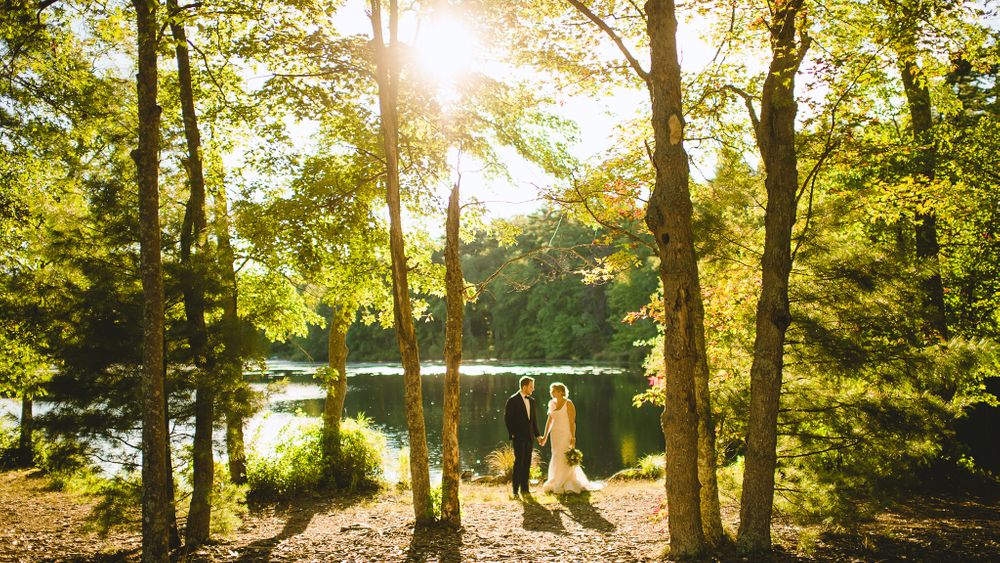 Crossroads' scenic location is perfect for celebrations including weddings, bridal/baby showers, family reunions, and more. With beautiful pond and lake views, acres of lush woodlands, and historic buildings, Camp Wing offers many unique and beautiful options for your event.
Camp Wing offers a flexible service in a quiet, rustic location in Duxbury, MA. We can offer a variety of overnight accommodations, meal service options, fun activities, ceremony sites, and attentive staff. With pond views, acres of woodland, and historic buildings that can accommodate up to 250 overnight guests, Camp Wing offers many unique and beautiful options for your special event. By hosting your wedding at camp, you join a community dedicated to giving every child the opportunity to be safe and succeed in life.
Bedford, New Hampshire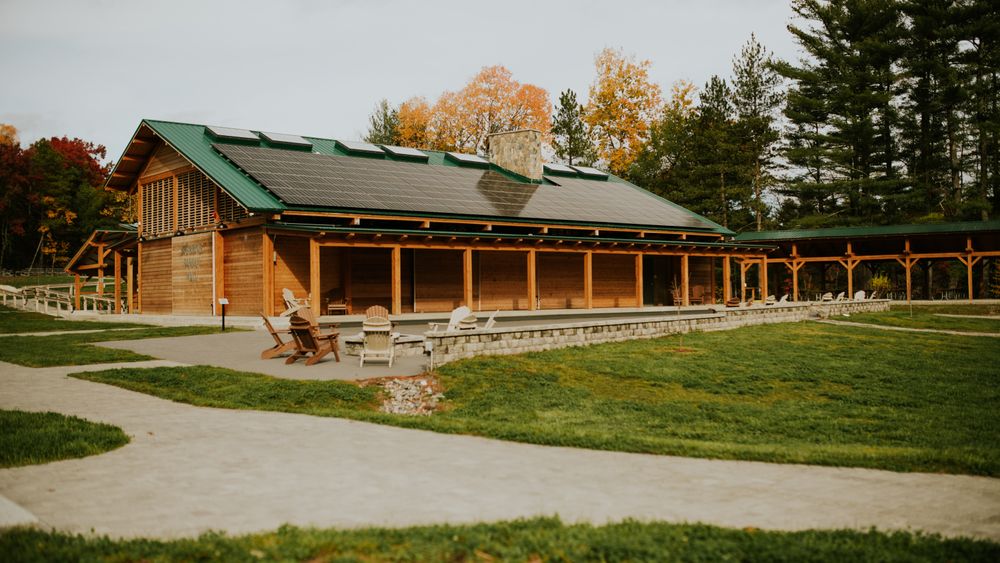 Photo Credit: Antoinette Photography
Just an hour from Boston, this charming summer camp owned by the Boys & Girls Club of Manchester is perfect for indoor or outdoor weddings for up to 250 guests. With open fields and beautiful outdoor pavilions, you and your guests will enjoy the perfect setting for a truly custom wedding. Camp Foster is a newly renovated 22-acre venue that offers a beautiful, unique backdrop for your wedding or corporate event. Located off Back River Road in Bedford, NH, Camp Foster has easy highway access and over ten hotels within a 15-minute drive.
You can choose between the Amphitheater or the Flagpole Circle for their outdoor ceremony. The camp has many options for your cocktail hour and reception sites, including 2 pavilions made of Vermont Timber, 2 tents and an indoor hall with a large farmer's porch.
Scarborough, Maine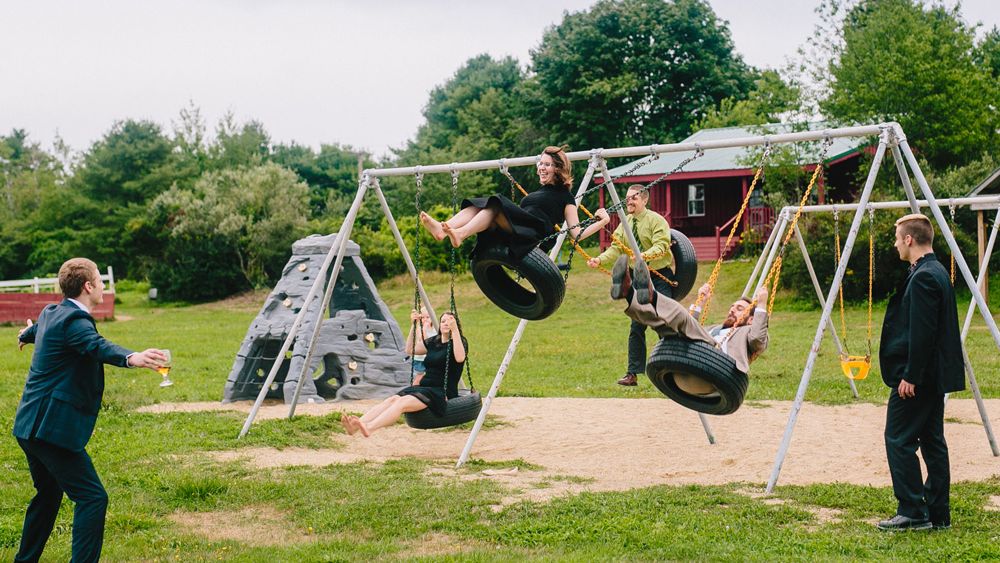 Photo Credit: Zac Wolf Photography
 
Ketcha Outdoors offers beautiful indoor and outdoor rental space, available year-round for you to create an event as elegant or as casual as you want it to be. Our facility is ideal for your intimate party, a large reunion or anything in between. Whether you choose to hold your event inside, outside or both, our accommodations are sure to exceed your expectations.
Bring in the caterer of your choice, do all the cooking yourself, or hold a potluck. Bring in a food truck to park near the pavilion or fire up one of our barrel grills. Hire a bartender, serve alcohol yourself, or host a BYOB event. Hire a DJ or put on your own perfectly curated playlist. When you choose Camp Ketcha for your special event, you can customize every detail to be exactly the way you want it to be.
 
Check out our full list of unique and nontraditional venues!