How to Use Social Media to Promote Your Wedding Venue
Today's couples turn to social media for all types of wedding inspiration. Top platforms such as Facebook, Instagram, Twitter, and Pinterest can help increase your bookings and promote your unique wedding venue.
"According to the latest millennials and social media stats, 79% of millennials in the US use social media multiple times a day… market research shows that a brand's social media presence impacts 75% of millennials' purchasing" - WBL
Displaying your venue's property, amenities, and recent events on your website is a great way to attract prospective clients, but don't let that hinder you from using social media channels also. Social media is a great awareness tool that can help aid in client discovery and then bring them to your unique website.
Define Your Goals
As a venue host looking to have a social media presence, your first job before anything else is to define your goals and set objectives for achieving those goals. While, of course, your venue sets the stage for couples to enjoy a wedding day tailored to their wants and needs, it is crucial that, as a venue host, you effectively communicate what you want potential clients to know. Utilizing social media is the number one way to do this. Before you begin posting, ask yourself what you want to get out of your social media presence. Are you looking to grow your follower count? Connect with prospective couples? Build brand consistency? Once you know the answers to these questions, choose the social media platform(s) that best help advertise your venue and get started!
Be Intentional With What You Post
Getting in a groove with posting will take some trial and error. What's critical is that what you want to communicate is actually being reflected in your posts. For example, if you want prospective clients to know your venue is limited in space and you're interested in targeting people with a micro-sized wedding in mind, it is important that you don't just tell but you show. Your social media posts should add value by giving people helpful insights into the kind of events they could have. Plus, if they have a nice and easy experience interacting with your venue social media channels, they are more likely to book with you and ditch browsing other competing venues.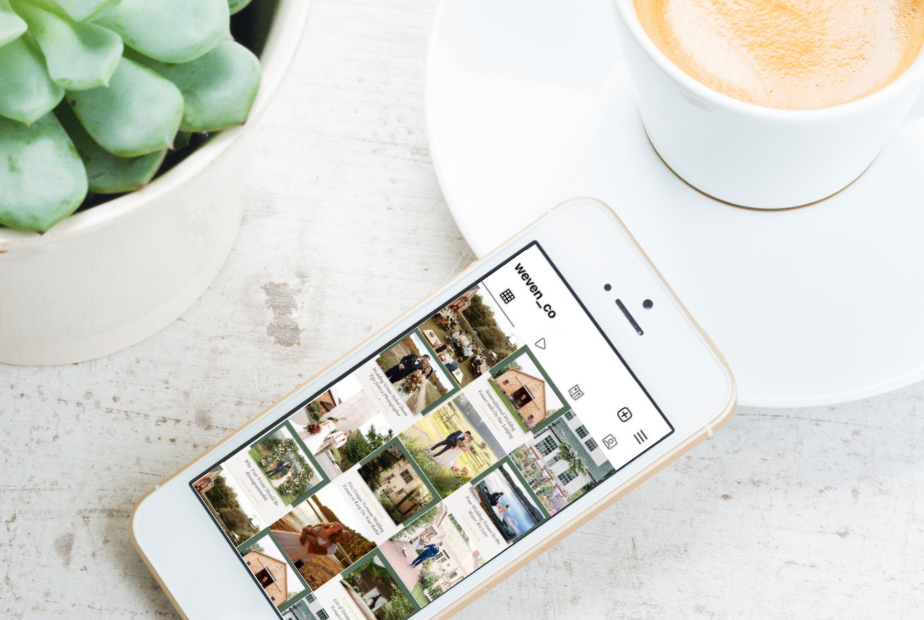 Your Aesthetic is Important
If your posts aren't grabbing the customer's eye in some way, the chances are they are going to scroll right by it. Making sure your posts are pleasant, coherent, and concise is the difference between booking a client and not. Your time is precious, so make sure you maximize it by putting in the effort to craft an aesthetically pleasing post. There are free online editing tools to edit your graphics and pictures of choice - check out one of our favorites, Canva. One useful trick is choosing a filter that compliments your venue's vibe and color scheme and using that same filter in your posts to maintain consistency. Going the extra mile with this will be well worth it!
Stay Active on Platforms
Posting just now and then is not beneficial for your brand. You should be using your social media channels consistently. Think about it: working out once a week will not yield results, you have to practice consistency to see real progress. "The best times to post on social media overall is 10:00 AM on Tuesdays, Wednesdays, and Thursdays" (Hootsuite). It is helpful to establish a content calendar that outlines the times you plan to post and what you want to convey in that post. A combination of consistent posting and good interaction with followers is the best practice! Getting into the habit of replying to follower comments and DMs will help create a positive brand image of reliability, signaling to prospects that your business is actively being managed and follows-through with a variety of inquiries. This should not feel like a chore, but more like you're checking in on your friends to see how they are doing, what they are looking for, and answering any questions they may have.
Be Organized
Staying organized can be easily maintained with social media management platforms to help keep your interactions in one place, similar to how Weven helps keep the venue management process in one place. Social media management platforms, such as Hootsuite, help you schedule your posts to make the frequent activity less overwhelming, while also allowing you to save time. Another valuable trick is to insert a URL link to your website in your social media bios. It is valuable to make sure that when you do get people's attention and interest, there is a simple and organized process for customers to access your website and/or express their interest in your venue. This way, interested customers can easily view your page and venue within seconds. You don't want your prospective clients to have to jump through hoops - help them out with this quick trick.
Stay Relevant
You want to make sure you are staying up to date. Integrating hashtags in your social media posts is a great way for potential customers to find your accounts and engage with your content. According to The Small Business Blog, "Using hashtags with your tweets can increase their engagement by 100% for the individual, and 50% if you have a brand… [For Instagram] If you use just one hashtag on a post, it is going to get 29% more interactions...".
Hashtags are a way for accounts, like yours, to label or tag content so that users' interest in that topic can easily search a "hashtag" and find the content they are looking for. Using hashtags to properly label your content like this can help you increase your brand's reach and get in front of the most interested and relevant users. For example, if you use the hashtag: #uniqueweddingvenues, people who search "unique wedding venues" are more likely to view your post because social media categorizes each hashtag. Buffer Marketing Library includes the top rules of thumb for what and how much to hashtag, depending on the social media platform. Hashtags are a must in your marketing toolbox–using and viewing trending hashtags are great practices to up your social media game!
Showcase Your Past Work With Clients and Vendors


Photo Credits: Photo 1 & 2: Steve Steinhardt; Photo 3: Jag Studios
Showing photos of past events you have hosted at your venue gives interested customers a better understanding of your venue. Not only that, providing pictures improves your credibility as a venue host and helps you to present like the professional you are. Prospective clients want to see what you got! Show off what makes your venue unique by including photos of the interior, exterior, any beautiful views you may have, and even your favorite captured moments from past clients
Check out How To Help Couples Visualize Your Venue Space to learn more specifics on what you can do to better help clients picture their special day, at your special location. When you do include photographs, make sure to credit the talented photographer and/or vendors that helped make the event special. Crediting vendors is critical to building and sustaining relationships and for boosting engagement with your content. They might just reshare your post to their own followers!
Looking for more ways to boost your venue's online presence? Check out these tips from Weven on How to use Facebook, Instagram, and Pinterest to your Venue's Benefit!