How to use Facebook, Instagram, and Pinterest to your Venue's Benefit
Wedding planners and engaged couples alike are perusing the web for inspiration and education, while vendors like florists and photographers are establishing themselves on all platforms to maximize their outreach. As a venue host, now is the time for you to secure a foothold too, but what should you post and where?
To help you get started, we have included some tips from our Weven Marketing Acquisition Lead, Madeleine Hagy, to make the best use of your social accounts!
Facebook
Why? Facebook has nearly 2.5 billion active monthly users (as of April 2020), making it the most popular social network site to date. 68%, higher than any other platforms, of US 50-64 yr olds use it--think parents of couples!--so Facebook is the best way to capture those eyes. Plus, Facebook's culture of fostering close connections between friends, family, and vendor partners makes it perfect for wedding venues--its channel of relations enables you, as a wedding supplier, to circulate written and visual content that promote your services.
What to do?
Share recent shots from weddings and keep it visual
Talk about how fun the day was and engage with the newlywed or vendors who you partnered with!
Show off crops that are ready to harvest or flowers that are in bloom
Drive traffic to your website/blog/Weven storefront
This improves your SEO(search engine optimization) and exposure
Encourage reviews and highlight positive comments from brides and grooms
Broadcast on Facebook Live behind the scenes set ups of weddings
Facebook users spend 3X more time watching live broadcast than traditional videos
Target specific people like newly engaged couples within your venue's radius
Facebook ads are a productive way that you can spend even $1 a day and reach many relevant users
Best times to post: as with any social media presence, it is crucial to update your page and stay consistent. It can be harmful to leave an unflattering, inactive page up and risk a bad impression, so if you're unable to maintain an account, delete it and focus your energy on perfecting something else. That said, for many accounts the optimal time to post on Facebook is outside of people's work schedule. So after 3pm and Thursday-Saturday are a great place to start. Then, once you have grown your audience, you can use Facebook analytics to determine the best time/day to post for your page.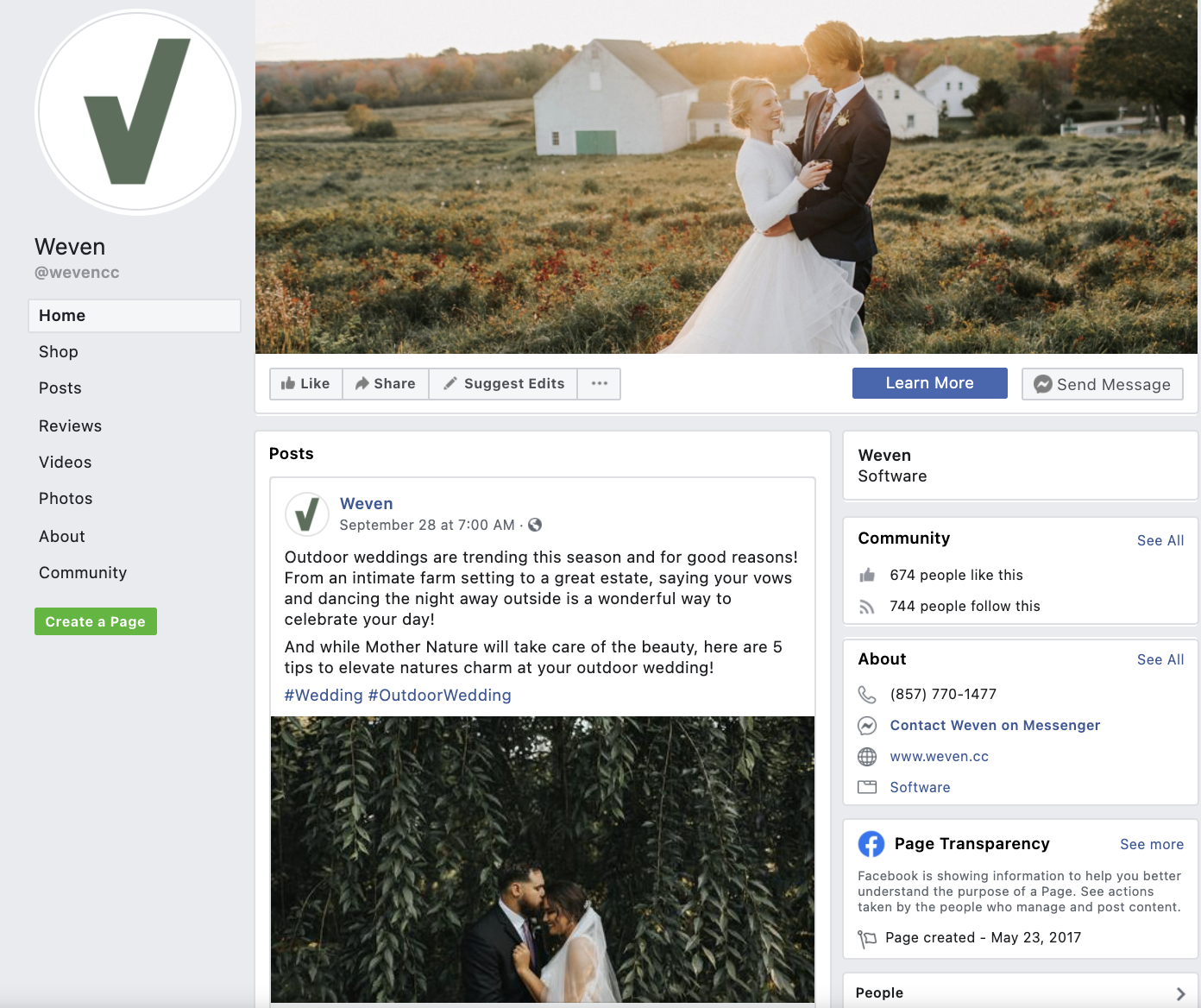 Looking for inspiration? Check out our Weven Facebook page!
Instagram
Why? Instagram is notably very visual, so there is truly no better platform than this one to showcase many amazing photos you have of your venue in its natural form, wedding set-ups, and the following success with happy couples, guests, and animals! 67% of US's 18-29 yr olds use Instagram, making it an effective way to get in front of the younger generations and influence them earlier on. People are now shopping through pictures and tags, so it is quite compelling if you're able to help them visualize their wedding and how they can capture beautiful photos on their big day. Take full advantage of the instant sharing features and culture because Instagram is not only about aesthetics anymore, but also a way to be more personable, authentic, and relatable with your audience.
What to do?
Display quality, well lit photos and don't overuse filters
Be creative on Instagram stories by polling your audience and taking videos of you talking and touring
You can save and highlight related posts together to really capture the art of storytelling
Respond to DMs and interact with users through comments and likes to encourage open communication and facilitate an easy and public forum
Tag vendors and couples and use location tags(to your venue and local area) to promote meaningful associations and create a larger network
Use up to 30 hashtags underneath your post like #weddingvenue, #justengaged, #love, or location-based ones to increase your likelihood of reaching more people and showing up on the explore page
Posts with at least one hashtag averages 12.6% more engagement
Be careful not to repeat the same string of hashtags every time because that may be penalized by Instagram's algorithm
Our Marketing Acquisition Lead Madeleine shares, "Keep people posted on new improvements to your venue! Show crops that are ready to harvest or flowers blooming. And don't forget about your insta story! You can go live and give updates and have fun instagram themes like #floralfriday"
Best times to post: Consistency is always essential, but there's no need to post more than once daily because you don't want to flood the feed. Plus, it's good to make sure what you're posting shows your best work and appeals to potential clients and industry professionals. However, for stories, you can make frequent, in the moment posts since they disappear after 24 hours. Before and after the workday (7am-9am and 5pm-7pm) are great times to post to get interaction and prime engagement, but take note of your Instagram analytics (by switching to a business account) to adapt and acquire the best success.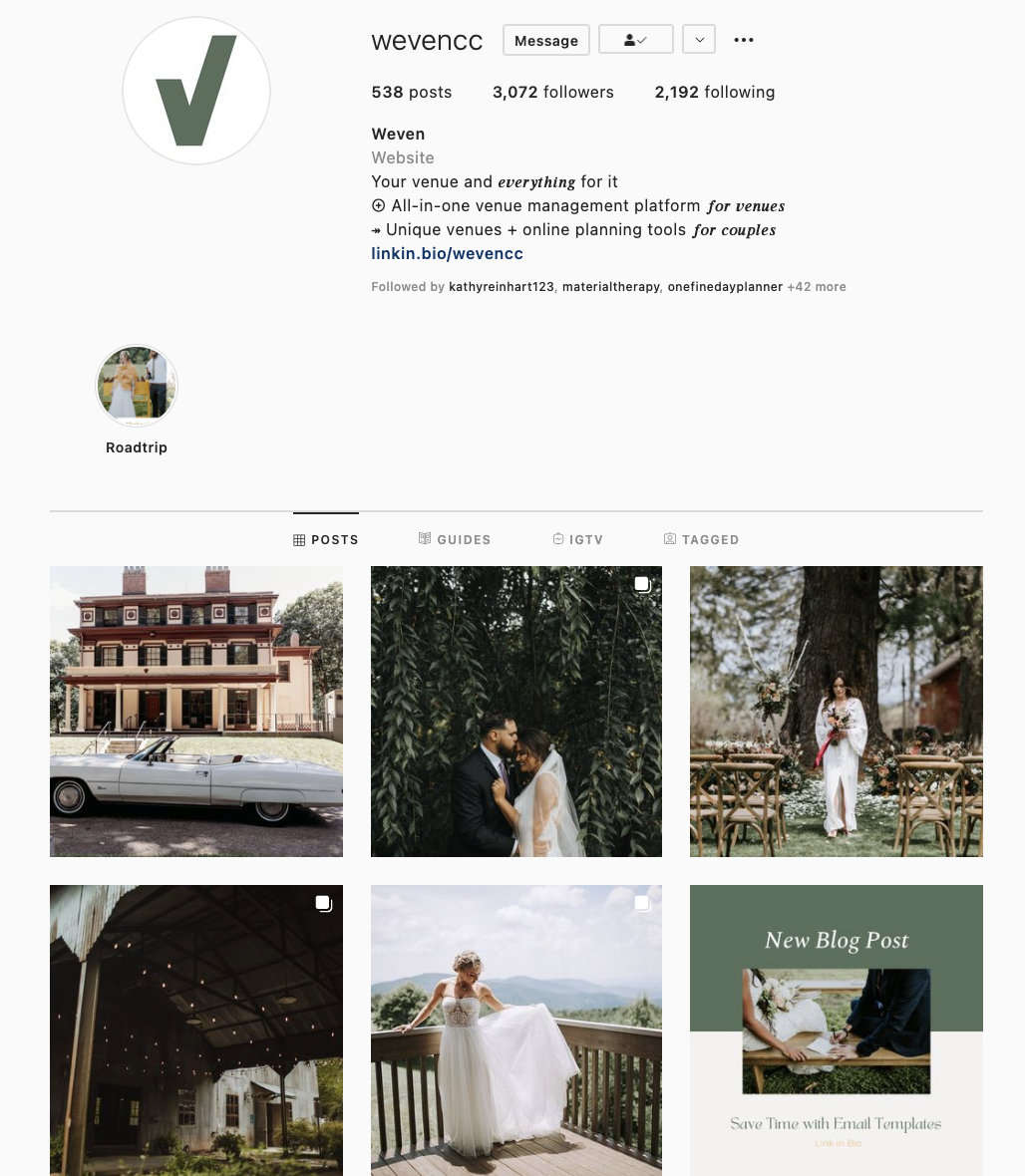 Check out our Weven Instagram page for ideas!
Pinterest
Why? Wedding industry professionals all know the impact of Pinterest with 40 million people who use it to plan their wedding every year. Unlike other social media sites, Pinterest users already have the event-planning mindset and focus and are looking to make decisions, making it perfect for you to influence and market your venue early on in the planning phase. Brides especially traverse Pinterest for inspiration so creating Boards with pictures of your venue and outdoor spaces are exceptional ways to impress them.
What to do?
Highlight the visual appeal of your property and details, details, details!
A report says that photos without faces actually receive 23% more repins so this is where your venue shines and speaks for itself
Include a caption and link back to your website
Follow other vendor accounts in the industry and show them some love
They'll likely do the same for you!
Name and add descriptions to your Board that optimize SEO results
Create at least 10 niche topic Boards like fall wedding or location-based terms
Prioritize the pins that are bringing you the most traffic by looking at Google Analytics
Best times to post: January to March are the busiest planning months and 81% of engaged Pinners actually started their wedding planning on Pinterest before they were engaged! With the wedding timeline typically spanning over a year, your content should be forward thinking and anticipatory of trends.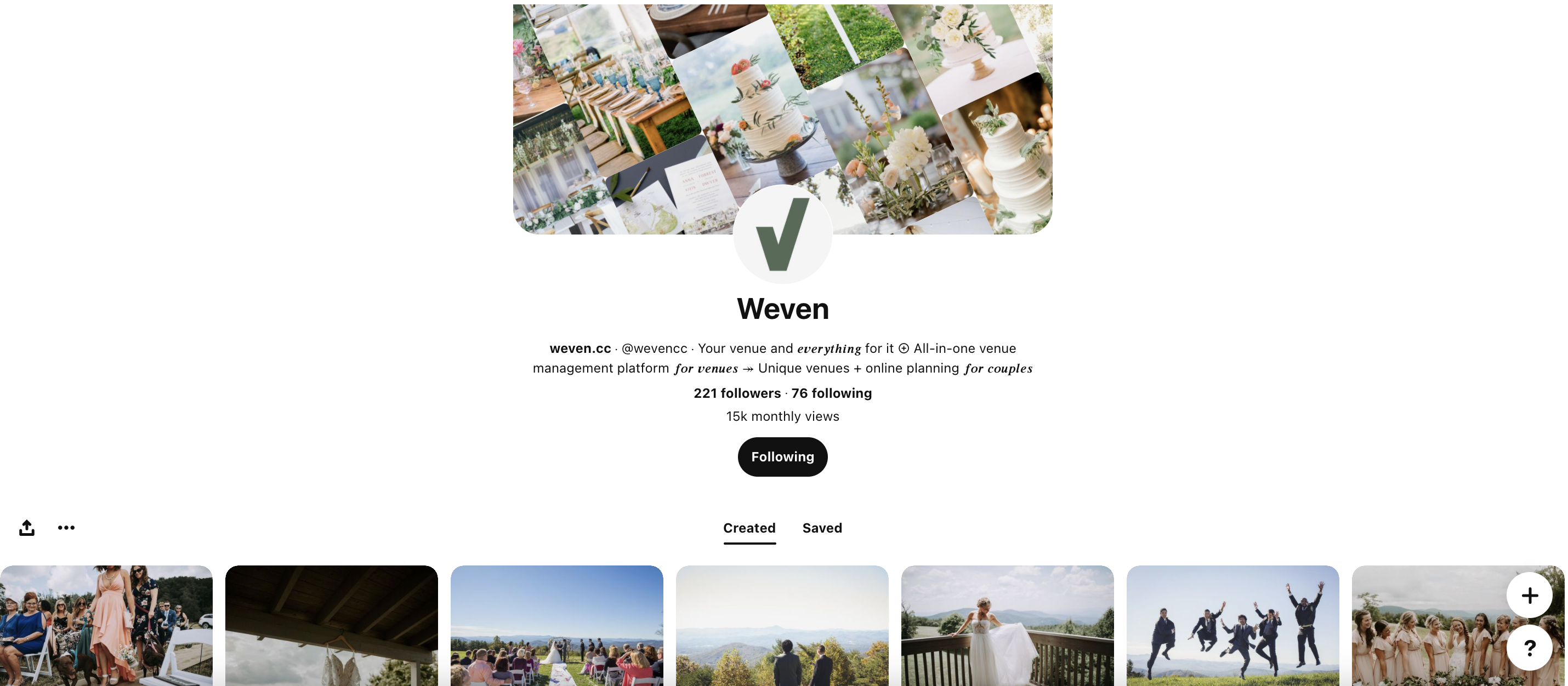 For more inspiration, check out our Weven Pinterest board!
---
Across all your social media accounts, make sure you have the same profile picture so people can easily associate them with your venue. Social media can become a consuming task even for business, but don't feel discouraged or afraid to try something new! Your commitment to maintaining a strong presence on either Facebook, Instagram, or Pinterest will be felt by your audience. Each platform provides different assets for them and you too, so hopefully these tips guide you in a helpful direction on how to master your usage across your interconnected network.
Looking for more tips on boosting your venue's marketing? Take a look at our post sharing 5 Smart Ways to Market your Venue!