Make The Most of Your Couples' Planning Portal This Event Season
It's easy to see how Weven's tools help your venue (and you as a host!) stand out by providing couples a high-quality experience from initial inquiry to event execution. Make the most of your couples' planning portal this event season and collect all the material you need from clients in one organized place.
No more combing through your email inbox! By offering your clients a free custom planning account, they can easily stay on track with planning, coordinate with you directly, discover and upload vendors, build a personalized wedding website, and more.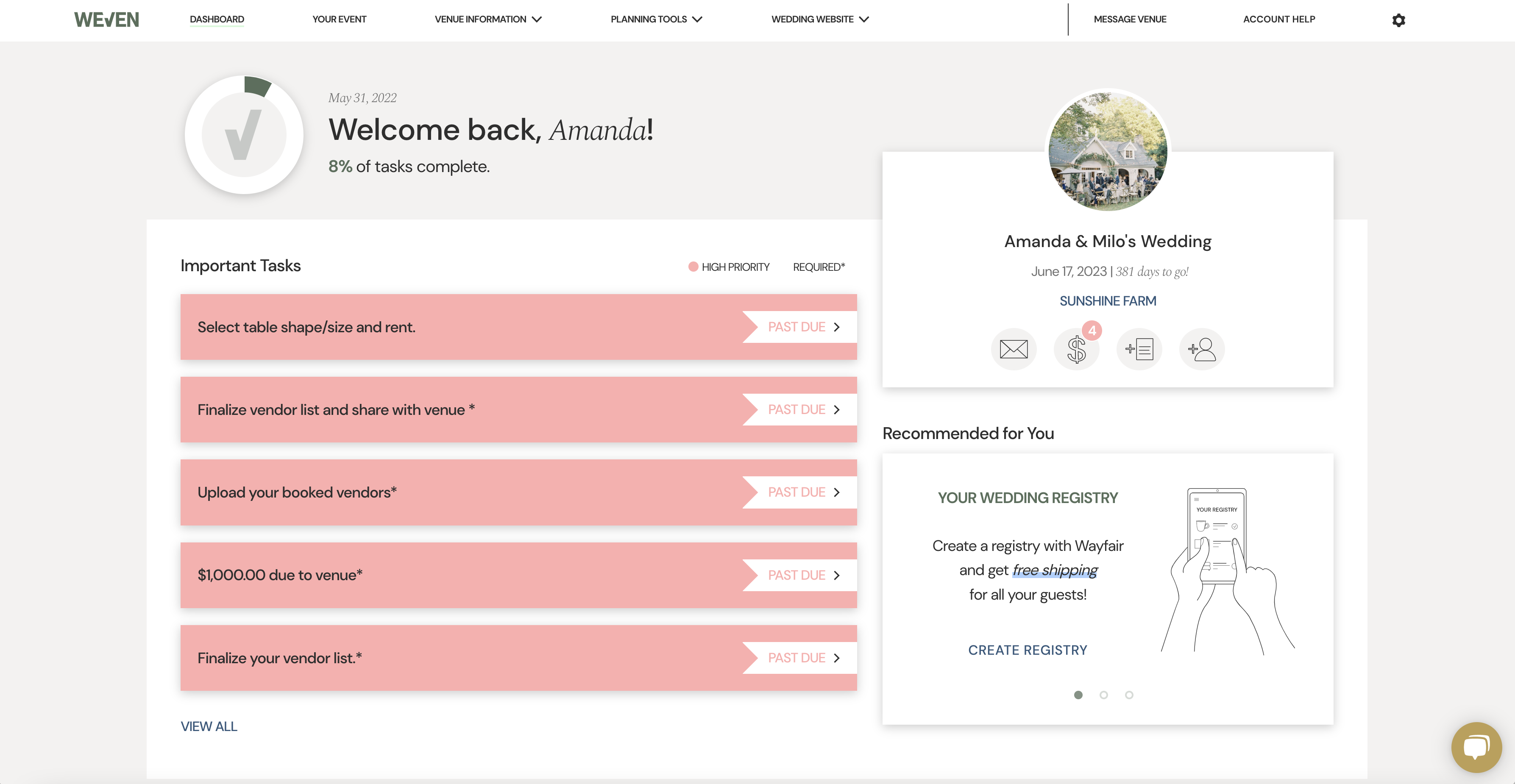 "Set It And Forget It"
 
Set up reminders to ensure your clients are prompted to complete necessary tasks, such as providing vendor information, COIs, uploading necessary floor plans, completing final payments- whatever you need! You can also create payment plans as an easy and effective way to get your clients to complete outstanding payments on time (or even earlier!) through pre-generated payment links with the click of a button - making sure nothing slips through the cracks!
Eliminate Getting Asked the Same Question Over (and Over) Again
 
Provide your clients with the information they need upfront so they can plan their events without having to ask all of the same, redundant questions. Think of the most commonly answered questions you have a cookie cutter answer for and set those up as supportive tasks inside your Wedding Clients' accounts.
For example, the task may be to "Rent A Tent", so in the description field you might enter: "our tentable space can hold up to a 60x90 ft tent. For guest counts over 120, please reach out to your host for further recommendations".
Improving these quick answers to commonly asked questions makes you, the host, and your client more efficient during the planning process by having this information readily available and easily referenceable!
Serve Up a Superior Customer Experience
 
For most couples booking at your venue, this is the first time they are planning for their wedding - which we all know can be overwhelming at times! By providing them with a free client planning portal, you offer guidance along the way without any additional effort.
Provide Clients with Peace of Mind
 
Having a system for your clients where they can log payments, upload documents, update vendor lists, and coordinate final details, makes everyone on the same page. Clients will get peace of mind knowing their i's are dotted, and t's are crossed, the overall risk is minimized, and they're receiving an industry-leading experience.

User Permissions
 
Clients, friends, family, financiers, planners, and anyone involved in the planning process can all have access to the planning portal - with different permissions:
Owner: Grants full edit, view, and message rights. (Recommended for the individuals getting married to ensure full control is maintained)
Admin: Grants full edit, view, and message rights. Restricts the ability to manage payment methods now or with future tools. (Recommended for planners)
Supporter: Restricts editing and messaging. Grants visibility to full planning. Restricts visibility to payments and contracts. (Recommended for friends)
Financier: Grants ability to manage payment methods. Limits additional access to view-only.
Your couple's online planning account is crucial for all their wedding planning needs, from couple planning tools that help stay organized with guests to tools that help share information with vendors. Don't be hesitant to market this unique offering to your couples from the beginning - it is available to them as soon as they book your venue!
Ready to make the most of Weven's planning tools this event season? Schedule a call with your customer success manager for ways to better leverage the Weven system.