Top 5 Reasons You Need a Venue CRM
Wedding venue pros are used to seasonality affecting booking trends; however, it's safe to say the venue booking season has never been quite this chaotic before.
With 2020 and 2021 rebookings and engagement season already in full swing, venues are being swarmed with inquiries and need a way to streamline communication and secure solid bookings for the upcoming seasons.
Managing these leads is where a CRM (Customer Relationship Management) software or lead management tool can really come into play. The right system can help you organize your day-to-day venue communications and provide insights that inform priority follow-up and future business decisions.
Here are the top 5 reasons hosts ask about Wevens' newest venue management system.
1 - Save Time
Running a venue is a demanding job - so much of your time is consumed by the back and forth email, texts, and calls between you and your clients. The right venue CRM enables easy responses on the go for you or your team. Features like in-app messaging, customized message templates, and automatic lead consolidation all help you save time so you can take care of other more priority tasks to grow and run your venue business.
 
2 - Stay Organized
Venue owners and managers are some of the most organized individuals we've met. Still, we hear the perils of overflowing inboxes and managing leads across various platforms. Inevitably, the more weddings you host, the harder it is to uphold the personal experience that you take pride in.
Weven's lead management tool helps venues consolidate all of their leads in one single dashboard in a completely automated fashion. No more uploading or adding leads from venue listing sites to your system manually - instead, you'll enjoy a seamless flow into a single CRM where you can track leads by their respective level of interest or stage and respond to each accordingly.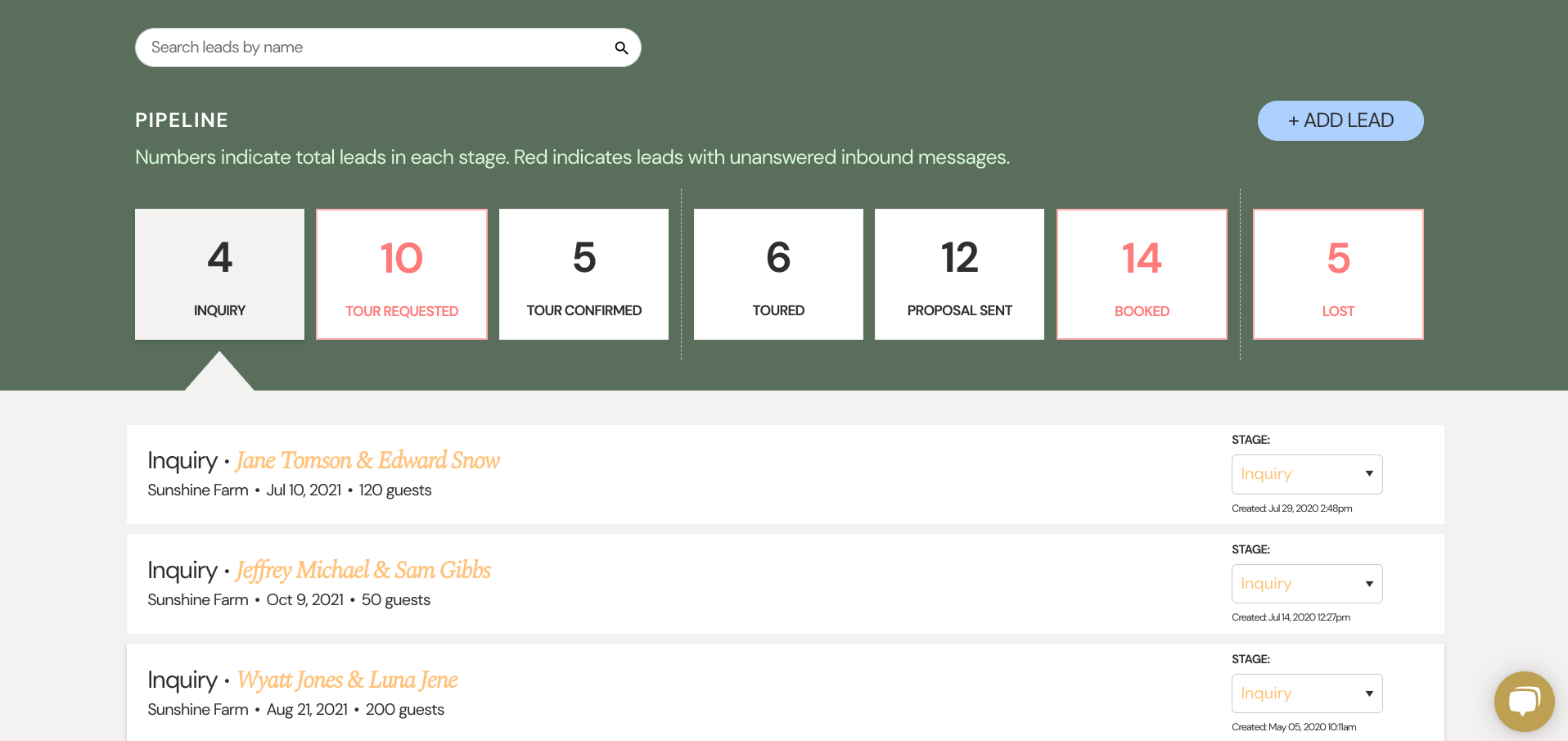 As a venue, you need a venue CRM that is built to move with the unique journey your couples take, including discovering your brand, touring, reviewing proposals and ultimately booking. It's not as clean and simple as your standard lead and contract process so many CRMs are designed for.
 
3 - Identify key communications insights
It's a sad trend that hosts spend countless hours sending personal responses to all of their leads, only to be thanked by crickets in reply. One can't help but wonder what's happening on the other end. With Weven's lead management tools, hosts can now identify key insights such as deliverability and open and response rates to inform future follow-up.
For example, are you finding you have above industry open rates but are failing to evoke responses? That might be a sign of a great subject line but a need to tweak the body of your message. Key communication insights give you the ability to not just gather a baseline but hone in on your venue's performance and take actionable steps to grow your business.

4 - Improve booking conversion
Great lead management tools don't just help you stay organized; they help you achieve results -- we're talking increased conversation rates and increased profits. At Weven, we've tailored our data collection processes to provide venues with key information about their couples upfront. Key client insights such as budget, vision, and guest count help paint a fuller picture of each client lead that allows hosts to tailor their responses and increase conversion of the best-fit couples for their venue.
"Receiving the right client information up front has completely streamlined our lead management process and ultimately impacted our booking rate."
~ Vanessa, Venue Manager at Veasey Park (Weven partner since 2018)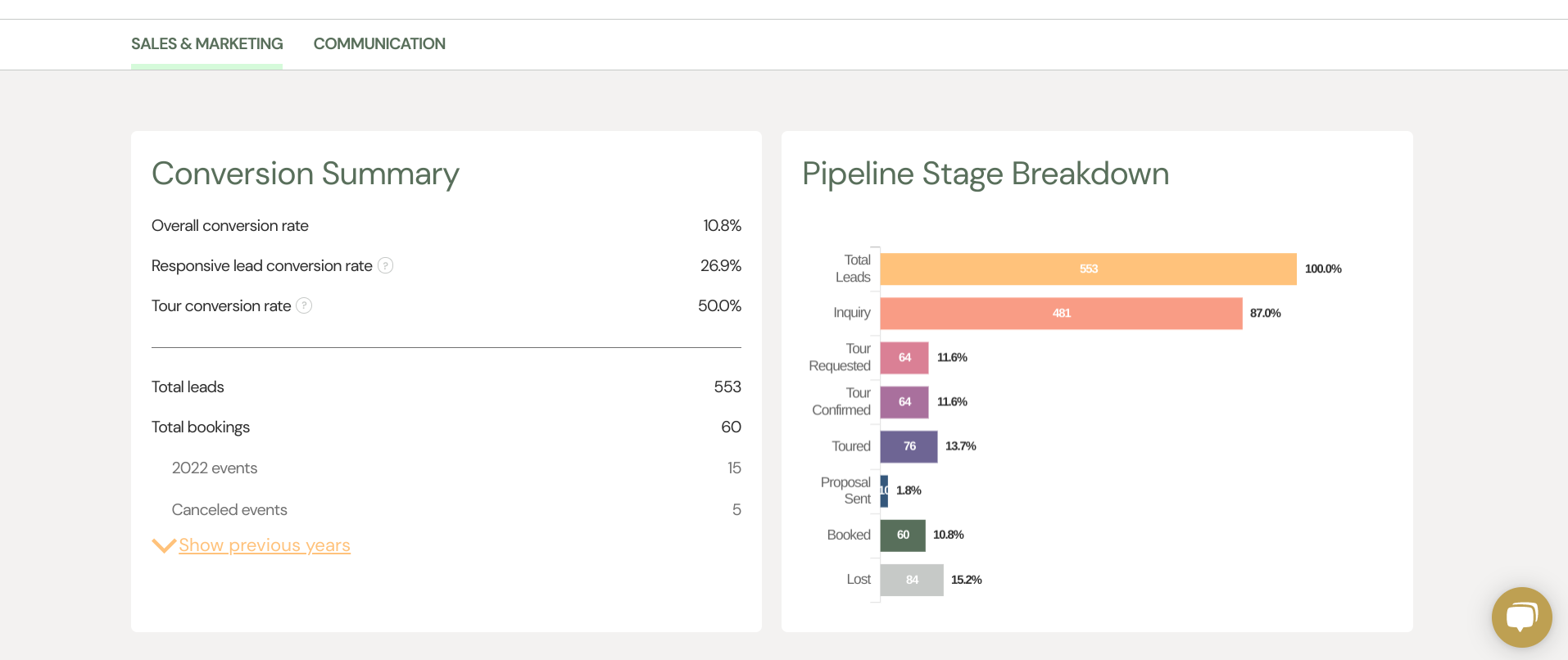 5 - Gain critical business insights
CRMs are more than just a place for hosts to organize and respond to leads. When used to their fullest, the data they hold can provide hosts with key business insights to support big business decisions. Key metrics such as conversion by lead source can shape future marketing investments. At the same time, venue response time might indicate a key area of improvement or competitive advantage that sets you apart from other venues.
Whatever the insights, leveraging a system that not just collects but transforms your data into usable information is key to maintaining needed awareness, powering your growth, and informing future investments for years to come.
 
Interested in learning more about how Weven's venue management system could power your business? Learn more or schedule a Weven demo with a Weven team member today.