Top Reasons to Choose An Outdoor Wedding Venue in 2022
Considering an outdoor wedding?
Your venue choice will be the first big decision you will make regarding your wedding day. Choosing the ideal space can be stressful yet very exciting! Your wedding venue sets the mood for the entire day, so you want to make the right choice. One of the biggest must-haves nowadays for couples is an outdoor wedding. The natural lighting, blissful ambiance, and stunning nature decor will enhance anyone's mood. Because the outdoor wedding venue option is safer for COVID-19 and other viral risks, there is a huge increase in popularity. Weven has seen this surge in the last two years with many venues reporting 80%+ growth of outdoor receptions over indoor in the past year.
Here are our top reasons why you should choose an outdoor venue for your wedding:
Budget & Value
Thinking of and sticking to a wedding budget can be pretty intimidating. Holding your reception outdoors can lead to significant cost savings by not paying for the costs to run an indoor facility. You will be able to save and prioritize your money elsewhere. However, make sure you budget in amenities needed - outdoor venues have a much lower starting cost, but it is important to make sure you are including the costs for tents, tables, power, etc. Customizing an outdoor venue offers unbeatable advantages and built-in value, creating an unforgettable atmosphere and wedding.
Space, Safety & Comfortability
Did you know that Americans, on average, spend approximately 90% of their time indoors? Outdoor wedding venues typically offer plenty of space and fresh air for your guests. If you want to spend time with people who don't live with you, having an outdoor wedding is the safer choice! The CDC states that you are less likely to be exposed to COVID-19 during outdoor activities, even without the use of masks. Many indoor venues have space constraints, especially with the continuously changing COVID-19 guidelines. With these constraints, guests can feel cramped, unsafe, or uncomfortable, taking away from the ambiance of your ceremony or reception.
Scene & Backdrop
With an outdoor venue, you will have a beautiful backdrop of nature - the trees, flowers, and sky create an effortless and unique setting for your ceremony. With the stunning natural setting of an outdoor venue, your wedding will require less decoration, which means minimal expenses and effort on your part. Aside from decorations, the outdoors also offers endless opportunities for your photographer to capture the celebration.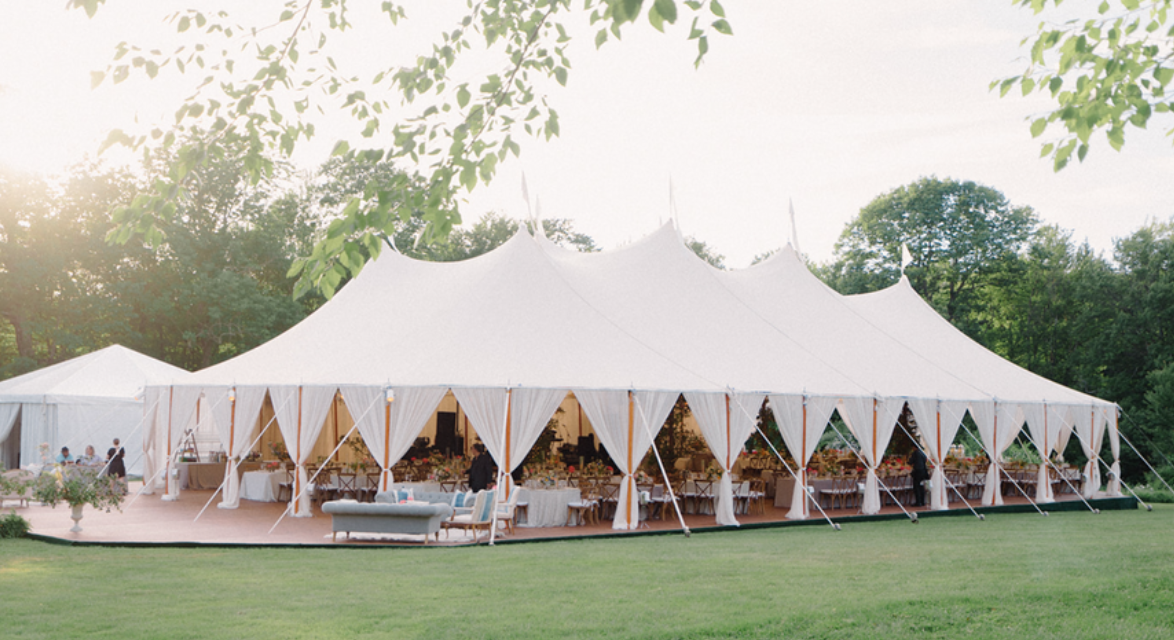 Winvian Farm - Morris, CT
Steve Steinhardt Photograph @SteveSteinhardt
Why Weven?
Weven allows couples to discover and book rare, nontraditional outdoor wedding venues online, such as a barn, estate, or garden wedding venues. You can find gorgeous outdoor wedding venues in your favorite areas through the Weven platform. Each nontraditional outdoor wedding venue is onboarded with our unique technology to generate a dynamic and personalized online wedding planning tool for you. You can then easily coordinate with vendors for a customized wedding setup at your outdoor venue from the comfort of your home, saving you time and effort.
For more information, check out our Outdoor Venues page and contact us today!