How To Kick-off Your Clients' Planning Experience
When couples are searching for the perfect wedding venue, they're not only looking at the location, amenities and general aesthetic of the venue, but also what their experience will be like with the host while planning. Whether it's through a word-of-mouth referral from a previous couple, experience at the venue or reviews they've read online- couples want their experience to be a good one not only on their special day, but also all the days leading up to it!
First impressions are everything, even for venue hosts! Set the tone for the type of client experience you offer couples who book at your venue by displaying Weven's unique venue-specific planning portal, where couples can plan and collaborate with you and their vendors completely online! Check out how you can wow inquiring couples and increase your likelihood of booking a new event-
Before Booking:
Inquiring clients are curious about what the venue can offer so it's important to emphasize that you're equipped to host one of the most important days of their lives. We recommend that your venue's website highlights the venue system management system as a hyper-convenient and functional portal couples have complimentary access to when they book at your venue.
Promote the tools
Messaging the tools as part of your offering will not only show the couple that you are invested in the success of their special day, but it will also give them peace of mind that you can help them make their vision come alive at your venue. We recommend adding a brief overview of the tools on your venue's website as a way to garner excitement around them from the start! Don't be afraid to use our Weven badge to symbolize you're not only a proud partner with us but have established credibility within the wedding industry.
Need a reminder on how to add the badge to your website? Head to the Resources section of your account.

Once Booked:
Send a personal introduction to the Planning Portal
Once a wedding is officially booked and moved into the 'Booked' stage of your pipeline, your couple is sent their login information for their planning portal. We recommend also sending a personal email to the couple including a link to their Planning Portal login along with a reminder of what they can use it for. This is a great way to set the stage for how you'd like to communicate with them during the planning and receive important information. Feel free to take advantage of our 'Personal Planning Portal Introduction' template for the foundation of your email or create your own!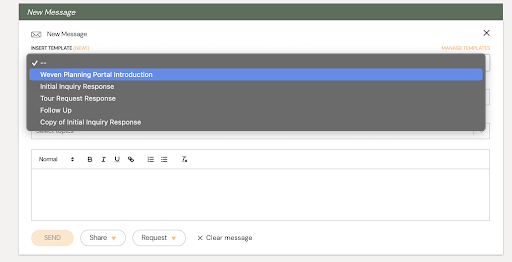 During the planning process, there are so many moving pieces for your client. Take advantage of the organizational and collaborative value of the Weven system by using these tools with your couples:
Tasks
With our newest Tasks tool, you can create a task for clients with an assigned due date to remind them of important steps in their planning at your venue. You have the ability to write out what needs to be done in the title field, mark whether or not this task is mandatory, input a due date, assign the task to your client or yourself and set up an automatic reminder to be sent to the client if the task is not complete. Should you choose to create an internal task assigned to yourself, you can opt to display that task in your client's planning checklist by checking off "Make Task Visible to Client" so that they know you are taking care of it. This is a great feature to take advantage of because it not only makes Wevens planning checklist more personalized for the couple, but also helps you remain organized! Reducing the back and forth communication saves you and your client time and stress.
Online Payments
There are many reasons why a client might miss a payment, from simply forgetting it's due to an unexpected expense that has made it hard to pay. Regardless of the circumstance, an unpaid invoice is never good for business and that's where our tools help you! When you use Weven's venue management system, you are not only able to request payment from a client, but also automatically send them reminders for those payments! Whether it is a weekly reminder or just a notification 1 month, 1 week and 1 day before the payment is due, having a reminder set in place eliminates another task for you and is a helpful nudge for your client! With this feature, you no longer have to worry about a client forgetting about payment.
Vendor Manager
Just like your couples, the team of vendors for each wedding will be different every time--after all, that's the beauty of nontraditional weddings, each one is unique. Ensure your clients are in the know from the beginning by providing a list of your preferred vendors through the Manage Vendors section of your account. By providing a list of vendors that you've worked with previously, your client will be thankful for your guidance and you will have peace of mind knowing your property is in good hands. Once you share your vendor list with a client via messaging (see below for a screenshot!), your clients can message those vendors for more information directly from their accounts. Their message will automatically include important event details for the vendor to consider when providing pricing and availability. As the couple books a vendor and starts planning their event using their account, you will receive real-time updates. With Wevens planning system, you have the ability to request vendor lists, no more chasing down vendor lists or searching for the most up-to-date timeline, we've got you covered!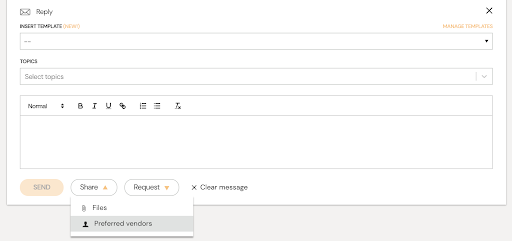 Document Manager
Gone are the days of back and forth emails! Our venue management system is the one-stop portal to access all event details and wedding documents. We understand managing every contract and vendor COI can be time-consuming and stressful for venue hosts. Luckily, our document manager is a place for couples to share important documents that are relevant for both you and the couple for their special day! To request a document upload, select the 'Request' button while messaging with the client and clicking 'document upload' - this way, it will direct the couple to the exact place in their account where they can upload the information.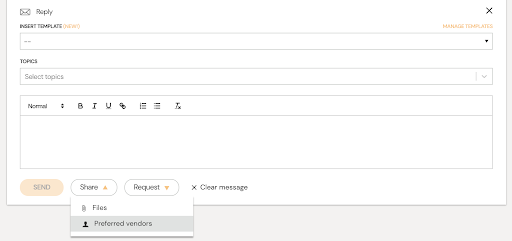 With a venue management system like Weven, you can stay organized, collaborate with your client and offer them a digital planning experience all on one platform. Whether you're just getting started or you've been hosting weddings for years, Weven is here to help you save time, impress clients, and scale your business.
Interested in a venue consultation with one of our Venue Representatives to see how you can better leverage Weven to meet your business goals? Let us know!