10 Wedding Venues By the Water We Love
Whether you're seeking an aesthetically pleasing ceremony by a glistening lake or looking to incorporate your love for the beach through a dreamy backdrop on your wedding day, we have some must-book venues by the water for you.
With the warmer months slowly (but surely) approaching, we can't help but reflect on the potential lakeside and beachfront venues have to turn your wedding dreams into a reality. Weven serves to help share beautiful and unique venues and provides a couples platform that connects couples to the wedding destinations they dream about.
The following four venues are perfect for those who envision their special day by the shore and those interested in taking advantage of some of the outdoor activities they offer. No one likes to be a fish out of water – check out these venues by the shore that feel like home.
 
Kamp Kohut
Oxford, ME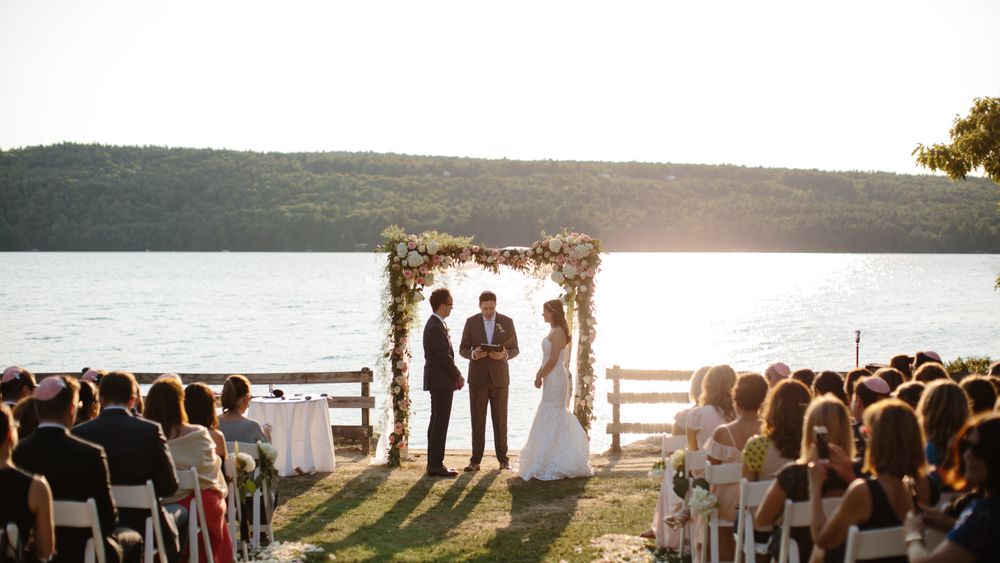 Photo Credits: Lara Kimmerer
When you want your wedding to be a full weekend of friends and family coming together, there is no better place than having a personal private lakeside camp in Maine. Away from all the distractions of the city, guests will enjoy various cottages onsite, along with various other amenities. During the day, guests can paddle in the lake, organize inter-family soccer matches or hike in the surrounding acres of pristine Maine wilderness.
This family-run summer camp has preserved a part of Maine life hard to find elsewhere for the past twenty-five years. Located down a private winding road, guests will feel themselves disappear into a land of no distraction, to soak in a wedding weekend full of celebration and connection.
Within the expansive grounds, couples can hold their ceremony in a private wooded area, surrounded by tall oaks or lakeside, overlooking Maine's southern hills and facing due west to capture a perfect sunset behind the wedding couple. For the reception, couples can choose to host their guests inside the hand-crafted wood-timbered lodge or on one of several fields for an outdoor tented reception.
 
Flatt Rock Wine Cellars
Valios, NY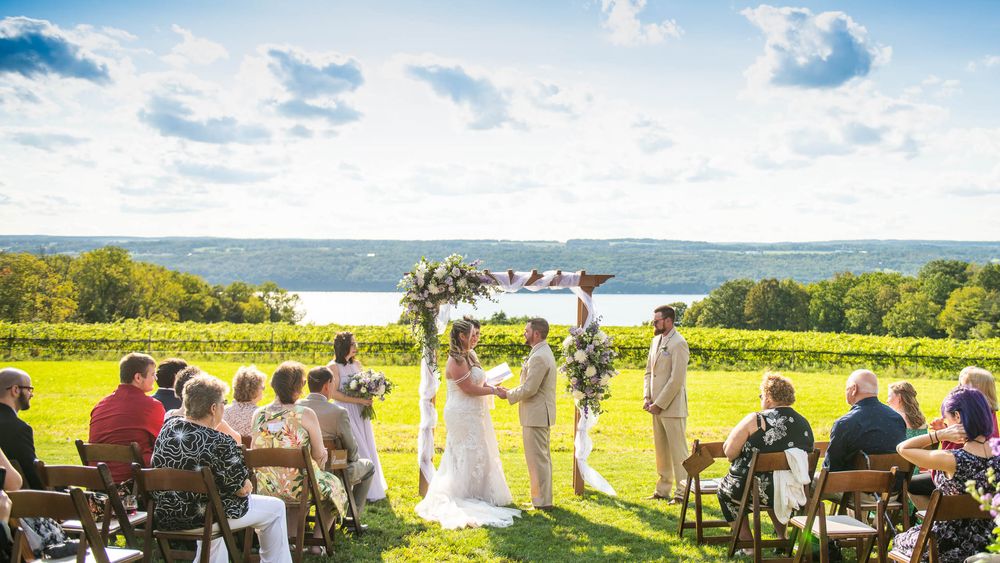 Photo Credits: Scarinzi Media
Flatt Rock Wine Cellars LLC is a winery wedding venue in the prosperous Finger Lakes of New York. Owner, David Flatt, has a passion for dry red wines and romantic love stories and works to bring these elements to a couple's special day. With the scenic vineyard nestled along the peaceful lakeside, the estate gives each event an elegant, sophisticated atmosphere.
The property has a picturesque view of Seneca Lake and the lush vineyards as a natural backdrop for couples to say their vows. Clients and their entourage have access to various notable amenities, including a large kitchen area available for the catering party to prepare their mouth-watering cuisines for the reception and cocktail hour, as well as a tasting room on-site. The event space welcomes groups for hosting ceremonies, receptions, wedding showers, and rehearsal dinners. We also have a list of local suppliers to address all of your needs.
This family-owned vineyard sits in the heart of the Finger Lakes Region of western New York. The warm waterfront and naturally rocky soil help create the wide variety of wines that owners, David and Darla, are most proud of. This estate not only offers ultimate privacy and ideal seclusion, but it's breathtaking lakeside views make for the greatest romantic photographs for your special day.
 
Andover Event Barn
East Andover, NH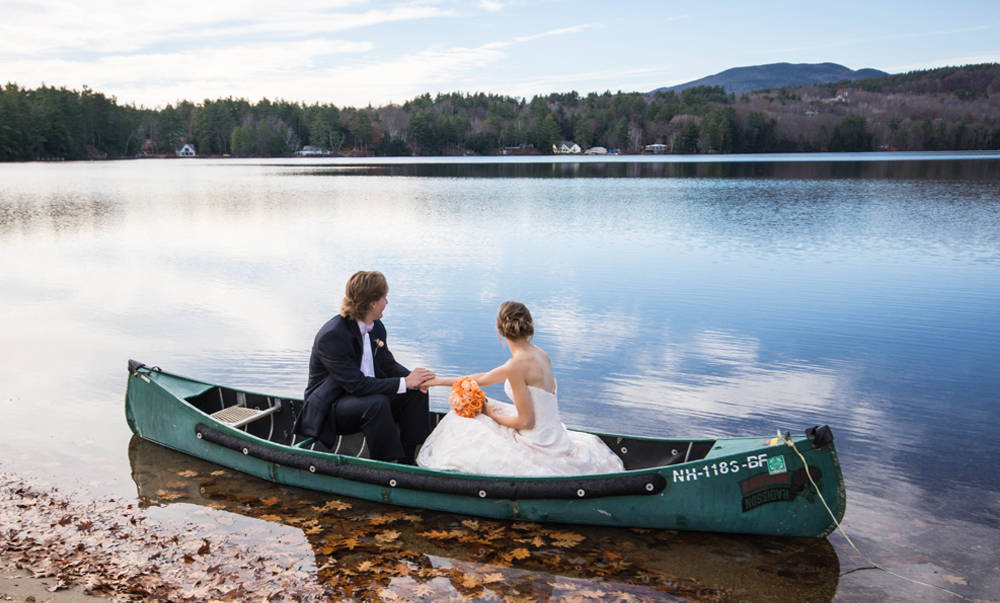 Photo Credits: Sadowski Photography
Barn weddings at Andover Barn are magical events that bring together friends and family in a casual yet elegant setting. The weekend wedding venue specializes in outdoor weddings in New Hampshire with the added feature of a historic barn that can be utilized for dinner and dancing.
Planning on dancing all night? Andover Barn is more than a wedding venue, it is a destination location. The Highland Lake Inn has ten rooms offering the amenities of a boutique hotel for friends and family who want to stay the night in the serene, country setting to turn your wedding day into a wedding weekend!
Andover Barn understands that every bride and groom picture their wedding differently and they work to complement your style. All aspects of a wedding event in beautiful New Hampshire, from ceremony to dinner to dancing, can take place on the grounds of this inn. Your guests can also enjoy the clear water of Highland Lake for swimming, boating, and fishing, as well as the paths of the Northern Rail Trail for biking, running and walking, or horseback riding. Make this special day a memory of a lifetime in a beautiful lakefront setting with your signature arrangements.
 
Herreshoff Marine Museum
Bristol, Rhode Island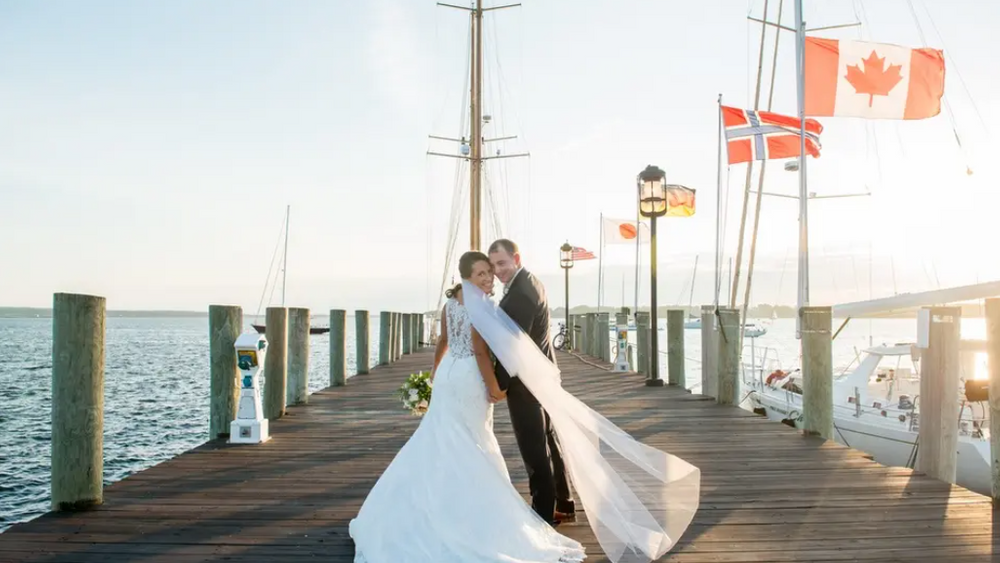 The Herreshoff Marine Museum offers a premier waterfront location for your next special event such as a clambake, business meeting, small conference, corporate retreat, holiday party, regatta, wedding or family reunion. Their facilities, overlooking Bristol Harbor, provide a beautiful and historic location for your event, amidst dozens of exceptional historic Herreshoff boats while enjoying a unique panoramic view of Narragansett Bay.
The Museum offers several attractive alternatives for your meeting, social event, or weddings such as the Waterfront, Hall of Boats, Conference Room or the second floor of the Historical Burnside Building.
 
Barn on the Hill
East Randolph, Vermont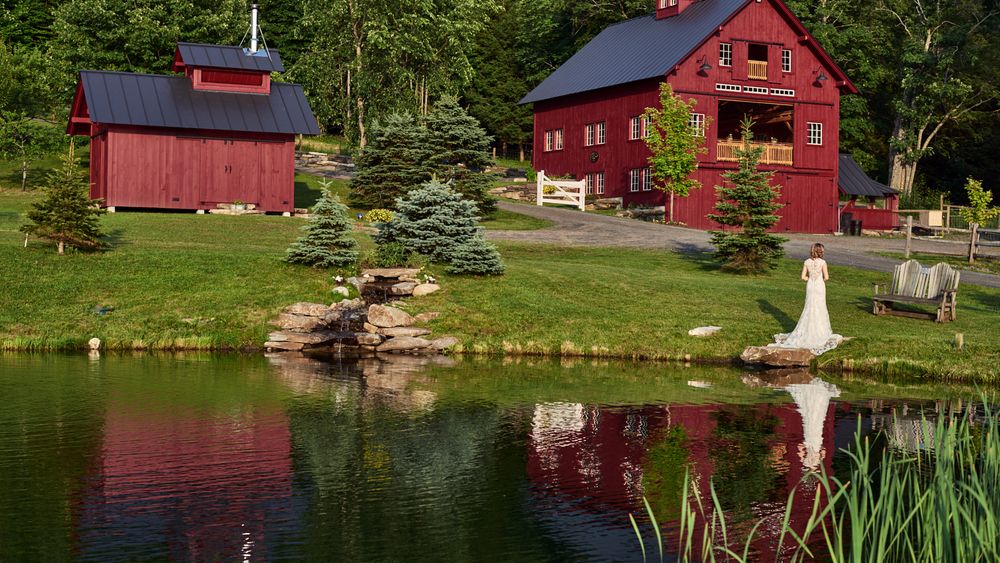 Photo Credits: The Green Barn Wedding Photography
Enjoy this hand-crafted, post and beam barn set at the edge of the woods that overlooks grazing pastures, a farm pond, and gorgeous Green Mountain views. This venue allows for your ceremony or cocktail hour to be positioned around the pond with a landscaped waterfall and picturesque backdrop. Soak up the scenery by entering the barn and gaze through sliding barn doors, out to the stunning mountain views. The venue features a sparkling chandelier underneath an open cupola allowing lots of natural light. Follow the edges to the barn's upper lofts, complete with two 14'x16' sitting areas and two 40' long adjoining balconies which overlook the main floor.
Want to capture the essence of the farm? Ask the host to keep the cattle, sheep and chickens nearby for the event, or inquire about the farm's organic meats, and organically grown vegetables and herbs that can be purchased for integration into your custom farm to table menu.
 
Lakeview Farms Events
Dover, Pennsylvania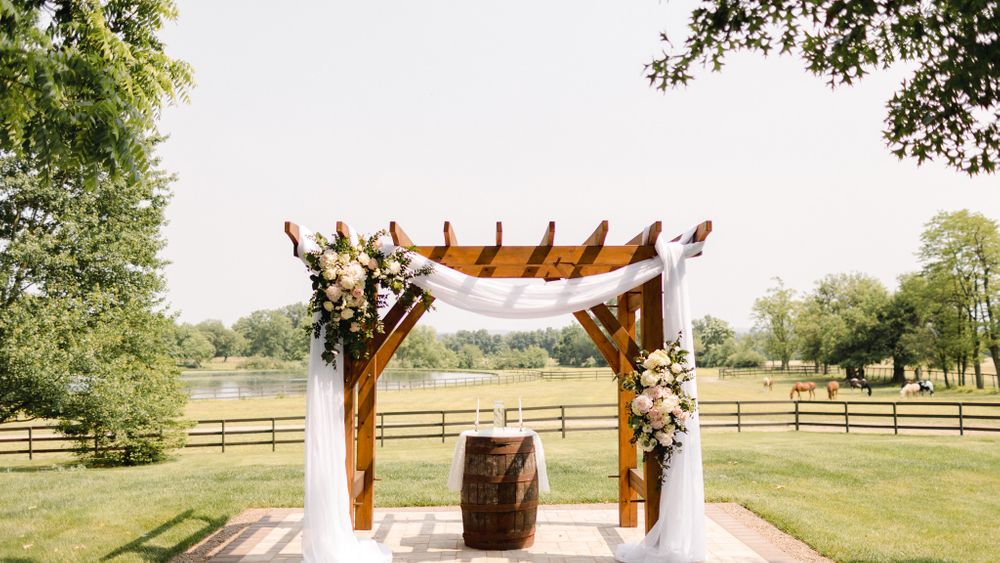 Lakeview Farms Events is positioned on a stunning lake in Dover, Pennsylvania. Established since 2012, their goal has always been to help their clients realize their own unique visions for their weddings and special events. Lakeview Farms Events is in the business of creating experiences that you and your guests will remember forever. Lakeview Farms believes that every element of your celebration should be special, starting with the venue.
 
Dragonline Studios
Jamestown, Rhode Island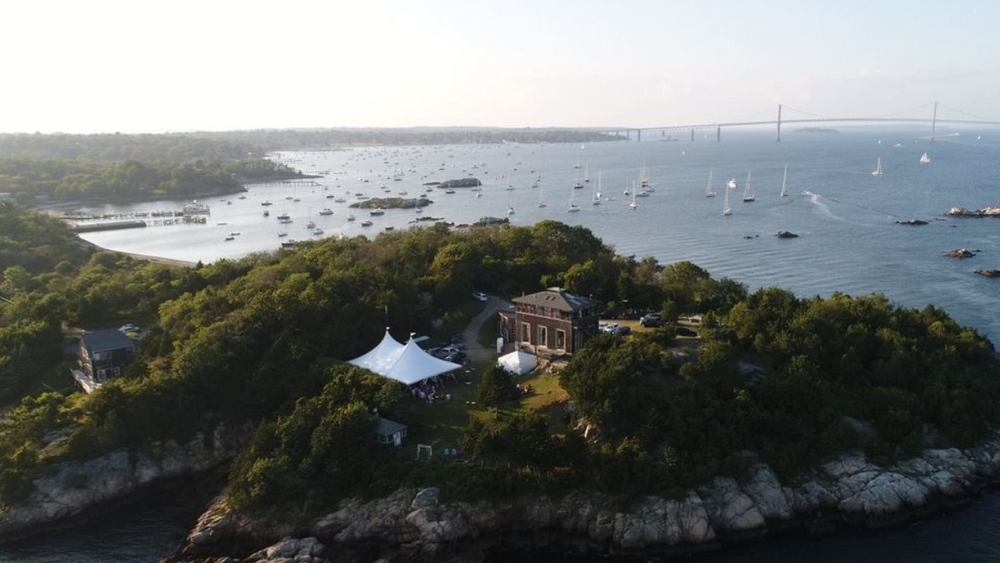 Dragonline is a completely unique wedding and event rental property, not only for Jamestown but for all of Rhode Island. It is composed of a three-story, loft-like studio building and group of peripheral buildings that allow a nearly 360-degree view of Narragansett Bay. The site occupies a high promontory jutting out into the east passage across from Newport and Castle Hill. The top floor loft affords an unobstructed view from the Newport Bridge all the way across Aquidneck Island to Block Island, Point Judith, and Beavertail. The rental also includes access to a private sandy beach and above all, privacy.
The property has numerous spaces that favor weddings and special events, including the Main Studio Building, The Bespoke Shepherd's Hut which was custom made for the property in 2013 by The Yorkshire Hut Company in England (it is their first Hut to arrive in America), the 200 sq. ft cabin - the oldest structure on the property, and the Glass Door Sculpture Studio.
 
Camp Wing
Duxbury, MA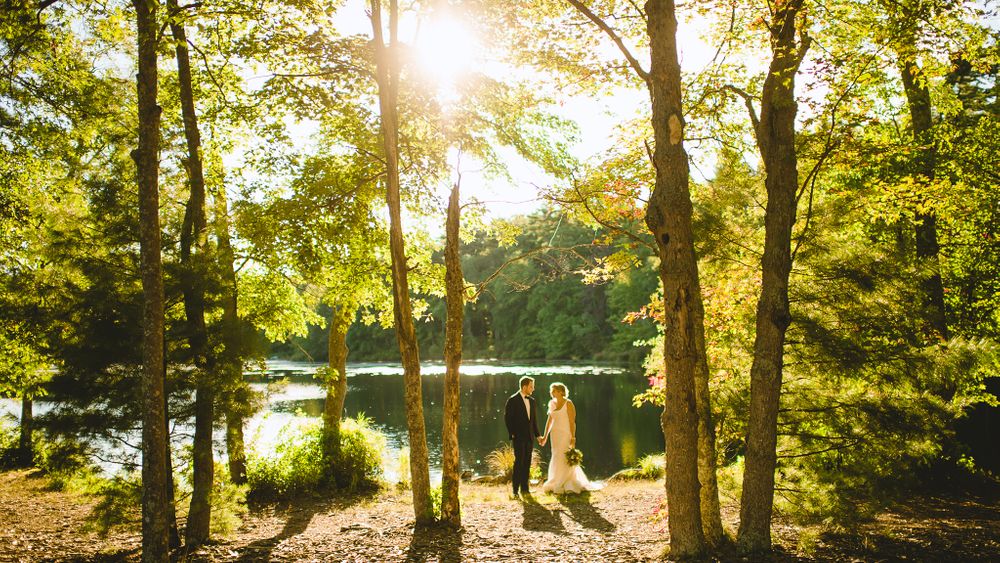 Crossroads' scenic location is perfect for celebrations including weddings, bridal or baby showers, family reunions, and more. Located on a scenic pond in Duxbury, Massachusetts, Camp Wing offers many unique options that make for an unforgettable experience. With features such as pond and lake views, acres of woodlands, and historic buildings, Camp Wing is a venue that offers unbeatable seclusion and space to celebrate with lots of friends and family.
 
The Seneca Ridge
Geneva, New York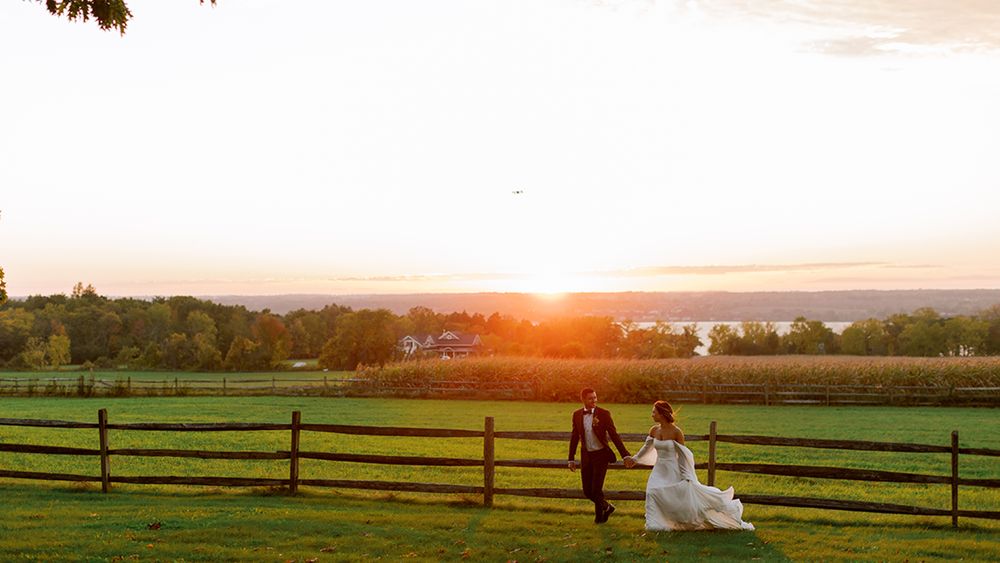 The Seneca Ridge is a historic wedding venue located in Geneva, NY, situated directly on the Seneca Wine Trail and close to numerous gourmet restaurants. The house dates back to the 19th century and features many attractive elements such as the stable barn, farmland, and beautifully decorated interiors. Five acres of idyllic fields and mature trees are sprawled out as far as the eye can see, enchanting all who visit this luxury hideaway venue.
The Seneca Ridge is a family-owned establishment in the heart of The Finger Lakes. Less than 10 minutes from downtown Geneva, the property promises the best of both worlds with its rugged countryside setting and urban amenities. Couples can enjoy a romantic few days before the ceremony, taking in the sights and visiting local wineries and breweries. On the wedding day, newlyweds can enjoy access to all event spaces on the property. The renovated stable barn is ideal for cocktail hour as it provides stunning views of Seneca Lake. Afterward, guests can move on to a sailcloth tent for the evening reception.
The Seneca Ridge offers comprehensive wedding packages to accommodate a variety of needs, such as rental equipment and service staff. An event coordinator will liaise with couples to design a timeline and order of events, helping them organize the essential details. The venue specializes in destination weddings and getaways, effortlessly catering to out-of-town couples who envisage a countryside wedding in a charming old house.
 
North Beach
Westwood, MA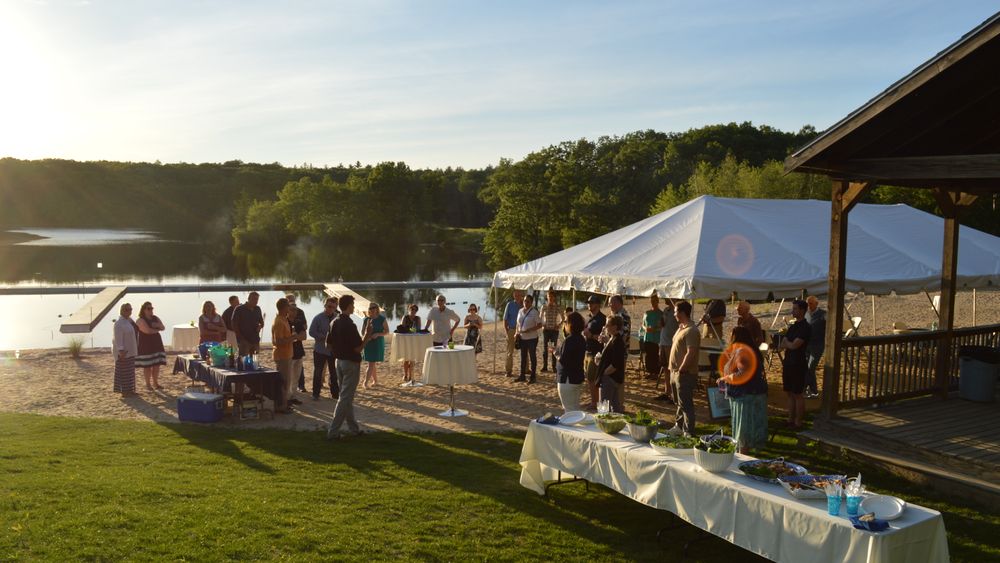 For the couple in search of a venue that offers more than the typical wedding experience, North Beach may be the long-lost venue you've been looking for. Located in Westwood, Massachusetts, this site features a sizable pavilion on a large beach with the space that allows for post-ceremony activities, including; volleyball, cornhole, and other fun games. This venue also offers the option of swimming and boating in the summer months.
If you want to celebrate your special day on a beach that offers a beautiful setting and allows for some outdoor activities, this may be the perfect venue. The comfortable and welcoming atmosphere that this venue exhibits is ideal for the couple looking to have a more laid-back yet unforgettable day. Why not celebrate getting hitched with a day full of family, friends, and fun activities?
 
Check out Weven's full list of unique wedding venues!
 
Header Photo Credits: Lara Kimmerer