Three Easy, Yet Memorable Table Layout Ideas to Dazzle Your Guests
Do the style of your tables and their arrangement seem like trivial aspects of your wedding reception? Think again!
A seamless table layout is not only an art form, but also serves as a way to leave a lasting impression on your guests.
There is nothing wrong with the traditional, long, rectangular tables or symmetric layouts of circular tables, but with new trends emerging, there is no need to limit yourself to the common shapes! The main goal of your layout, aside from appealing to the eye, should be to promote conversation and inclusivity among your guests. Here are a few unique ways for you to achieve that goal and also have your guests dazzled!
Serpentine Tables
To begin, play to the strengths of your venue. Think about how your guests can appreciate the uniqueness of their surroundings by staging your tables around them. Serpentine tables are a bold design choice that make a statement, especially in outdoor settings. If you have a long stretch of land, these several curved tables pushed together are perfect to take full advantage of the distinctive space. Paired with zigzagging string lights overhead, the serpentine tables can even create this majestic and whimsical feel for its seated guests. This style is a simple upgrade from the rectangular tables and invite intimacy with the people and the environment. Definitely keep this distinct and personable idea in mind as you make your layout decision.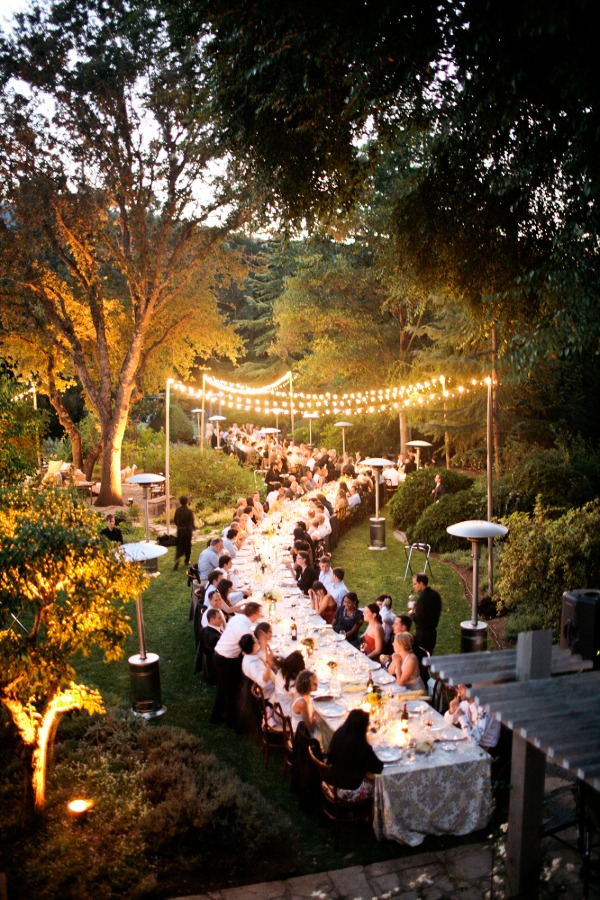 Photo Credit: GIA CANALI (found on Martha Stewart Weddings)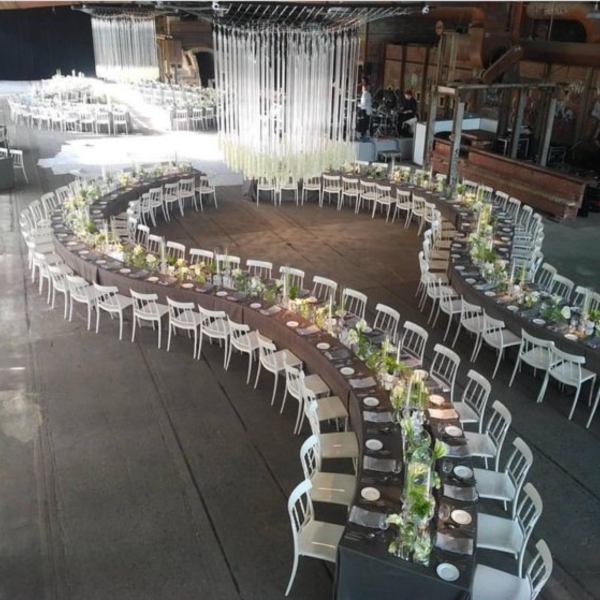 Photo Credits: PINTEREST
Alphabet Patterns
What's a more personalized design than having the tables spell out your initials? Or meaningful words like 'LOVE?' Just think of the aerial shot! Of course, some letters are easier done than others, but even without spelling out something, each of the 26 letters of the alphabet prove to be practical works of art. To highlight a few…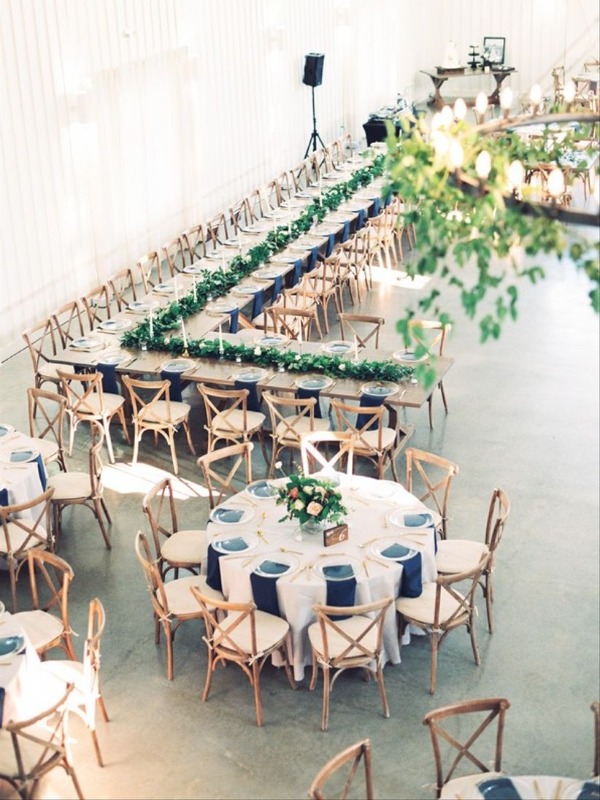 Photo Credit: THE HEIRLOOM TABLE
X
You can spice up rectangular tables by arranging them in patterns that appeal to you. The X shaped design is an easy, but striking configuration that heightens a subtler space like a box shaped room or wide open field. You can choose to have one large X or several smaller ones--all depending on your taste, but still effortlessly feasible for each way. Feel free to get creative with the four sections of space that the X conveniently divides. From a small sweetheart or king's table seating your most beloved to a spectacular wedding cake display, an X design will leave space to satisfy your many wishes. For the several small Xs, you can even arrange four of them to outline a dance floor that attracts all eyes! Additionally, the center of the X leaves room for your imagination and creativity to fill with your wildest brainstorms (perhaps some hidden treasure or revolving lights and photo decor?)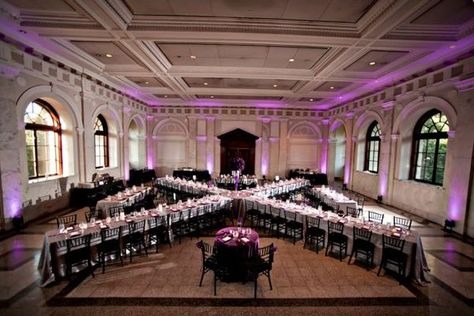 Photo Credit: ELLYB EVENTS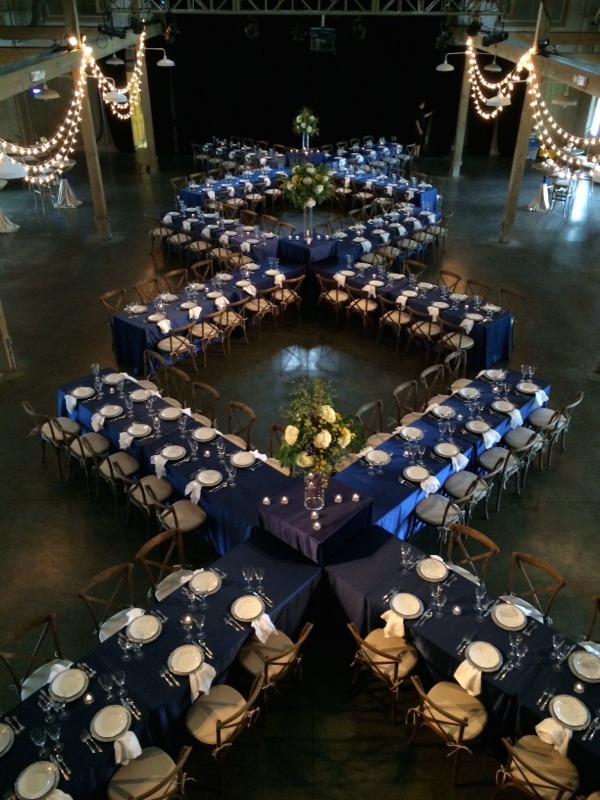 Photo Credits: PINTEREST
U/C/N
Depending on how you look at it, three rectangular tables can create either a U or C or N shaped design. For more guests, you can add more tables on each side to elongate the ends and suit your needs. Long rectangular tables can often feel cold and hard to initiate conversations with numerous people, but this design of two tables close to each other invites interactions across the board. The joining center table is also ideal for you and your closest entourage. This is naturally where all the attention goes and reversely, it'll allow you to keep an eye out on what's happening around you!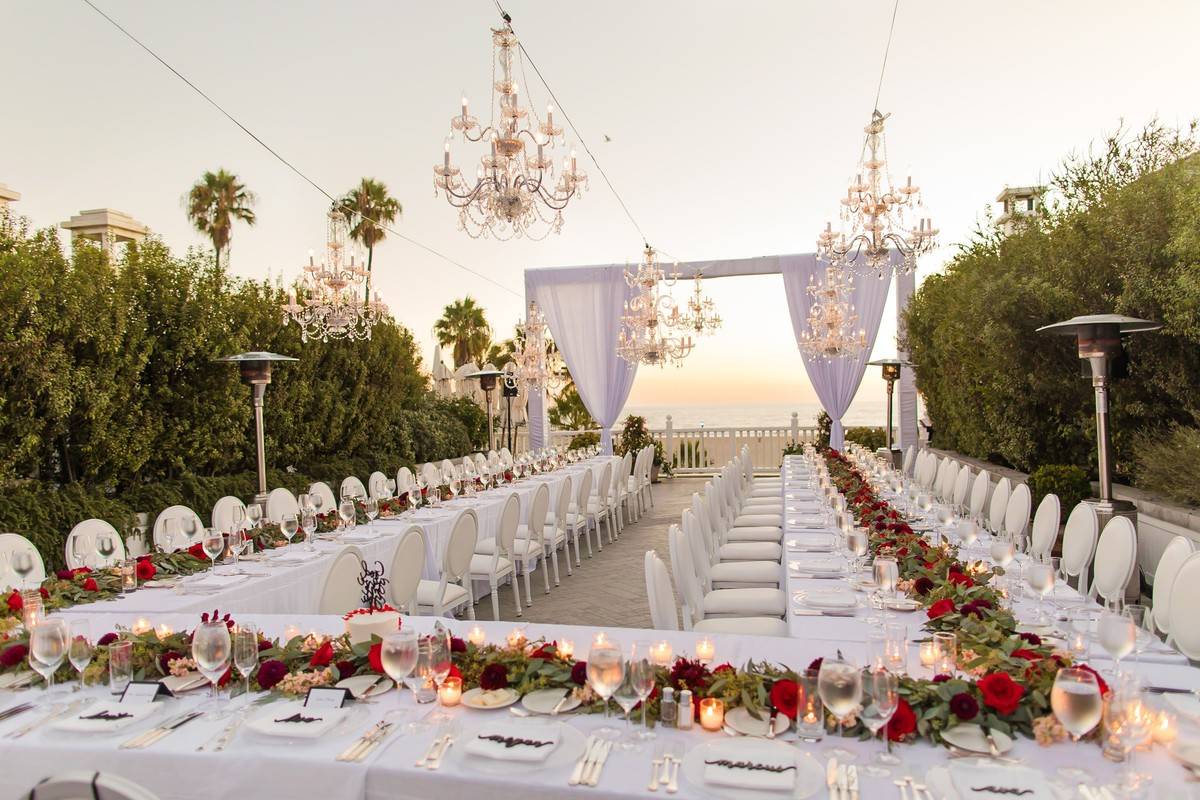 Photo Credit: CULTIVATE DESIGNORY
M or W
Rectangular tables can be pieced in zigzag patterns to look like the letters M or W. There's also nothing stopping you from adding a few more tables diagonally or horizontally to diverge it from the letter theme--if you can't tell already, this is your playground, and it's when you and your partner personally add your own flair and design that your guests feel most connected with your relationship.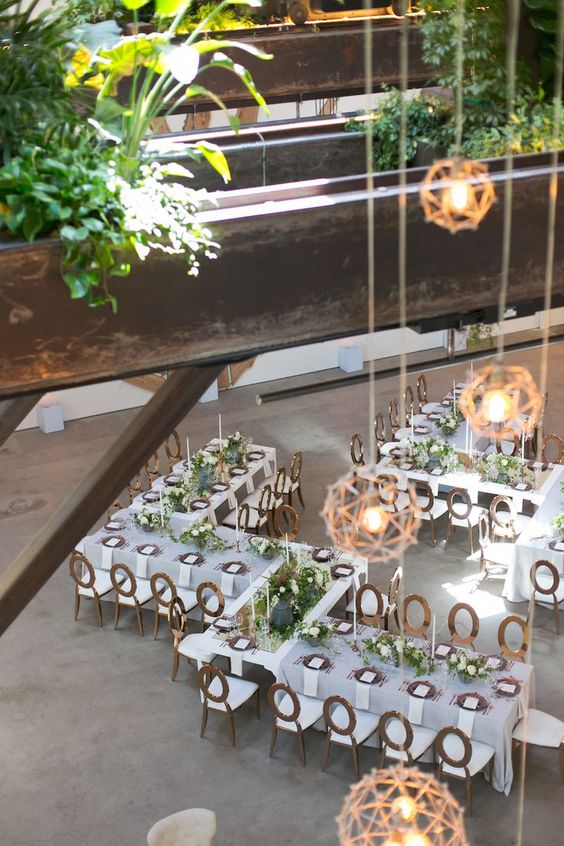 Photo Credits: PINTEREST
Mix-and-Match Layout
A mix and match layout is also rising in popularity as weddings start to diverge from the need for perfection and symmetry to a more relaxing and casual feel. With this design, you're opting for a more artful, yet practical setting as this mixed style accommodates any odd shaped room or outdoor environment and serves to bring out your authenticity. With pairings of circle and rectangular tables or even extra elements of winding tables, the possibilities are truly endless.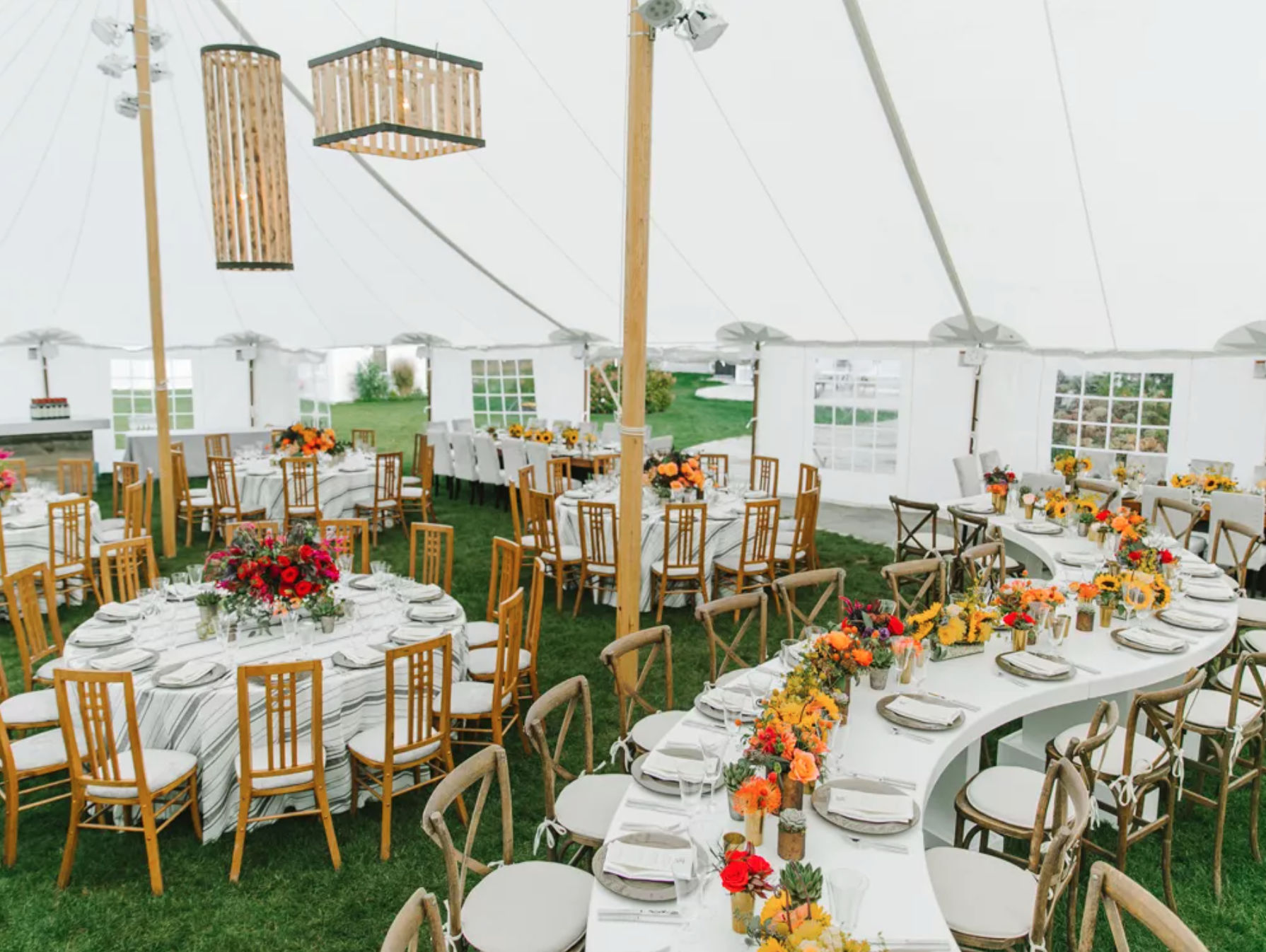 Photo Credit: EMILY TEBBETTS PHOTOGRAPHY (found on The Knot)
Why stop at mix-and-match table shapes when you can also mix chairs of varied styles to add an extra dimension of fun? One of our venues Kamp Kohut executes this new trend exquisitely--they've interweaved a variety of seating arrangements to bring the reception place to life, all the while capturing an enchanting air of elegance.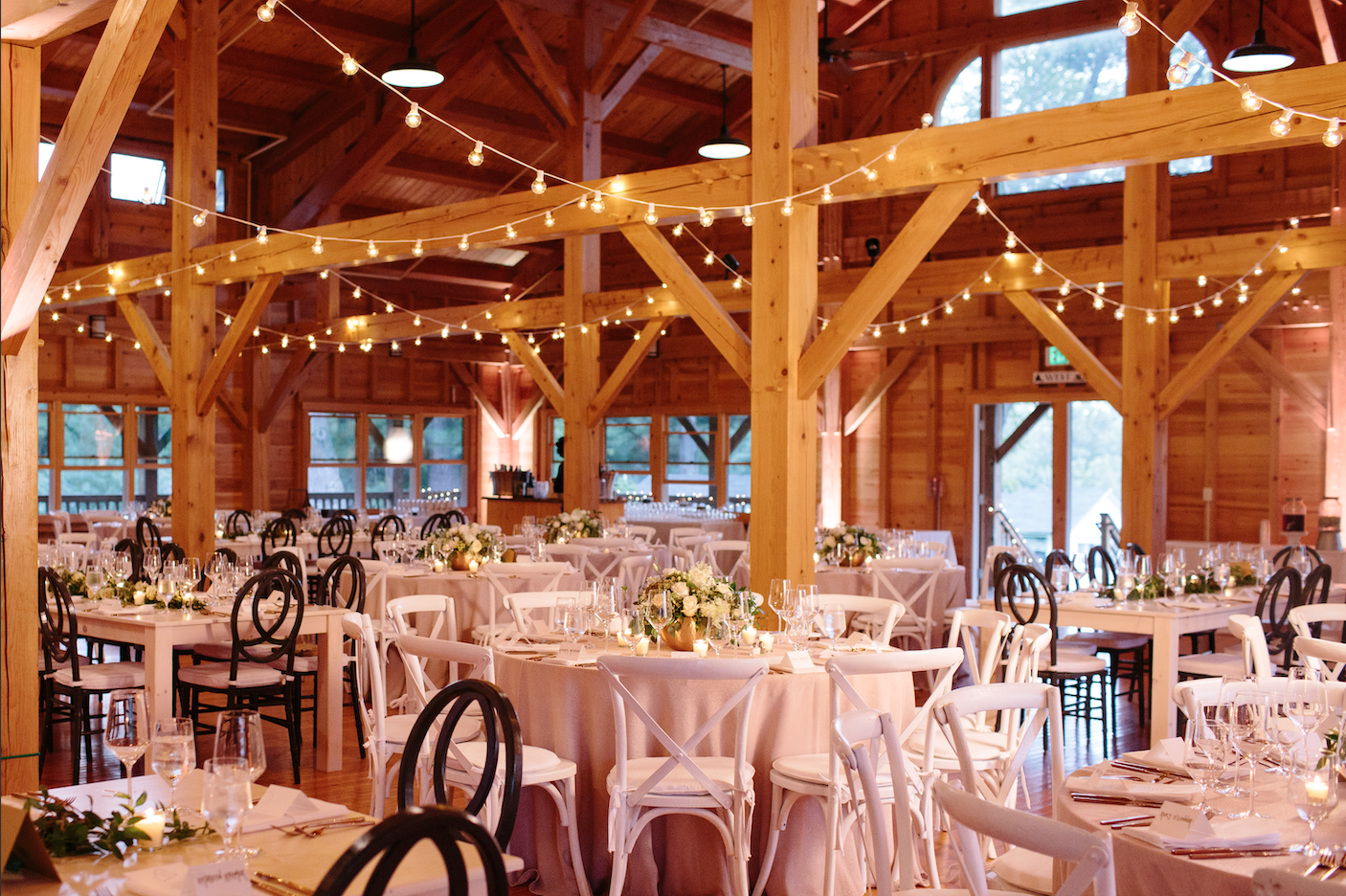 Photo Credits: LARA KIMMERER
Venue: Kamp Kohut
Logistical Reminders
While making these choices, be sure to allow adequate space for easy movement for staff and guests, especially in high traffic areas like bathrooms and entrance/exit points. Your reception space is like a blank canvas for you to paint, so the colors can all blend together in harmony--much akin to how your guests will mingle about and share this moment of history with you. Your choice in table layout will serve as the backbone for other design choices to come, so really let your creative juices flow when you paint your perfect night away!
---
Looking for more wedding reception table layout designs? We've curated a Pinterest board just for you to continue feeling inspired by some extraordinary visions.