Unique Venues and Your Guys' Style
Today's couples are all about making their wedding unique. You spend time scouting out the perfect venue, imagining how every detail you've saved to your wedding board on Pinterest will fit into the open space.
The vision for your big day likely begins with your personal style and some basic questions. What time of year do you want to get married? What are some hobbies or passions you have as a couple? What would be the perfect setting for saying "I do"? What are your favorite colors? As soon as these questions have been answered you are ready to book your vendors (before someone else does) on your perfect date.
Attire should be considered from the beginning along with your location and color pallet. It almost always is for the bride and bridesmaids but, at The Groomsman Suit, we believe suiting should be included and not an afterthought. We've noticed a big increase in couples' attention to detail when it comes to outfitting their guys and we couldn't be more excited about it. Your wedding photos will be amazing when you thoughtfully plan suiting for your guys. Here are a few tips to ensure the style of your wedding party matches your one-of-a-kind venue.
Decide whether you are having a formal or casual wedding. For a more formal event, you may go with a black suit, tuxedo or a navy suit with black shoes. Imagine an evening wedding in an open field made formal by adding chandeliers and romantic candlelight. This type of evening soiree calls for more formal attire even if it's under a tent. For daytime casual or rustic weddings, blue and gray suiting paired with brown leather accessories is a handsome choice. Gray is always a sharp option as it is such versatile color for all seasons.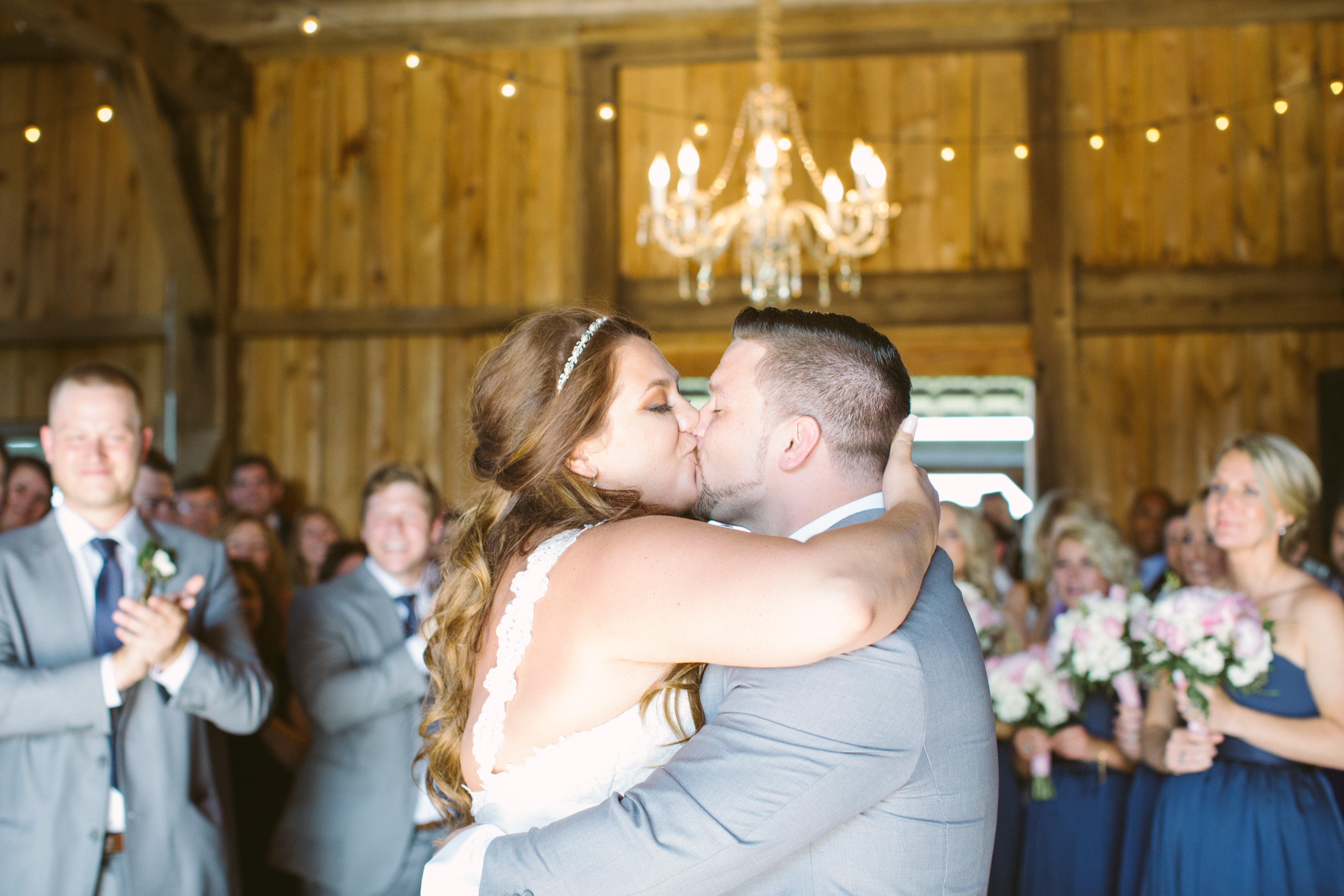 (Photo By: Caitlin Thomas Photography)
Choose your wedding colors. A common and nice way to create a cohesive look between the men and women in your wedding party is to incorporate coloring from the bridesmaid's dresses into the groomsmen/bridesmen's ties or boutonnieres. Alternatively, you can go with a monochromatic color scheme selecting suiting and dresses in the same or slightly different shades of blue, gray, tan or black. This is a great route to take if your venue offers a breathtaking backdrop (i.e. enchanting farm, seascape, or mountain side). No need to detract from the beautiful scenery with loud colors.
Suiting color provides an excellent opportunity for the groom to stand out by choosing a suit in a brighter/darker shade or a completely different color. We love it when grooms style themselves to stand out in their moment. A subtle way to accomplish this is to accessorize your guys in colored ties with the groom in a white or ivory tie to match his bride's dress.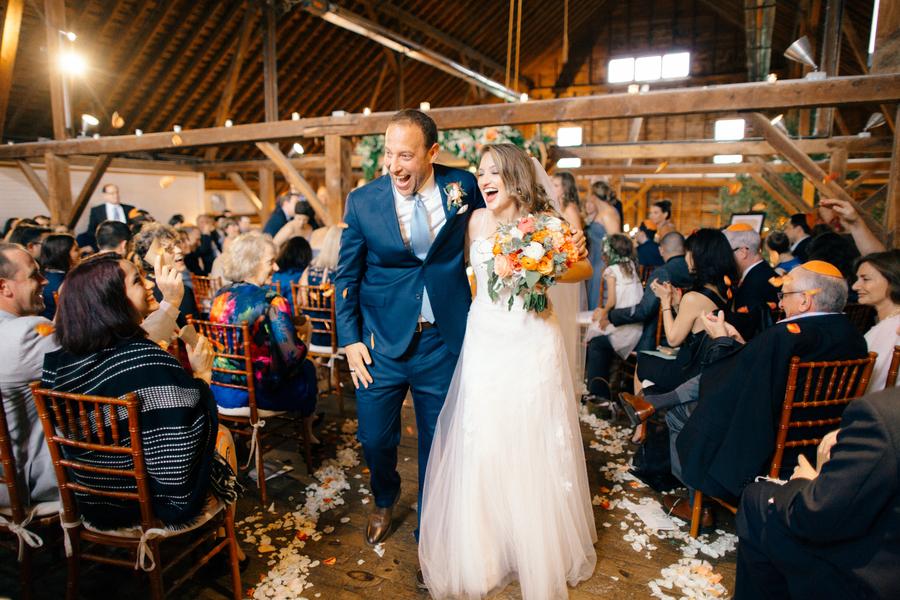 (Photo By: AhmetZe)
Add your unique style. From bow ties to suspenders to wing tip shoes, there are so many ways to accessorize your groomsmen. Because we're a fan of stand-out-grooms, adding a vest is another way to accomplish this if you don't want to wear a different suit color. This way, even after the jackets come off and dancing has commenced, the groom will still stand out among the guests.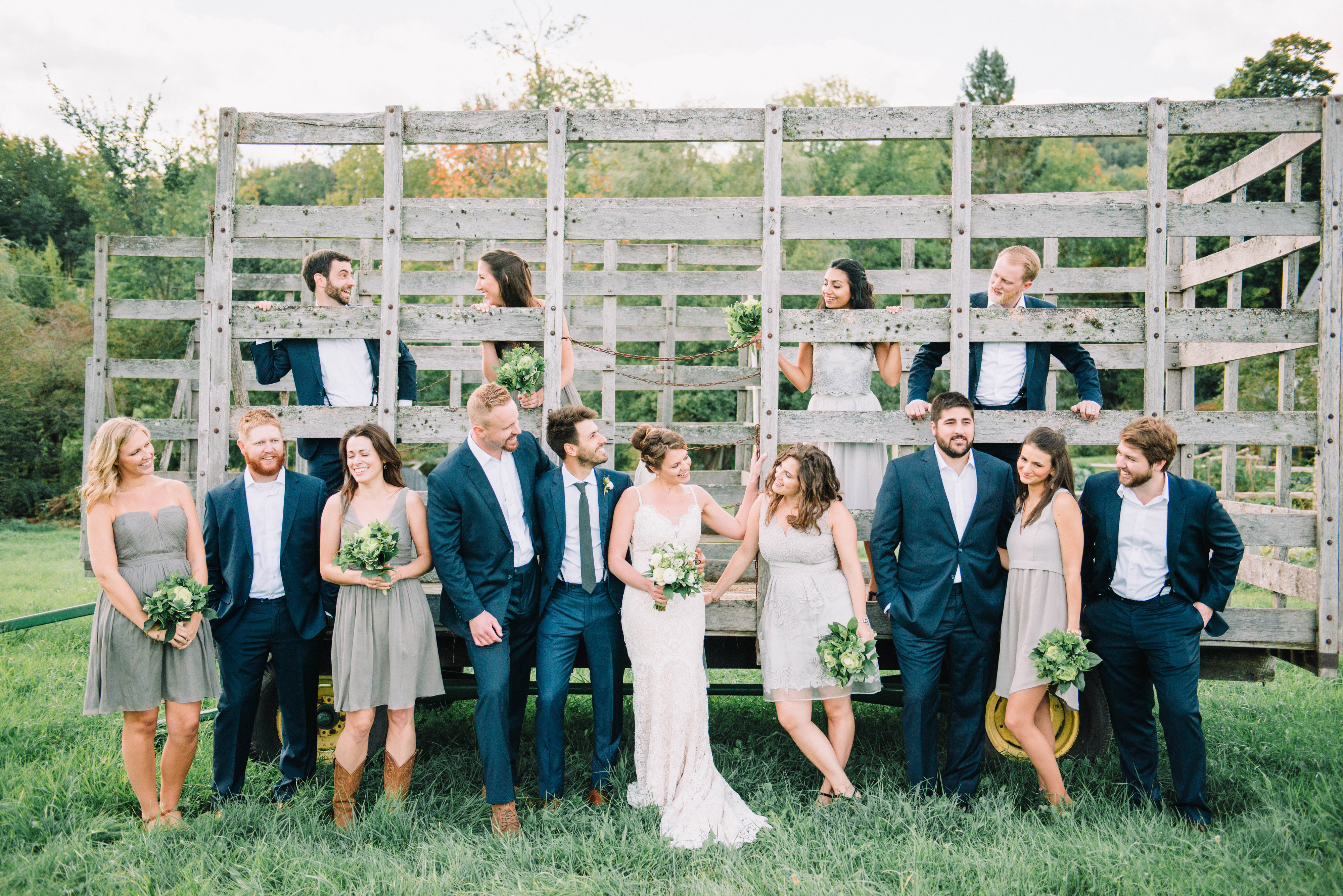 (Photo by: L'Amour Fou Wedding)
For Kevin and Paola's Vermont country wedding, only the groom wore a tie distinguishing himself and match the formality of his bride while his guys were casual and cool. For outdoor, more rustic weddings ties are optional. An open collar can be a really attractive look.
Finishing touches can be added with fun pocket squares and lush boutonnieres made from local flowers, foliage, etc… Colorful socks, cufflinks, tie bars, and hand-tied bow ties make great groomsmen gifts. Best of all, they are items they can continue to wear after the big day. Along with the suit they were able to own, for less than the cost of a rental at The Groomsman Suit!
Most importantly, have fun with your wedding style and be creative! For more inspiration, check out the The Groomsman Suit's Real Weddings page. Like your venue, your wedding style is truly how you can ensure your wedding day will be one of a kind.
(Cover Photo By: Arius Photography)