Springing into Wedding Planning: How to Stress Less
Being engaged is an amazing time in your life - full of anticipation, change, and planning! By the same token, this planning and transition can be incredibly tiring and stressful.
According to a Zola survey, 72% of newlyweds used "extremely" and "very" to describe their wedding planning stress. With April being National Stress Awareness Month, we want to give you some tips and tricks on coping with common pain points associated with wedding planning. After all, planning your dream day should be fun, not stressful.
 
1) Unrealistic Expectations
If there is one thing that makes people stress, it is the fear of failing to meet (usually unrealistic) expectations. While social media can create the illusion that there is a standard of what a perfect wedding looks like, it is important to remember that everyone's idea of the "perfect" wedding is different. One way to figure out what your ideal wedding looks like is to create a Pinterest board of images that you can use as inspo for everything from your wedding photos to your floral arrangements. The Garter Girl walks you through How to Use Pinterest to Plan Your Wedding in specific ways that make the process less overwhelming. Your wedding is about you and your boo, so the only expectations you should consider are your own!
 
2) Finding Your Dream Venue
To pursue a venue that captures your vision of a summer soiree, or to pick a setting suitable for a winter wedding wonderland - the choices are endless. The first thing many people do after saying "Yes!" is pick a date for the wedding. The stress of "What date works best?", "What venue should I choose?" and "Will this venue even work with our desired date?" are all common questions when researching venues. Weven has hundreds of nontraditional wedding venues with an array of outdoor and indoor options for you to choose from. Stay true to yourself and decide which type of venue works with your preferred season. Weven connects you directly to the host of your chosen wedding venue, so the hassle of accumulating contacts and tracking them down is eliminated!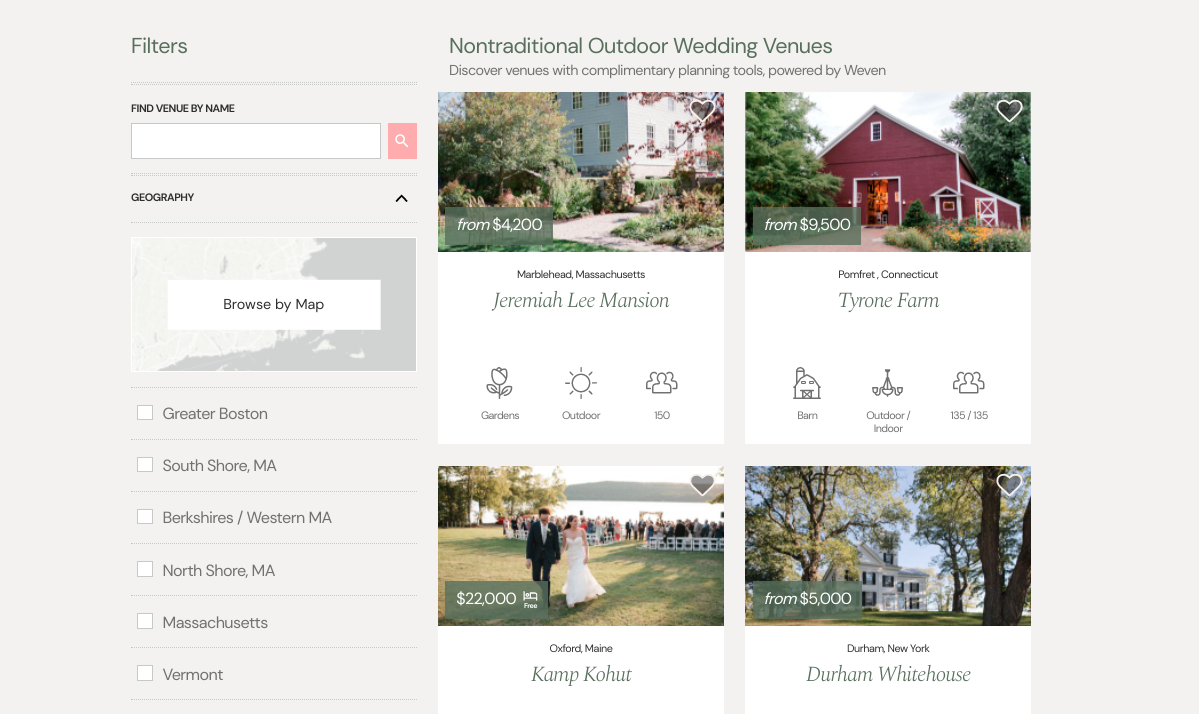 3) Fear of Hurting People's Feelings
Of course, there is always the stress of cultivating the guest list, which is only heightened when planning your very own wedding. You don't want to worry about who will be offended if they don't make the list, or be wondering if your Aunt's cousin is a mandatory invite? (It is completely up to you!) First, a critical factor to consider is whether your wedding is micro-sized or a larger-scale wedding. Next, it is good practice to sit down with your fiance and write down a list of your closest friends and family. After determining your VIPs, you can start discussing the secondary wave of people, such as distant relatives, work friends, and plus-ones. If you and your fiance are still struggling to cut down on guests, it may be beneficial to consider a reception-only list of people. Making your wedding ceremony more intimate may allow you to have more flexibility, in time and budget, for your reception!
 
4) Budgeting & Planning
A tale as old as time is coming to realize that your wedding is more expensive than you initially thought. When first approaching the wedding planning process, it is common to be unfamiliar with knowing how much is appropriate to spend on your big day and how to allocate your budget. Brides provides an outline of a healthy plan to budget your wedding, for those who may not know where to start. Another way to figure out how to budget is to make a list of features to consider such as wedding attire, videography, decor, etc., and to prioritize for yourself. Take your priorities into consideration, while also applying your knowledge of what is traditionally most expensive, such as the cost of the venue and catering.
 
5) Can I Get it All Done? Create A Checklist!
Between the inevitable scheduling conflicts, endless calls to different vendors, and the overall urgency you feel to finalize details for your wedding, you can begin to question how all of it is going to get done. "Planxiety" is (unfortunately) normal.
Stay on top of your wedding planning tasks with an online checklist! Weven venues offer free online planning tools to coordinate your wedding with anyone involved seamlessly. Whether you assign "Set Up My Free Weven Wedding Website" to yourself or "Upload Cater Vendor Options" to your venue, online planning checklists make it easier to cross off important tasks on your wedding planning checklist. Prioritize your tasks by importance or due dates to use your time wisely - nothing alleviates stress more than seeing a successfully checked-off to-do list!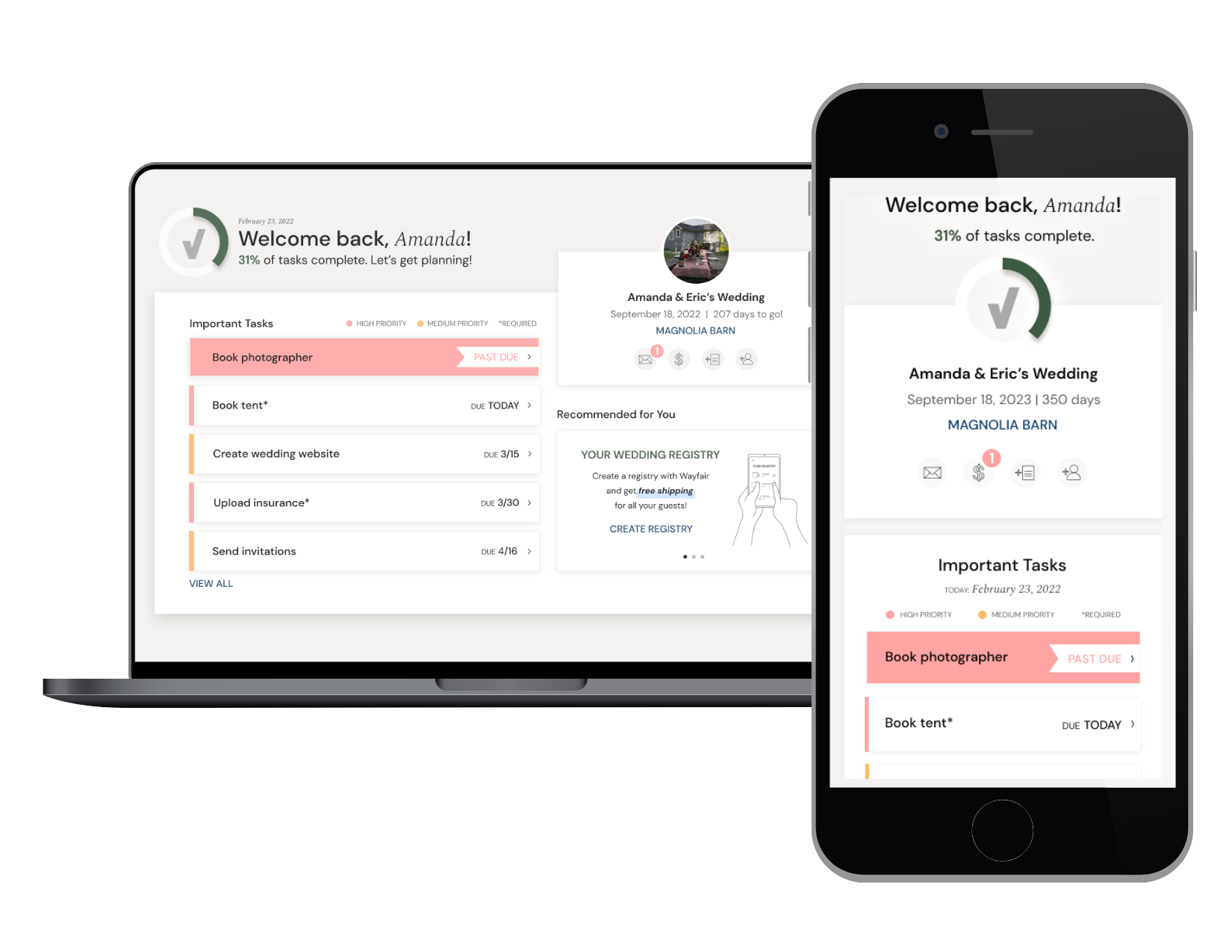 Every Weven venue is committed to providing their clients with the best experience from initial inquiry to the big event. That is why each venue includes a FREE Client Planning Portal to make the entire planning process easier for all of those involved!
 
While planxiety is real, it is so important to stop and smell the roses. This is an incredibly exciting time in your life and planning for it should enhance this feeling, not take from it. Remember to integrate self care ideas such as meditating, going on walks, and/or date nights with your fiance when feeling overwhelmed. In conjunction with these tips and tricks and SPRINGing into this season of your life will be seamless!
 
Header Image: Cassie Johnson Photography | The Barn at Graver's Tree Farm