Personalizing an Open Space Venue - A Planners' Perspective
For those looking for inventive ways to personalize their wedding, open spaces offer nearly endless design potential. Every venue brings a unique set of advantages to the design and production of an event. But with that, comes the beauty of creating something that can never again be replicated - a truly one-of-a-kind celebration.
As planners, we love the overwhelming potential of an open space - a blank canvas for an entire vendor team of artists to create in. We're able to work with clients to engineer a unique ceremony, cocktail hour and reception, which is a luxury that few other traditional spaces afford us.
We also consider what makes the property uniquely special and how those elements can be integrated into the design. Perhaps you have chosen a farm that produces honey from an on-site bee colony - brainstorming with the catering team about inventive ways to showcase that honey in various dishes could be a thoughtful touch.
Many open spaces lend well to tents, which offers us as designers an additional layer of creativity. Think: stunning floral installations, draping, lighting and more. Open spaces give way to an entire world of creative elements that further enhance the guest experience.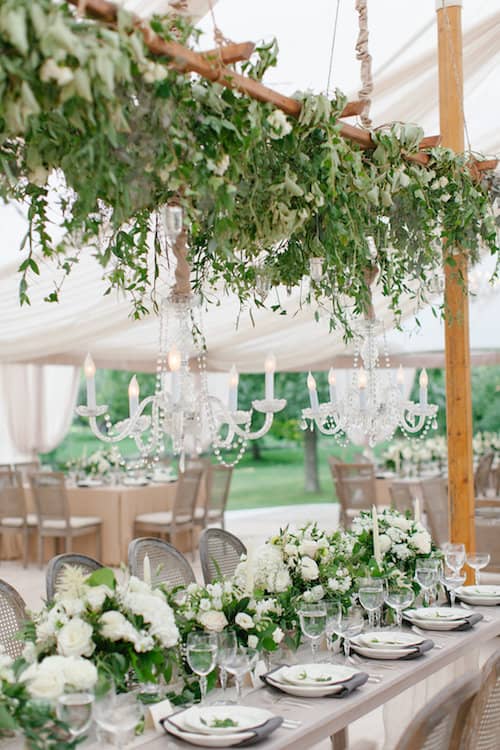 Envision welcoming guests to cocktail hour as as they are led down a wooded path by a bagpiper. Or enjoying an alfresco family-style feast underneath the stars. Let friends and family dance to the sounds of a live band under a tall sail-cloth tent in the middle of an orchard. Finish off the evening with a late night bonfire and s'mores station or even a festive fireworks display.
Above all, having a professional vendor team is critical for success. Vendors with experience working at private homes will be able to collaborate with you to design an event that is equally functional as it is beautiful.Being able to rely on vendors who are supremely confident in their service abilities and experience working at non-traditional venues is key to a stress-free planning experience and a memorable wedding celebration.