How to break all the wedding ring shopping rules
Emily Scott Surette, designer and owner of e. scott originals jewelry, shares some juicy tidbits on how to do it your way when it comes to choosing wedding rings.
Emily specializes in "handmade, original jewelry inspired by urban life and mother nature" and has years of experience working with couples to create and find the perfect timeless piece to celebrate their unique love story.
With so much conflicting information out there we jumped at the opportunity to share some of Emily's wisdom. Below she shares her thoughts on breaking the wedding ring shopping rules.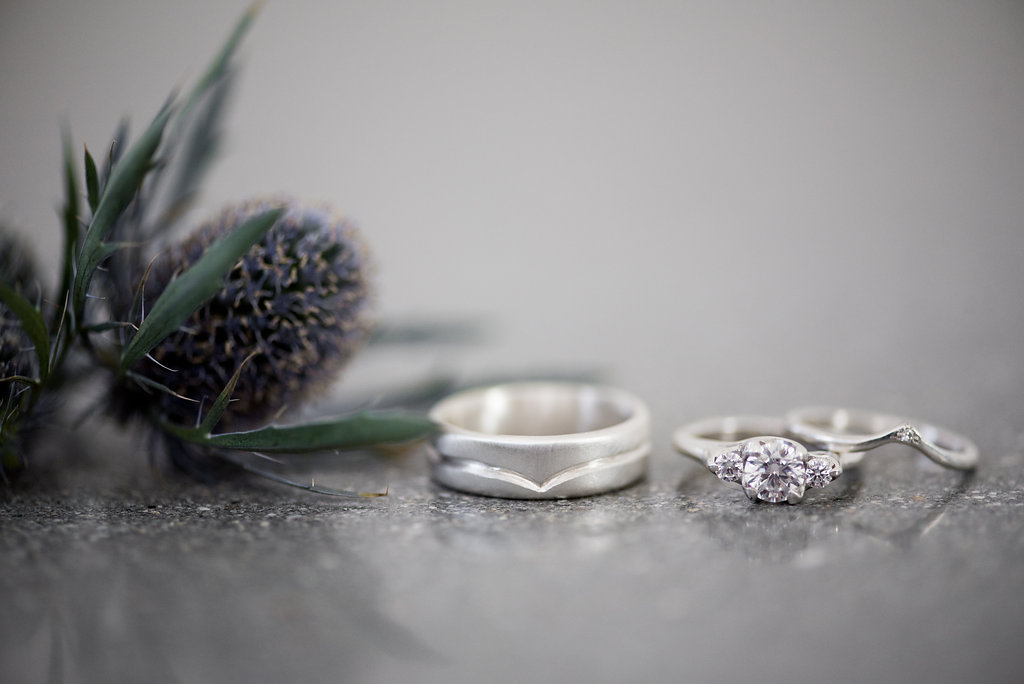 Photo by Elizabeth Laduca
The only rule for wedding ring shopping is … Do what you want! You're the one wearing it for forever, so your wedding ring should reflect you and make you want to wear it every day.
Here are answers to the most common questions we get at e. scott originals jewelry:
How am I supposed to wear my wedding and engagement rings together?
Tradition says wedding ring is put on first then the engagement ring. Supposedly, it's because it keeps your wedding ring is closer to your heart… I think it's because a lot of women take their engagement ring on and off more often than their wedding ring, so easy access.
Lots of women choose to wear their wedding ring on their left hand and then switch their engagement ring to their right hand- giving them lots of freedom to pick a wedding ring that had a totally unique style.
Do my engagement ring and wedding ring have to match?
NOPE! It's all about what you like. Do you like mixed metals? Pick a rose or yellow gold wedding ring to go with a white gold or platinum engagement ring.
Do you want more bling? Get a wedding ring with a design full of diamonds! Does your engagement ring feel too traditional?
Let's funk it up with an edgier wedding ring, or maybe even two to wear on either side of your engagement ring. I like to have the two share some element, like metal color, stone type or pattern, but ultimately it comes down to your style!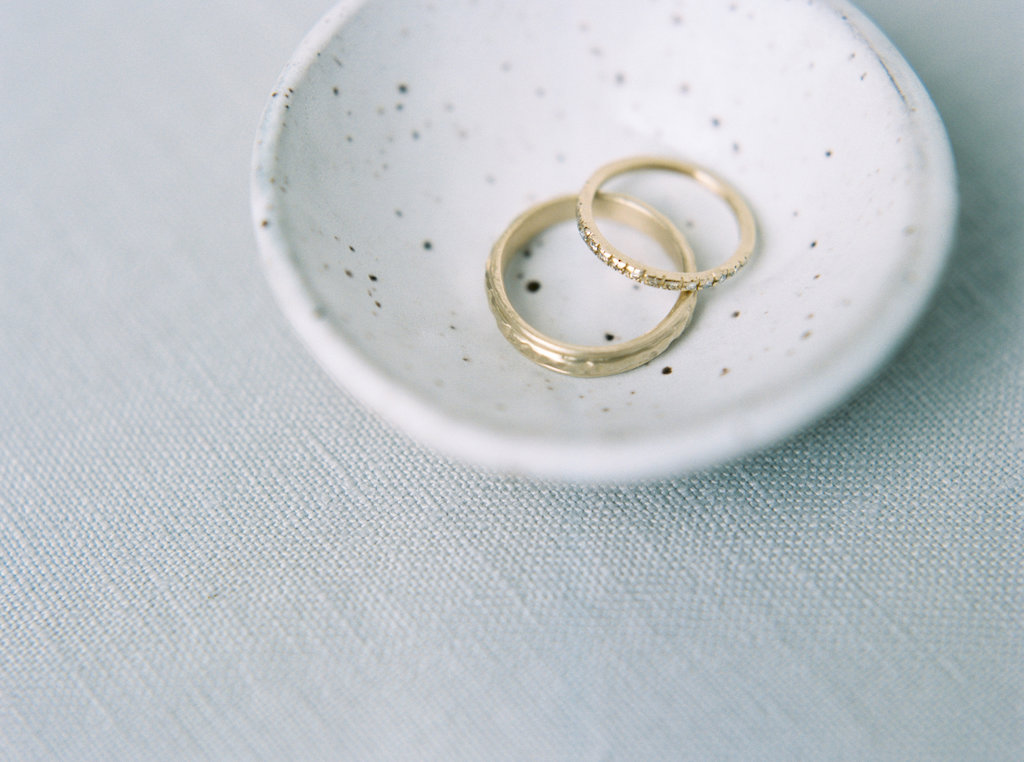 Photo by Elizabeth Laduca
Do me and my partner's rings have to match?
The only time your rings will be seen together is wedding pictures. You are two different people with totally unique tastes, so pick a ring that you'll love and want to wear every day.
There are ways to coordinate rings, without being matching. Maybe you both just choose the same metal or the same texture. Perhaps you pick rings, like our Point Rings, that only you know coordinate with one another- with one ring looking like to was pulled out of the other.
If you go two completely different directions with design, you can always incorporate an engraving on the inside that will be your little secret to one another.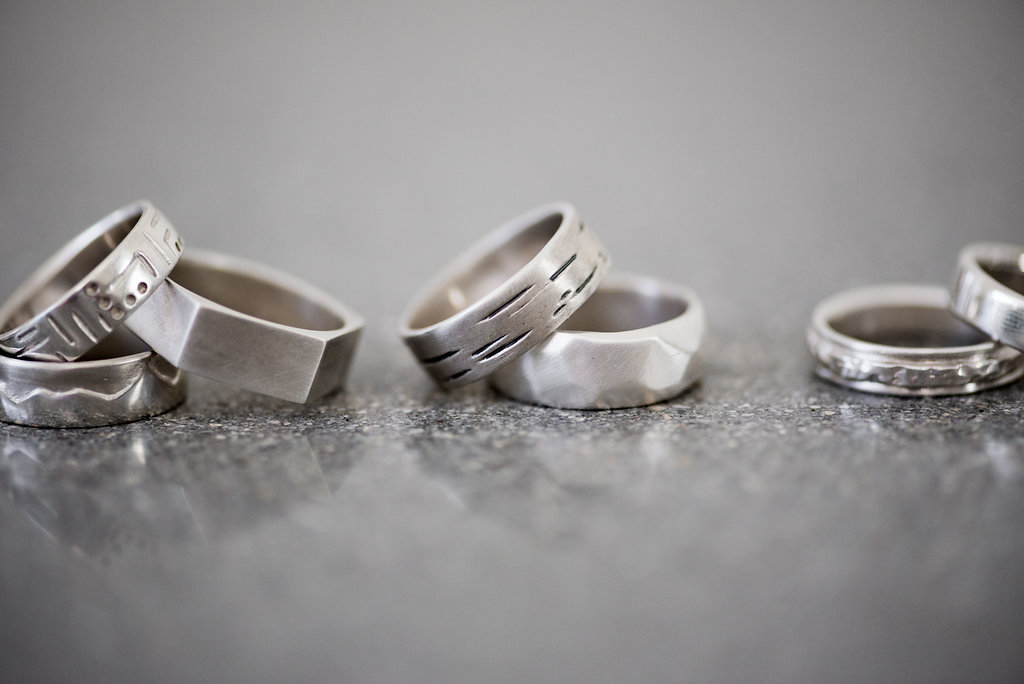 Photo by Elizabeth Laduca
How much should I budget for wedding rings?
Rings can vary greatly, as the materials you choose can range in price. As a baseline, you should expect women's rings to start around $600 and men's $800 in 14k gold with platinum getting more expensive.
While wedding rings might seem like a costly purchase, besides photos and your spouse, they're what will last forever! Invest in something you love and can pass down to the next generation.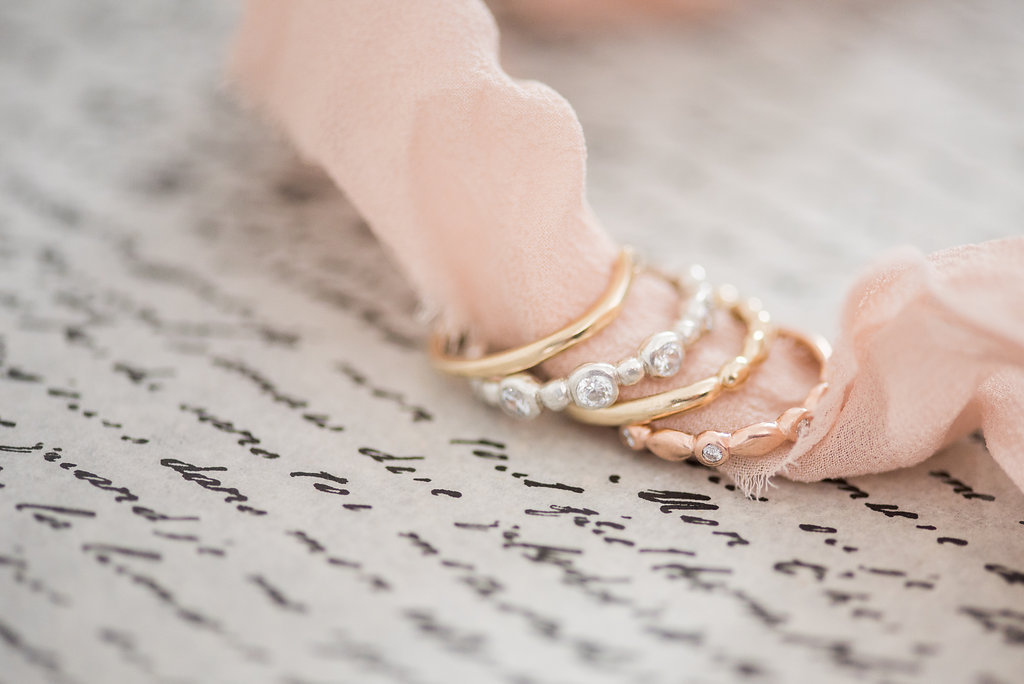 Photo by Elizabeth Laduca
We believe that your ring should be something you love, feel comfortable wearing and reflect you.
Don't be afraid to make your own rules.