Choosing wedding invitations that complement your personality and wedding venue aesthetic
We believe that the best wedding experiences are those that are reflective of a couples' friendship, memories, and values. Think about the best weddings or events you've been to. What made them memorable to you? Was it the beautifully written vows the couple wrote together? Or perhaps the creative favor you brought home that contained honey from bees raised at the venue?
Whatever your definition of best wedding is, there is likely a personal factor weaved into the story the couple told at their event. Think of every decision you make during the planning process as an opportunity to showcase something special about your unique love story and event theme.
Wedding stationery is a great place to start infusing personal details and elements of your wedding venue and theme into your wedding design and aesthetic. Thinking about wedding styling cohesively adds another dimension of character to what is already a very personal experience.
Below we share some examples of wonderfully paired stationery and venue combinations.
Estate
Private and elegant, estate weddings are full of character. There is no right way and certainly no wrong way to style an estate wedding. The word estate tends to raise some preconceived notions that aren't always fully representative. An estate wedding style doesn't have to be a stuffy or overly refined.
Some estates are private homes with space and personality that serve as a semi-blank canvas for your wedding planning. Other estates are historic properties with a distinct character that can be used as the jumping point for your overall theme. Whether your wedding property is quirky, refined, or somewhere in between, it is helpful to consider the history of the property. Use this information to give your guests a hint of what to expect when they receive their highly anticipated wedding invitation.
This custom wedding invitation suite, The Woodstock Collection, by Sugarhouse Stationery features the private estate wedding venue prominently. Creating a unique work of art your guests won't find elsewhere is an inventive way to build excitement around your wedding.
Photography by Meagan Emilia
A fresh and modern suite also complements an estate wedding nicely. Consider a bold and fresh design for a classic touch like the Urban Glamour suite pictured below. While this versatile design would pair nicely with most venue styles its sophisitication makes it a great choice for those looking for a wedding invitation design that is simple and refined.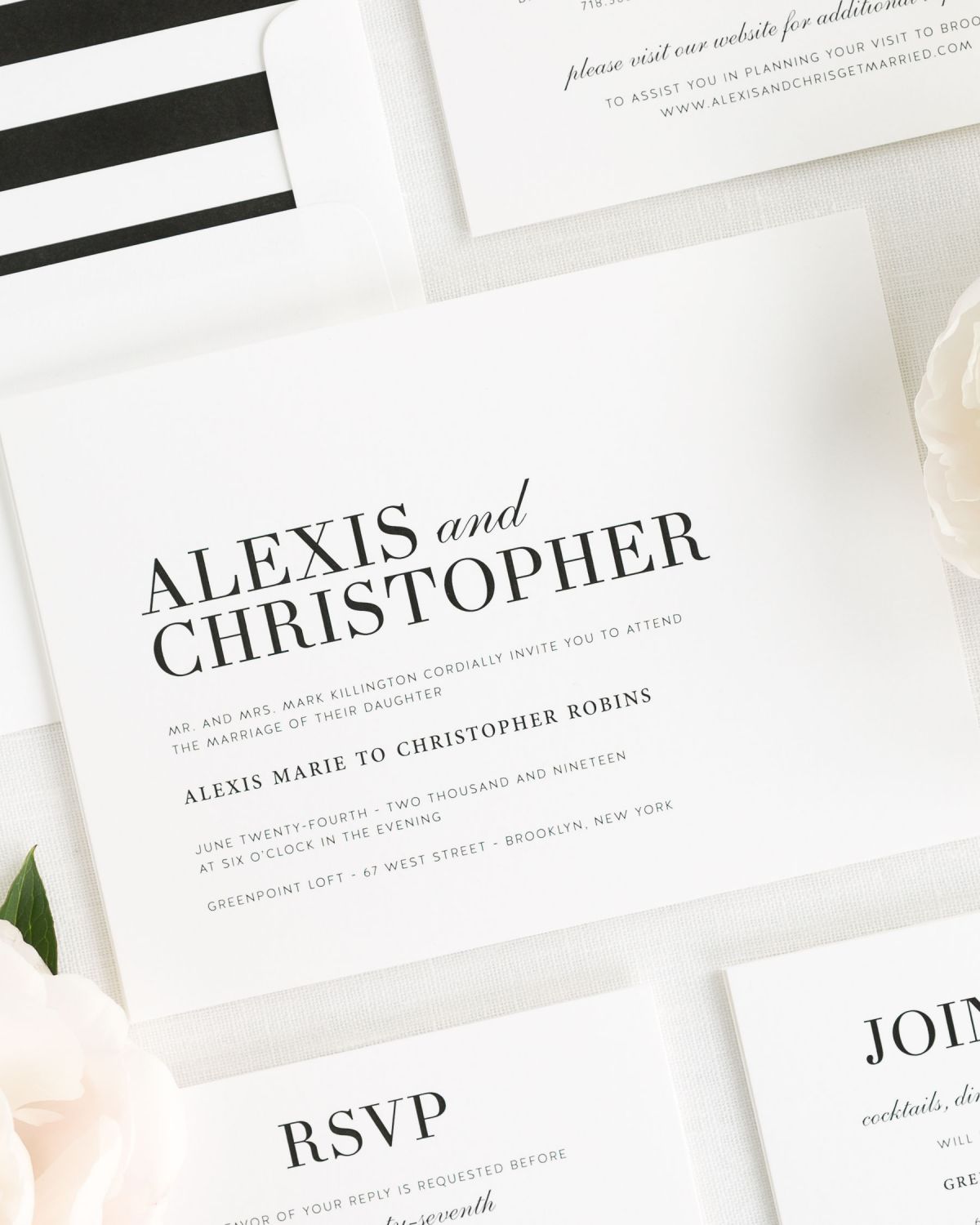 Garden
The garden wedding theme is diverse and timeless. You can choose a whimsical and colorful style for your wedding invitation suite or choose to complement your garden wedding with a classic and clean aesthetic. The key is to hone in on one element without overdoing it. Choose one element and build from there. Give your guests a sneak peek of your garden wedding venue by highlighting the garden's most prominent flower on your invitation. The Shine Wedding Invitations suite below, Natalie, is a beautiful representation of the organic elements of your garden wedding.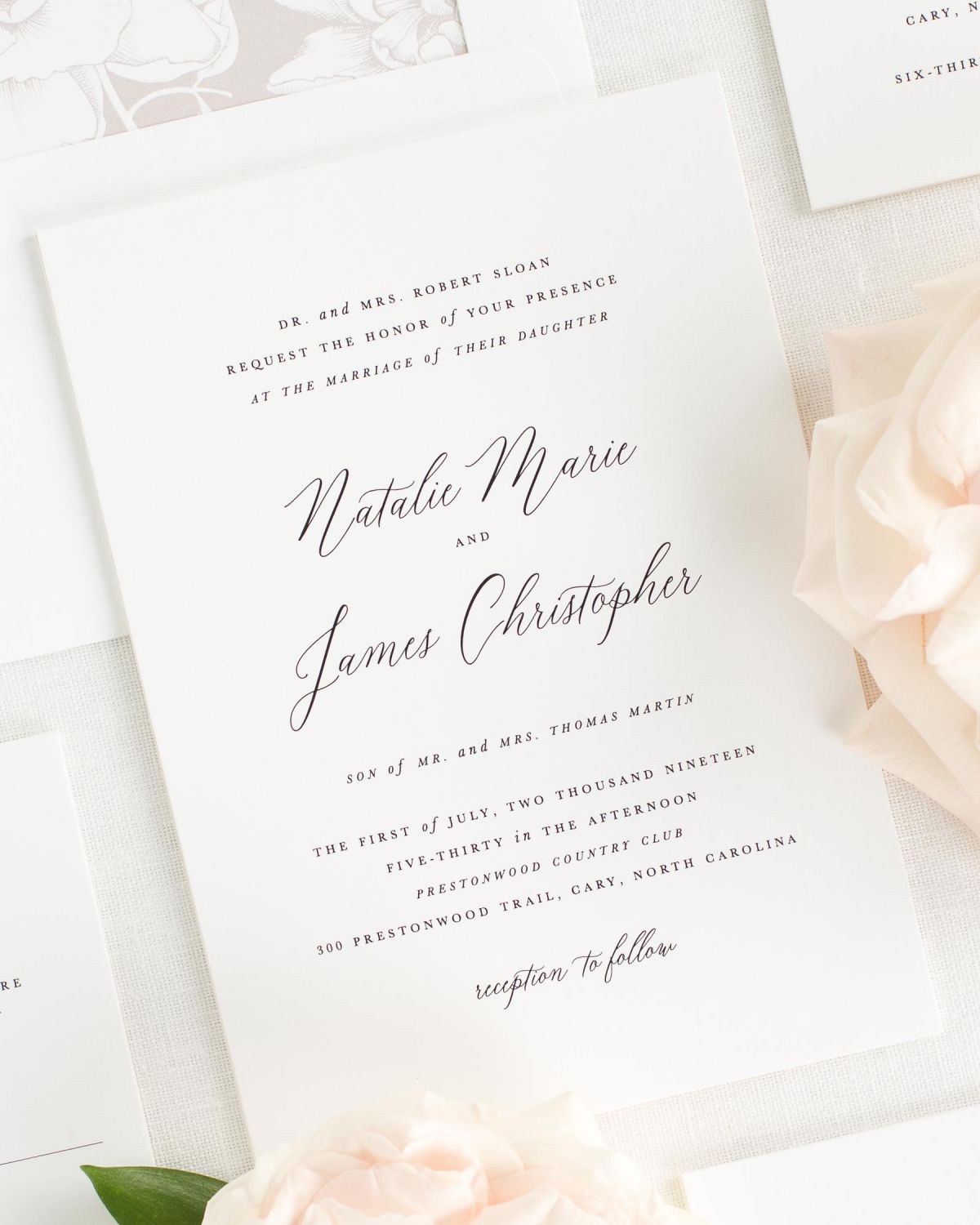 The Sugarhouse Stationery Wedding Invitation Suite Photo by Sugarhouse Stationery features a gorgeous hand drawn illustration of the venue and uses the couple's wedding color palette to bring it all together.
Forest
Forest weddings are growing in popularity and we couldn't be more thrilled (obviously). Many couples choose to host their nuptials surrounded by trees because it is a statement of their personal connection to nature. Hosting a wedding outdoors is an opportunity to showcase your values to your guests and introduce them to some of your favorite outdoor activities.
Couples who choose outdoor weddings craft memorable wedding weekends for their guests that revolve around hiking, kayaking, swimming, and more. Draw inspiration from your wedding venue's surroundings to give invitation recipients of glimpse of the incredible weekend ahead. There is nothing more fun than the anticipation of a weekend spent with friends and family making unforgettable memories together. Use recyclable paper and sustainable inks to further demonstrate your commitment to preserving our greatest natural treasures.
The Eden Collection photographed by Natalie Colapietro
For a subtle option consider this Wreath Monogram suite by Shine. With a slight natural touch this wedding invitation is classicly chic without being overly opulent. Perfect for couples who haven't quite finished choosing their wedding theme or design and want to keep their invitation suite on the stylishly unadorned side.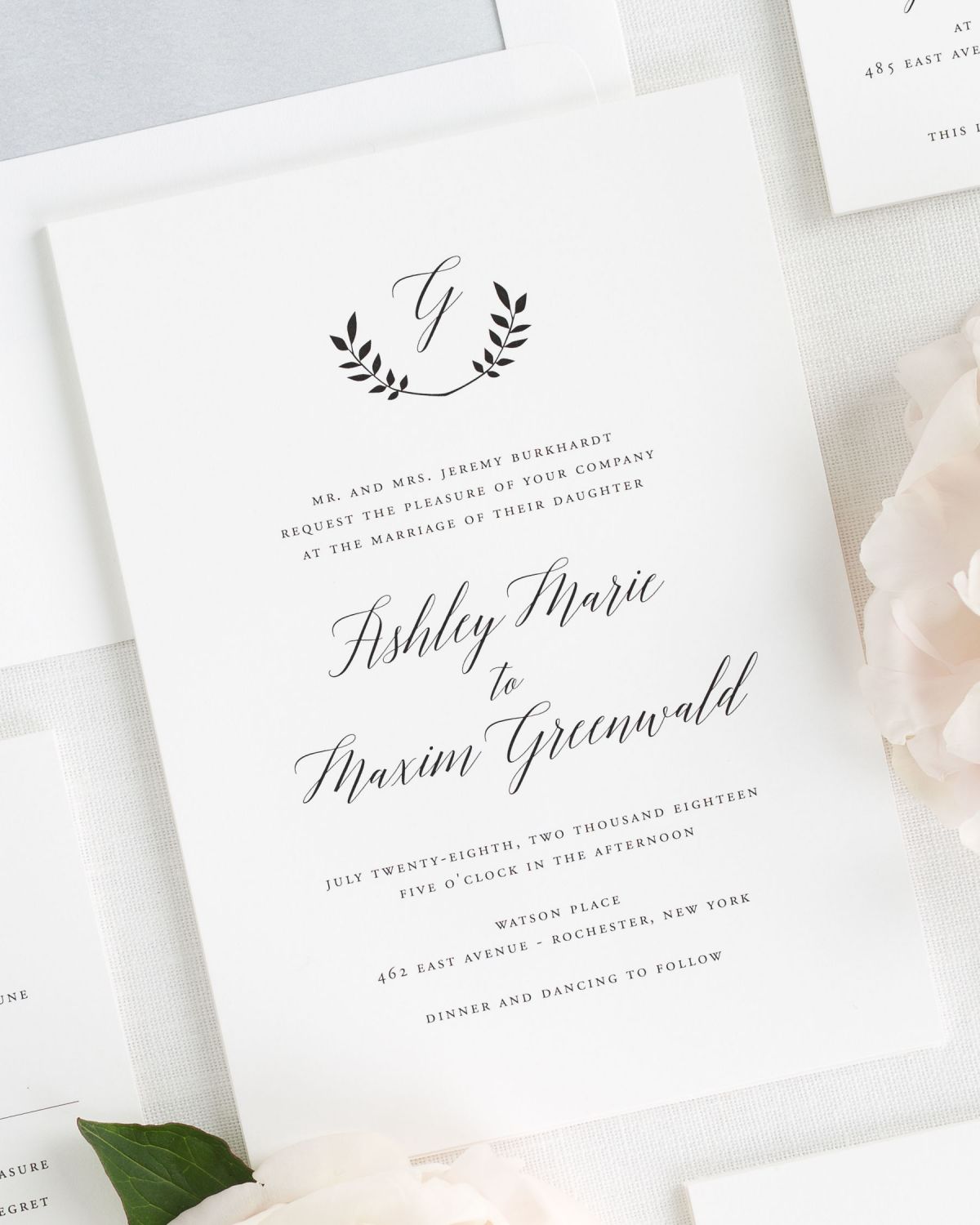 Haven't found a venue to complement your stationery? Take our Venue Matchmaker Quiz to find the perfect unique wedding venue for you.