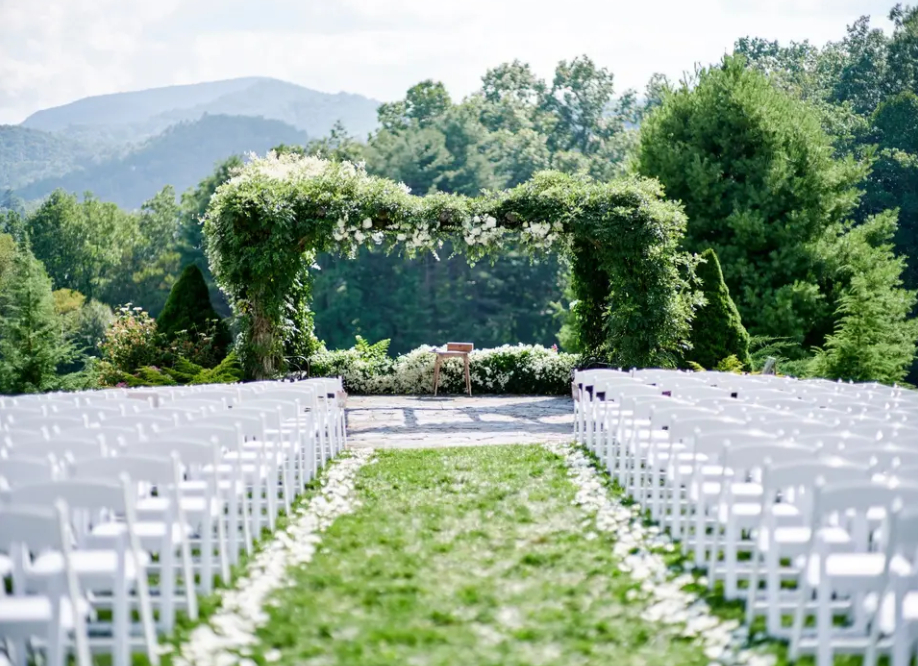 You're Invited
April 20th, 2024
Chimney Pond Farm
240 Chimney Pond Rd
Glenville NC, 28736
Get Directions
Our Story
How We Met

What started as a casual coffee date in Feb 2020,
turned into much much more...

As COVID lockdowns ramped up, and restrictions were placed, the two continued to date, although with a creative spin. DIY spa night, kitchen experiments, thrift store fashion shows, hiking, baking dozens of cakes, and gardening projects allowed Craig and Stephanie to build a stable bond. She taught him how to Scuba dive, and he taught her how to use the insta-pot. She's still figuring it out and the insta-pot still works.

As the world returned to normal, the two went on adventures together. Traveling to different beaches and diving locations. Meeting each other's families, exploring attractions and restaurants that were previously closed. They were able to expand their relationship outside of their bubble; it felt like the early days of their courtship all over again.

The relationship was thriving!

Craig and Stephanie looked ahead, and decided to move forward together. For the two of them, the relationship felt smooth and natural. It felt easy, fun and supportive.

Things felt right.



The Proposal

Here's where things get really serious! Fast forward to December 2022. The couple were preparing for their first big vacation; a week long scuba diving trip to Bon Aire, an island in the Carribean. I know what you're thinking, "How romantic! A tropical island with white sandy beaches and palm trees. Just dreamy!!" WRONG!

Bon Aire is an arid desert island with a rocky cliff shoreline and cactus; no sandy beaches. Despite the land topography, the island offered the couple world class diving and a pristine coral reef system. For them, this was going to be a perfect vacation. With a scuba travel guide in hand, and a list of the dive sites, they carefully planned out each day. Their mothers would be proud; they made a list, and followed it.

Little did Stephanie know, Craig was quietly making his own plans for this trip..... Big plans..... Life changing plans.....

Craig was planning a PROPOSAL!! And this was no easy feat. How do you propose to a girl who's planning to spend the entire vacation underwater?? Craig had a few hurdles to overcome but he was determined. Stephanie was the love of his life, nothing would stop him. He needed to have a perfect plan.

Step One: Pick the perfect day/night. There was a full moon on the third night of the trip. Day/night selected!

Step Two: The ring. It's a diving vacation, lots of activity, lots of time in the water.... Let's go with a silicone band instead of a traditional ring. After all, if you want to lose something expensive, take it in the ocean!

Step Three: Location. Romantic walk on the beach with a full moon back drop. Only rocky cliff shoreline and no beach as far as the eye could see..... back to the drawing board. Propose underwater? Well, she won't get out of the water, so underwater it is.

Step Four: Entourage. Got it!! While she's loading gear, tell everyone in the dive group about the plan. It will be on the second dive of the day, about half way through the dive. Give everyone a hand sign and bang on the tank, that's the signal. Time to get the cameras ready!!

Step Five: The proposal. Since you can't talk underwater, it'll have to be written down. Stay out of direct view of her and write the proposal on a dive slate while swimming. Perfect!

The second dive of the day took place at a site called Oil Slick Leap. Stephanie had no idea how much this dive would change their lives and relationship. But Craig knew, he had the perfect plan.

On December 7th, the morning after the full moon, on the second dive of the day, around minute 26, at a depth of 72ft, Craig got Stephanie's attention by banging his tank, and called her over to him. While doing this, the entourage got their cameras ready.

Once Stephanie got to Craig's side, he pointed to a hole in the rocky sea floor. She looked in, then back at him in confusion. It was empty. Insistently, he pointed back at the hole, signing that there was something to see. She looked in, still empty. Confused and frustrated, she motioned to the divers hovering around them trying to call them off. It was a dud, Craig had lost it. He got her attention again and continued to point in the hole more energetically than ever before. Stephanie looked in for the third time, and again, still, it was empty.

As she looked back up, wanting an answer to this nonsense, he handed her the slate with the written proposal. Still confused, Stephanie thought to herself, "What? He wrote me a whole page about some dumb fish that swam off?" As she read through it, things started to come into focus. Excitedly, she skimmed over the words, and her eyes quickly shot back up to him. Craig was holding a wooden ring box that with the inscription, "Will You Marry Me?" and a pink silicone band.