New England's 10 Most Beautiful (and Hidden) Nontraditional Wedding Venues
From gardens in Vermont to barns in Massachusetts to island estates on Martha's Vineyard, we share ten of the most beautiful and off-the-beaten-path venues we have discovered here in New England. These nontraditional venues are private spaces that only host one wedding per weekend and a handful per year. Each venue here is hosted by Weven. Weven creates venue-specific online planning tools for each property so you can book the venue, coordinate your own preferred vendors and customize the space all online.
Oh, one more thing - these are "feel-good venues." Meaning every wedding hosted helps preserve and maintain these amazing farms, orchards, family estates, and other open spaces for generations to come.
So without further ado, here are ten of our favorite hidden gem venues...
1. Josias River Farm
Cape Neddick, Maine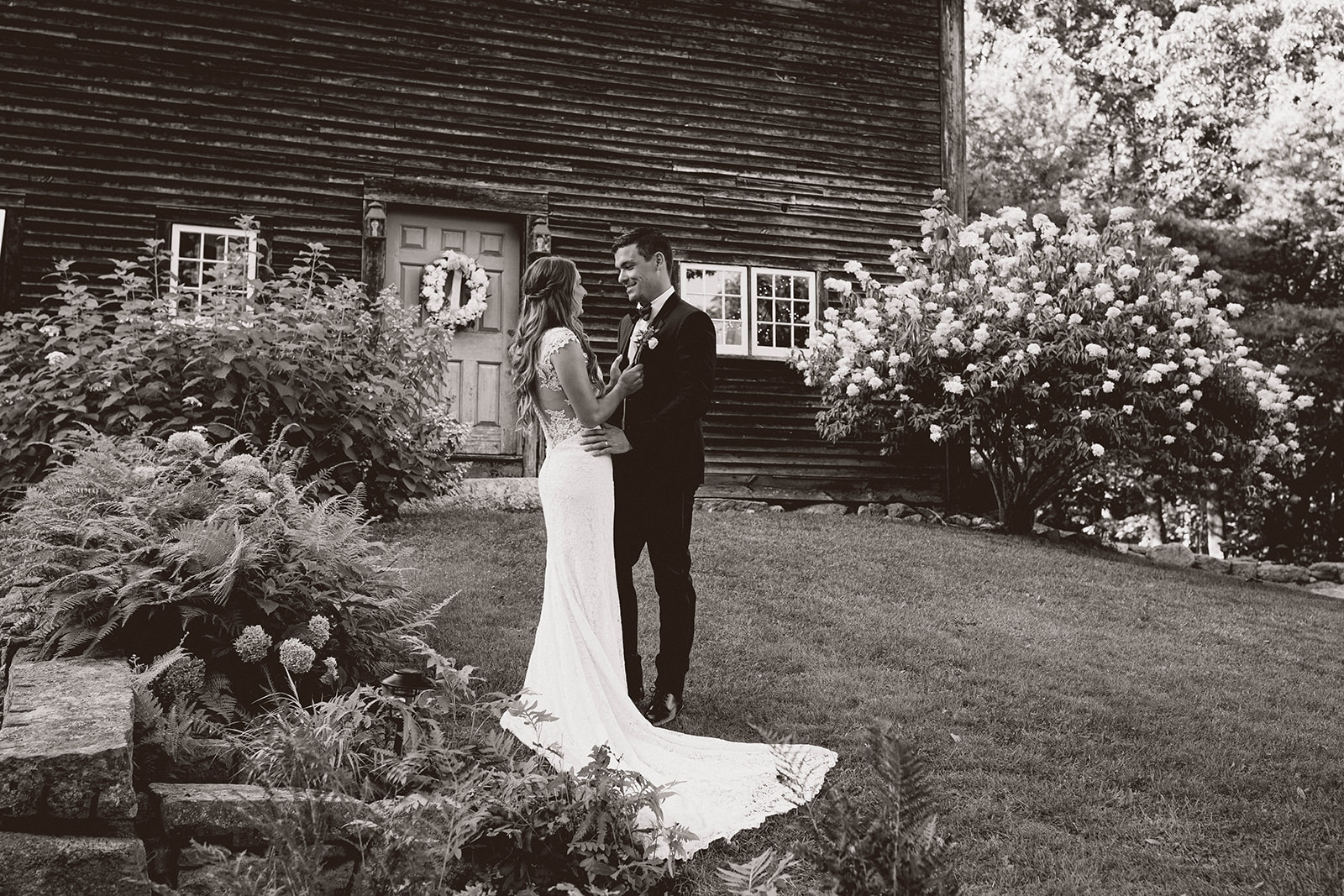 Josias River Farm is (nearly) a 250-year old hidden forest retreat with twenty scenic acres of open fields, pastures, forests, and gardens! The farm includes an ivory cottage, a beautifully restored barn, and manicured gardens. For couples looking to host an outdoor event, the beautiful open field is perfect for any size tent, and the barn is perfect for ceremonies, cocktails, dancing, and intimate dinners. Josias River Farm lights their pathways and trees with white twinkle lights so that you and your guests can dance the night away! From the farm's stone walls, classic New England barn, and pristine flower gardens surrounding the original antique cape, Josias River Farm serves as the perfect setting to celebrate love with family and friends.
 
2. The Barn at Boyden Farm
Cambridge, Vermont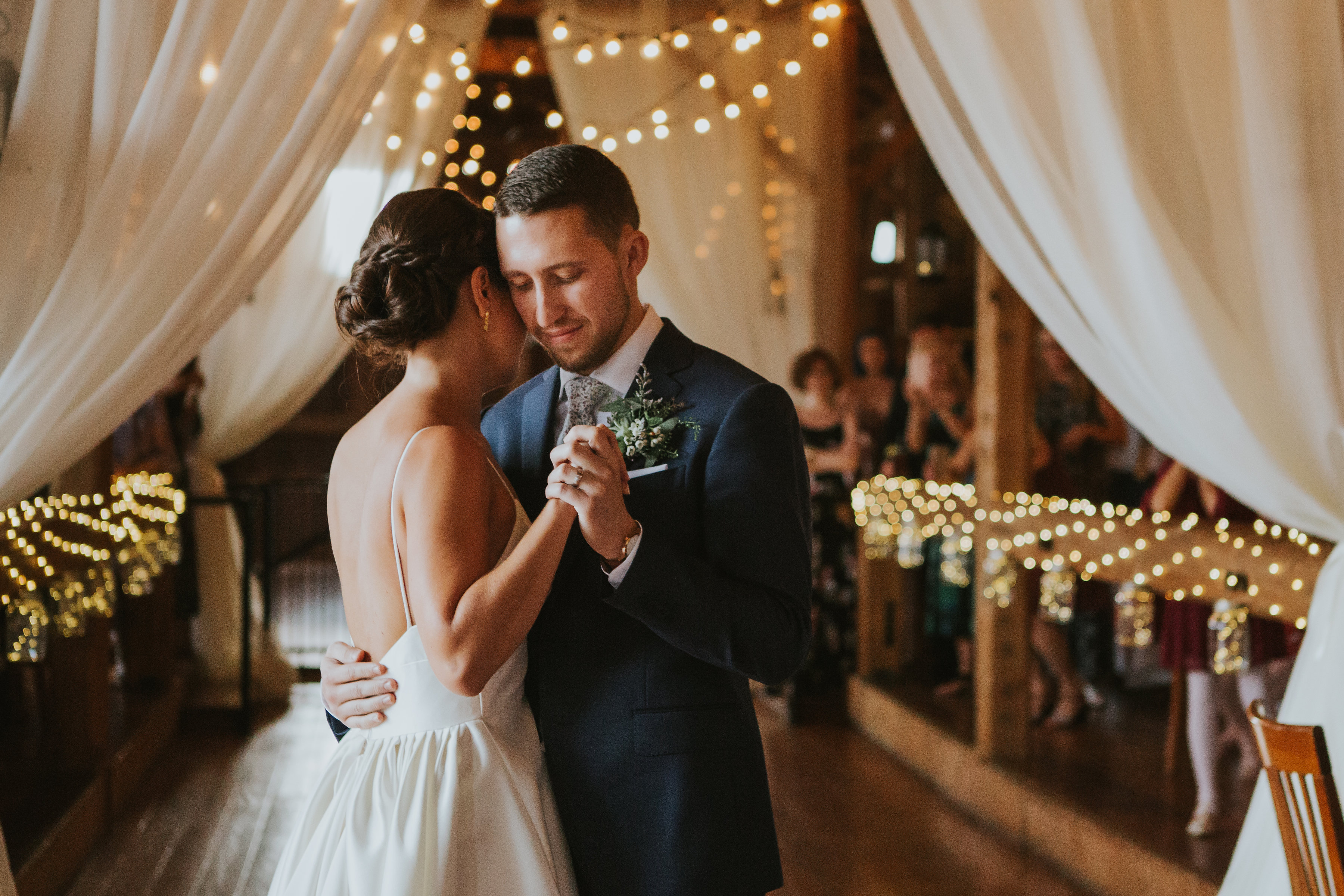 (Amy Donohue Photography)
 
A real 5th generation working farm and vineyard complete with renovated hayloft barn, the Barn at Boyden Farm transports guests away from the busy city life to the sounds and fresh air of the Vermont wilderness. Amidst acres of open farmland and stunning mountain views, this property exudes an authentic, rustic elegance that will serve as the perfect backdrop for a truly unique and customizable wedding experience. Complete with a full kitchen and separate bar, the barn is the perfect venue for couples who want to enjoy outdoor elegance in a timeless New England farm.
 
3. Winvian Farm
Morris, Connecticut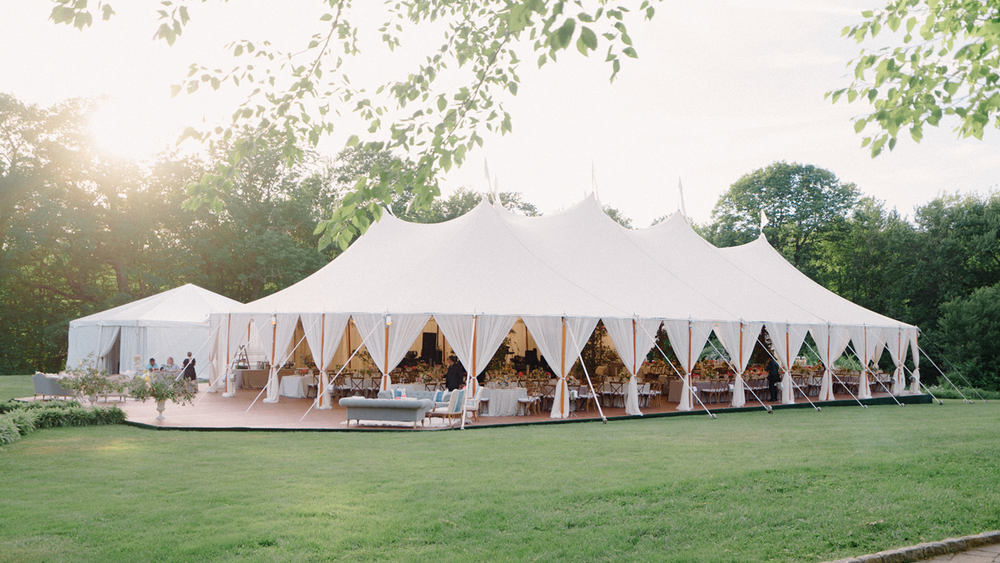 (Steve Steinhardt Photography)
 
There is something special about having a ceremony where you and your loved one say your vows amid acres of lush farms. Weatherlow Farms is a beautiful working farm with two hundred acres of pristine privacy along the seaside town of Westport, MA. Filled with specialty cut flowers, cows, and produce of all sorts from the farm kitchen, Weatherlow Farms. The entire farm is available for your next event: the stunning barn, open lawns, secluded pastures, flower field and greenhouses, cocktail patio, and bridal suite are all wonderful aspects.
4. Horse & Hound
Franconia, New Hampshire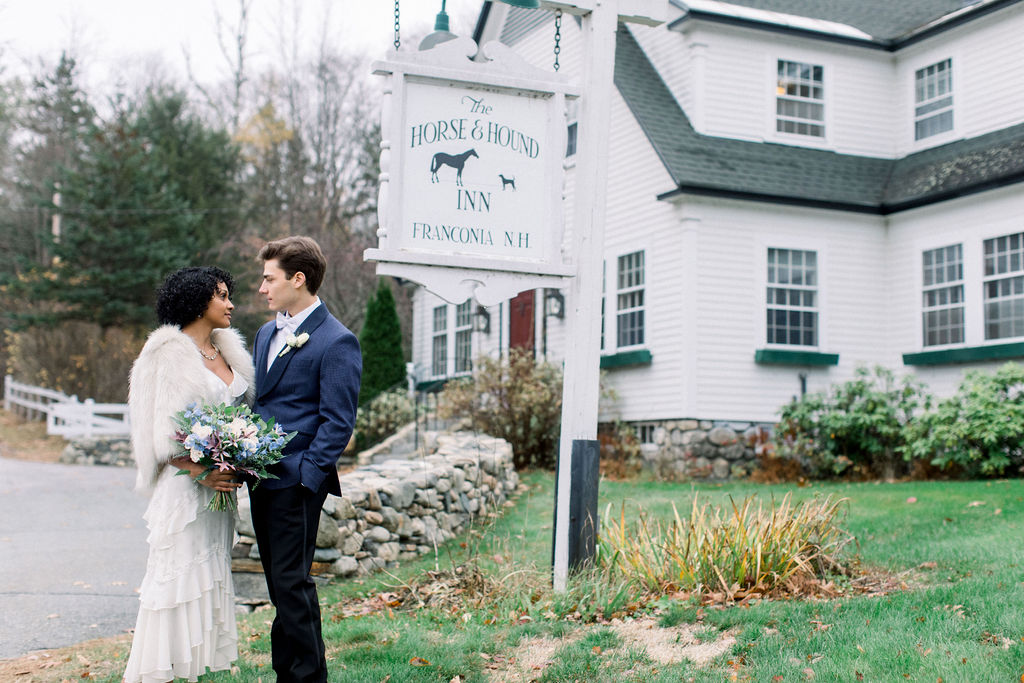 Just an equidistant drive from Boston, Portland, or Burlington, the Horse & Hound venue is optimal for hosting an entire destination wedding weekend in New Hampshire's rustic White Mountains. The grounds offer a large terrace for your rehearsal dinner for outdoor weddings. While your guests enjoy the garden and charming greenhouse during cocktail hour, couples can take advantage of the venue's many phenomenal wedding photo-op spots, including, among the sugar maples, the bridge over the babbling brook, or in front of the three working fireplaces. Enjoy the cozy, exposed-beam dining room for couples looking for an intimate micro wedding. Have a larger event? Make it an elegant affair by hosting a tented outdoor reception in our gardens.
 
5. The Barn on the Hill
East Randolph, Vermont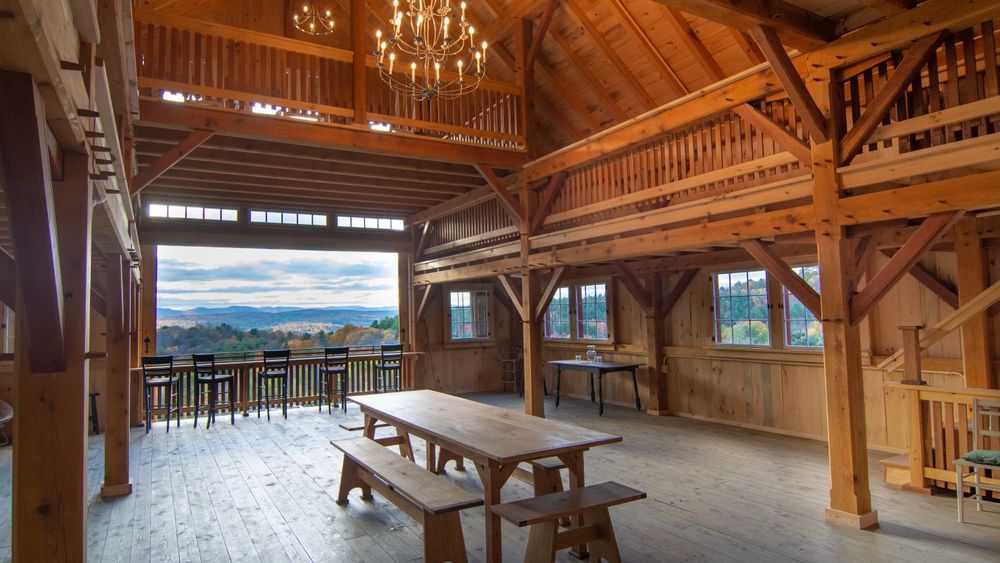 (Mountain Brothers Media)
 
Want to capture the essence of the farm? At the Barn on the Hill, enjoy a hand-crafted beam barn set at the edge of the woods, overlooking grazing pastures and gorgeous Green Mountain views. Guests will savor a ceremony or cocktail hour around the pond with a landscaped waterfall and picturesque backdrop. Then, you and your loved ones will dance the night away in the barn where your guests will look up and see a sparkling chandelier underneath an open cupola and gaze end to end through sliding barn doors out to stunning mountain views.
 
6. Bluebird Farm
Willington, Connecticut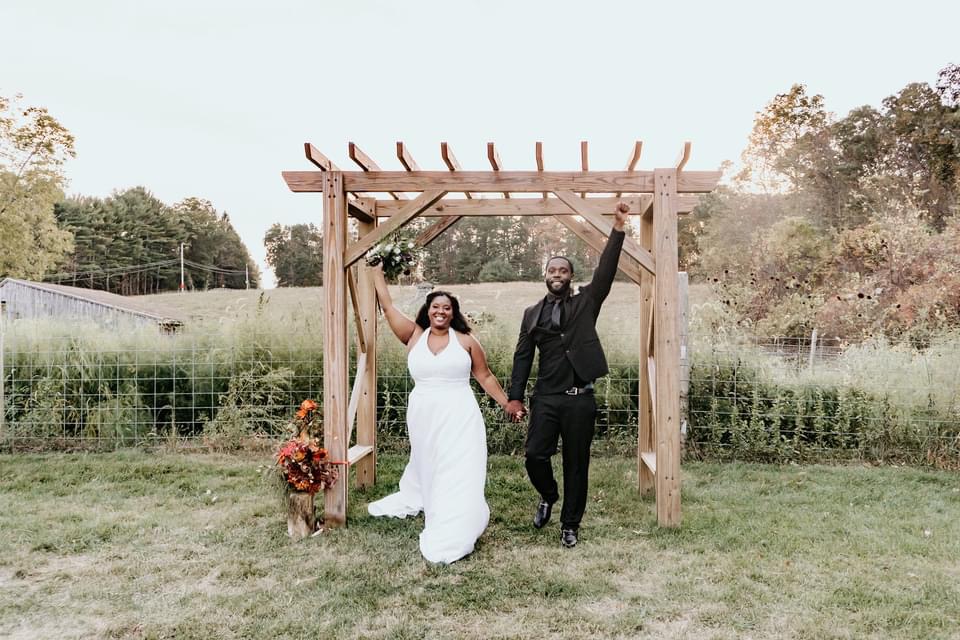 Surrounded by lush hills of green and beautiful gardens, Bluebird Farm is one of the most romantic and rustic farm wedding venues in CT. At Bluebird Farm, each event is unique, as couples have forty acres of canvas to paint a picture for their perfect day. Located along luscious gardens, the venue site includes a renovated 1918 barn with an outdoor deck!. The area is perfect for those who value intimacy and privacy provided by rich rustic, New England charm.
 
7. Herman Mellville's Arrowhead
Pittsfield, Massachusetts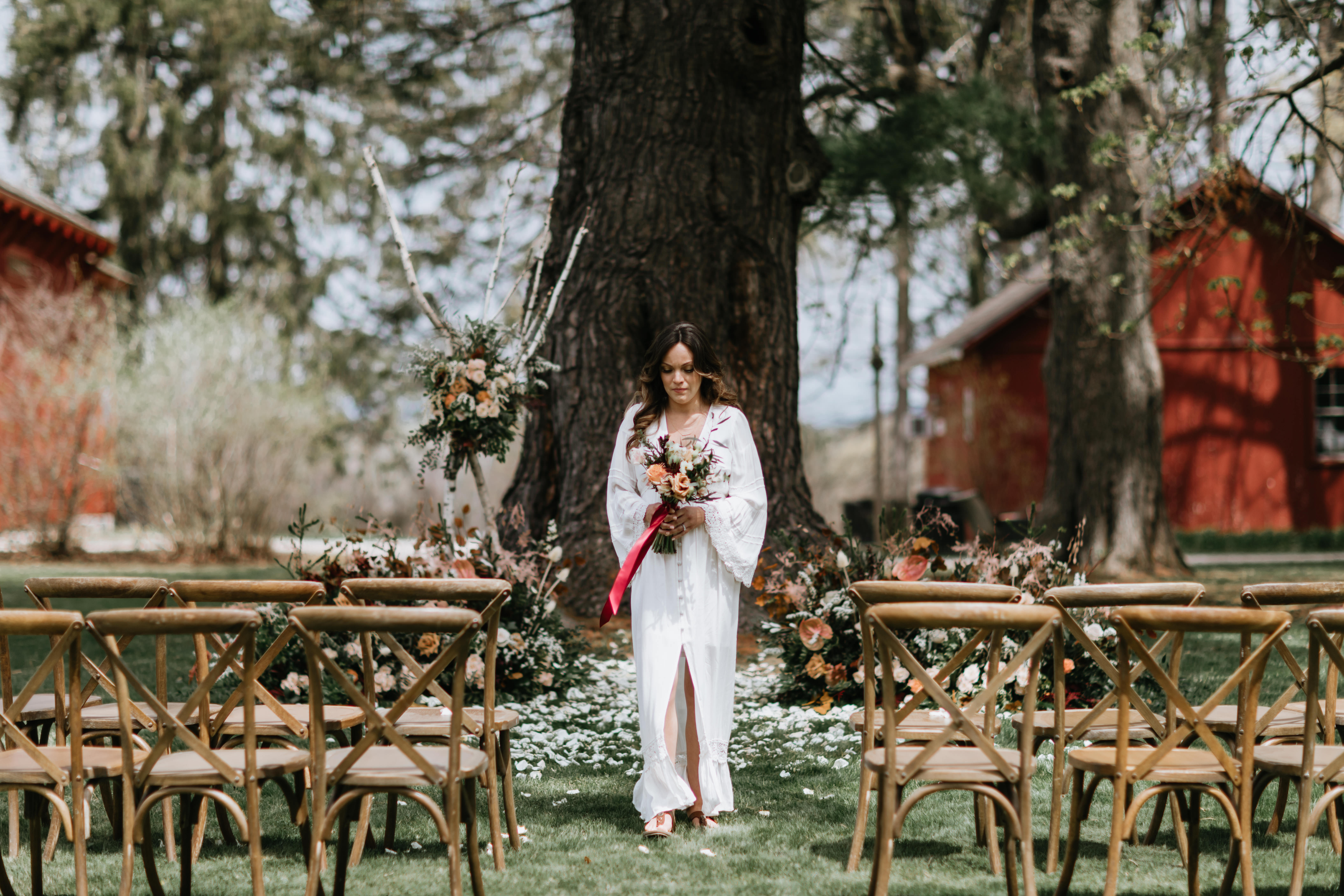 (Chairs: Classical Tents / Flowers: Township Four / Dear Edith and Lily Photography)
 
For history-lovers and bookworms, Herman Melville's Arrowhead is a treasure trove of historical novels, poems, and more—and it is an amazing wedding venue as well. Museum wedding venues are ideal if you're looking for a wedding site that's unique, memorable, and will wow your guests. This historic house museum is home of American novelist Herman Melville, short story writer and poet of the American Renaissance period. Among his best-known works are Moby-Dick; Typee, a romanticized account of his experiences in Polynesia; writer of Moby Dick. The venue includes a barn and lawn, fields, forests and mountain views that you can call your own for your wedding day. The best part is the venue is available for your guests to explore during your event. Herman Mellville's Arrowhead venue is a unique and artsy, yet completely romantic setting for weddings.
 
8. Smith Farm Gardens
East Haddam, Connecticut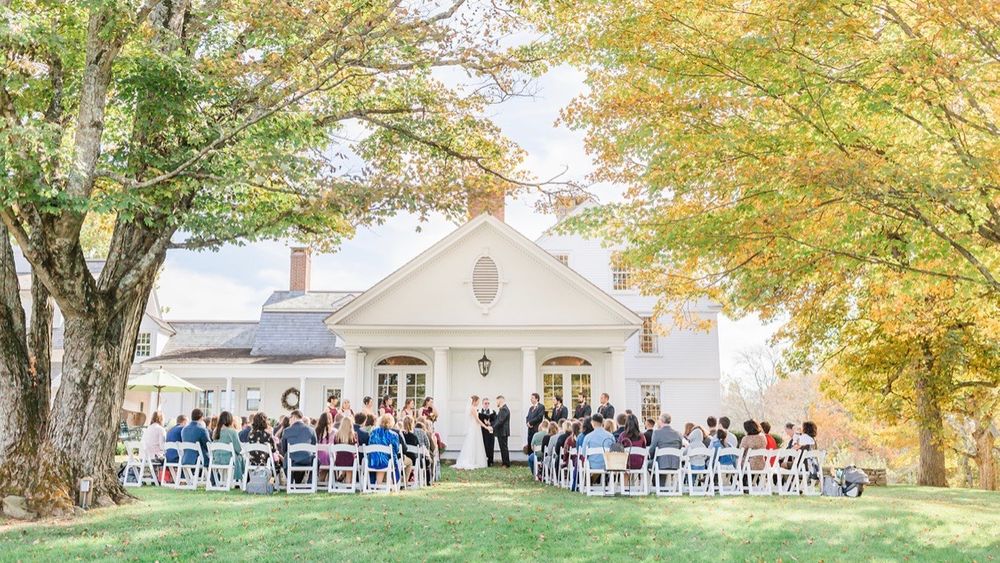 (Elizabeth Rogers Photography)
 
Located in the Land of the Sleeping Giant, Smith Gardens boasts of the region's most prosperous and colorful lands. From vibrant gardens to a pastel colonial home backdrop and gorgeous green forests. The venue is perfect for the couple who wants to enjoy the outdoors in the elegance of timeless New England estate and farm. Cocktail hours by the home (available for rent overnight as well) and ceremony in a quiet corner of the acres of green grass lined by ancient maples. Smith Garden Farms is truly a venue you can make your own. This family-owned and renovated estate is meticulously maintained through true labor of love. From organic vegetable gardens to orchards and luscious green landscapes, this property is a truly one-of-a-kind space with a heartwarming mission at its core.
 
9. Pinnacle Mountain Farm
Lyndeborough, New Hampshire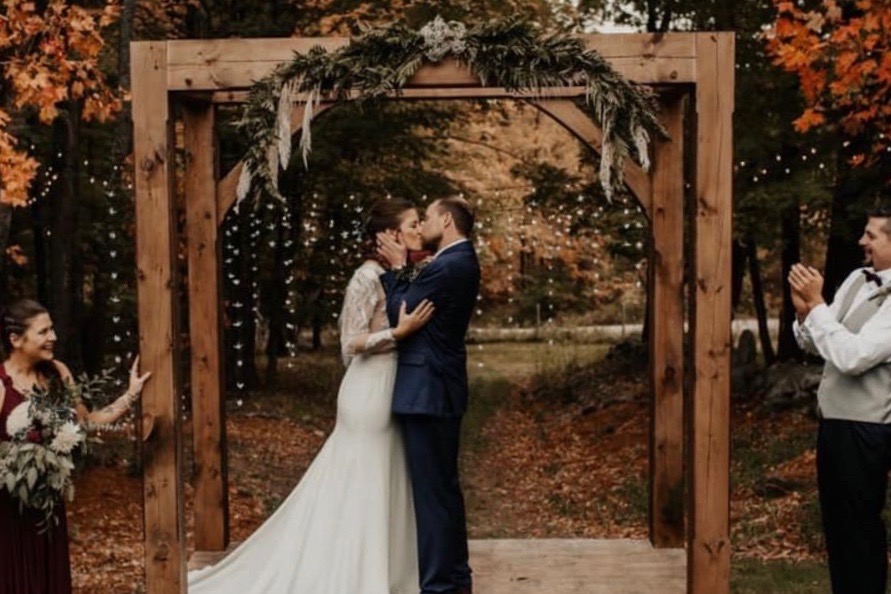 On the sloping side of a rising mountain, the Pinnacle Mountain Farm offers intimate privacy of New Hampshire forest, mountain views, and a classic New England farmstead aesthetic. Emerging from a ride through the tall forests up to this private farm and homestead, guests will be treated to a vista with the New Hampshire mountains in the distance and beautiful wedding reception on a secluded mountain range. There are multiple locations on the property that are perfect for an outdoor wedding. Hold your ceremony on the lawn by the home within the quiet embrace of the oaks and maples surrounding in its veil of New Hampshire forest. Afterward, guests can enjoy cocktails in the sprawling green lawn in front of the barn and farmhouse and then meander down to the reception area below. Couples can set up a tent for the reception within a private riding arena just below the barn and home, accommodating up to 250 guests, featuring mountain views with spectacular fall foliage.
 
10. Apple Acres Farm
Hiram, Maine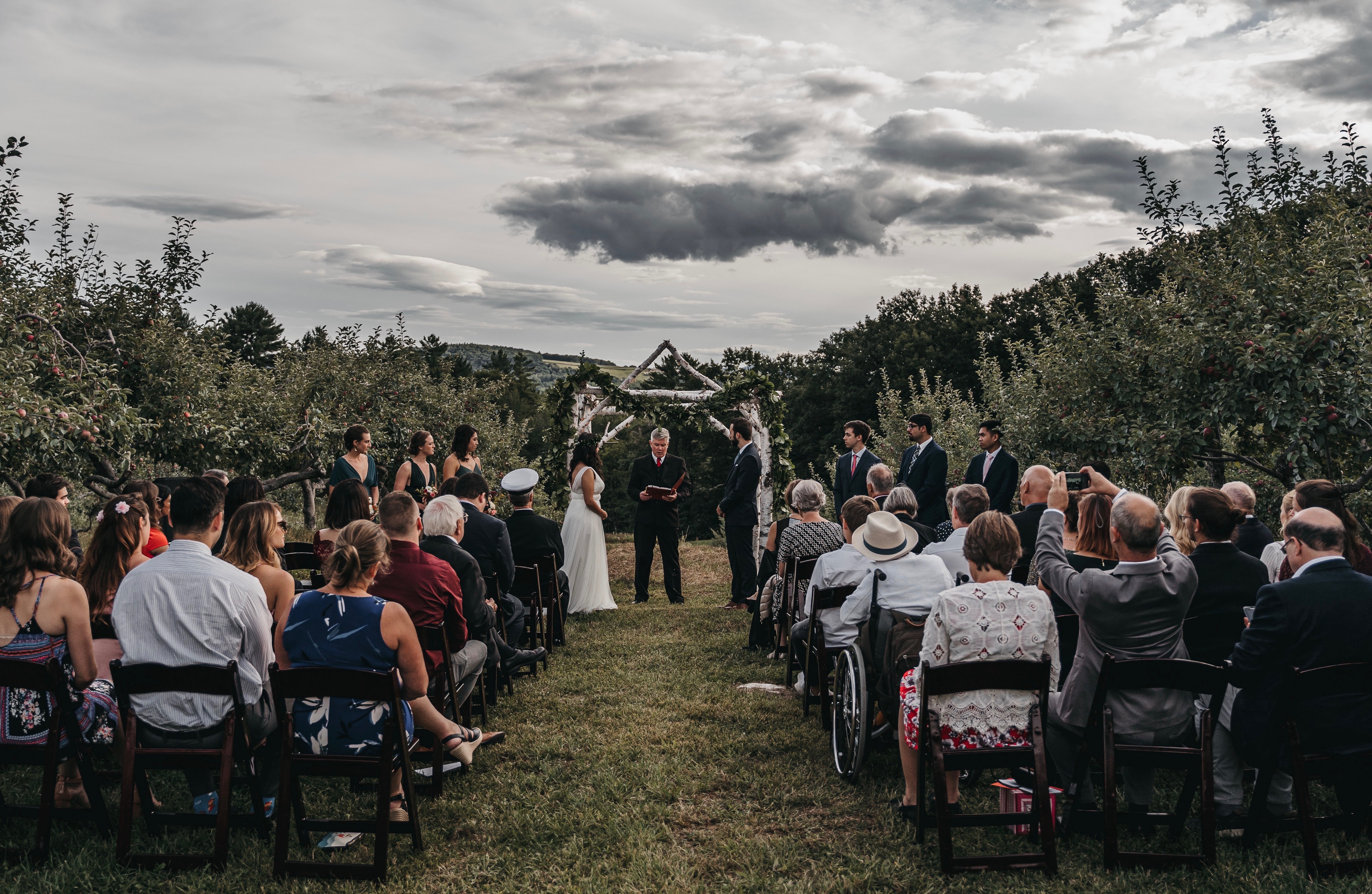 Located less than an hour west of Portland, Maine, Apple Acres Farm is a certified organic orchard and a unique and naturally beautiful location for your wedding. Imagine being surrounded by apple trees, wild clover, butterflies, and sunshine as you marry your true love. As the sun sets in hues of purple and orange, the twinkle lights in the trees illuminate the branches, and your guests enjoy dinner & conversation along rustic harvest tables made from wood from the farm. Apple Acres Farm includes the use of a commercial kitchen, indoor restrooms, and a room and bathroom in the classic farmhouse for getting ready in the morning, as well as 20 harvest tables for seating, gifts, and desserts.
 
Discover more unique wedding venues in New England!