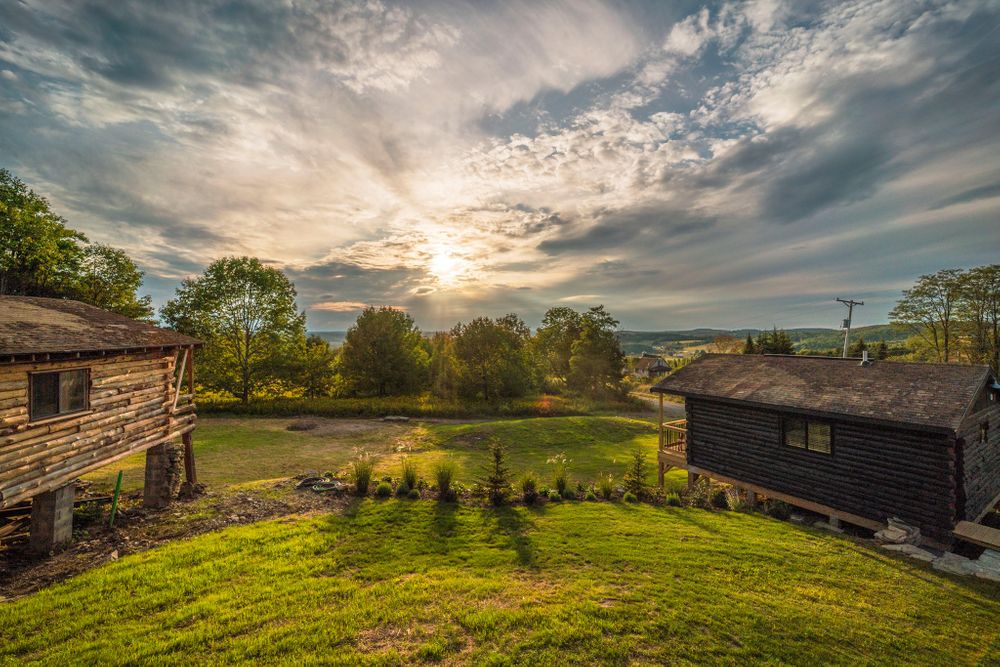 You're Invited
September 22nd, 2023
Camp Bluestone
1290 Stalker Hill Rd
Thompson PA, 18465
Get Directions
Our Story
How We Met
We were somewhere around Barstow, on the edge of the desert when Mark pulled up on his Harley Fat-Boy. He saw Lakota; exhausted, dying for tacos, when he swooped her away on the back of his motorcycle. Traveling East, they passed through city to city, state to state; when finally arriving in New York City. It was there where Mark grabbed Lakota's hand sprinting from museum to museum, conversing of aliens, hallucinogens, and the worlds mysteries. Ending their night at Los Tacos in Chelsea Market, where their love for food soon transitioned into love for one another.
The Proposal
A couple of months prior, friends of ours were planning to get married in Mexico and invited us to celebrate. During this time, Mark was secretly starting to masterfully plan the proposal. With Mexico being one of Lakota's favorite places (unlimited tacos + beer, I mean like come on) he figured it would be the perfect spot. Slyly, he was able to hide it from Lakota up until the moment it happened. He went so far as to hiding the ring in a pill container of which when we would walk around and go places, he would store in the hotel safe. Lakota remembers seeing it and thinking, "I guess he really doesn't want them to steal his supplements I guess."

The proposal happened in Tulum. We booked the sight tour the night prior and while skimming through places to go, Mark was adamant about going to the see the ruins as he had a specific spot in mind. While we both have been to the ruins prior, we both agreed the famous viewpoint in Tulum was a view hard to beat. We approached the viewpoint which was surrounded by tourists. When looking over towards it, Mark's only comment prior to proposing was, "Damn it, there is seaweed!" (Lakota thought it made the scene better). Mark then handed the phone over to two fellow tourists on the guided tour and asked to take a photo of us in front of the view point. While Lakota shuffled ahead of Mark, she heard Mark very kindly say, "Kitten?" Only for her to turn around and Mark be on his knees with ring in hand. He simply asked, "Will you marry me?" and what was a mix of Kim Kardashian ugly cry and murmurs Lakota said yes. Mark held her as she balled her eyes out as all the tourists around clapped and cheered but because Lakota made absolutely no sense they still didn't know what she said until she got the strength to shake her head yes. The two tourists who were taking the photos screamed because they didn't know what was happening and after we both walked over to get out of everyones way, they yelled at Mark and said, "SHIT, YOU COULD HAVE TOLD US!" Right after, Mark and Lakota ate tacos, were blessed by a shaman, then biked through a human sacrificing village during a thunderstorm.

The best part of this whole story, is in the typical gentleman manner Mark reached out to Lakota's father to ask for his blessing. Years back, Lakota shared her contact of her father with the name "Papa Gambill" in her phone. The morning of the proposal, Mark assumed that the "Poppa G" in his phone was well, Lakota's Dad from that memory and NOT Ron Garey aka "POPPA G". Mark texted a long, beautiful text talking about how he felt about Lakota and how he would love Lakota's Father's permission to ask her hand in marriage. Only to get a text back from Poppa G with something along the lines of, "uh okay good luck." Mark laughed about it and quickly texted the correct "Papa G" only for the real one to be thrilled. Before we left for the tour, Lakota noticed Mark was randomly laughing and asked what he was laughing about and mark replied, "I can't tell you now.. but this will be funny later."