The Setting
A new event venue coming to the Las Vegas Arts District in the fall of 2023!

Welcome to Renowned Events - an excellent option for your special occasion. Our event space offers a blend of versatility and elegance, creating the ideal environment for mid-sized gatherings. Our location, situated between the Las Vegas Strip and Downtown, offers easy access to the city's top attractions while providing a more private and intimate setting for your event.

Our space offers endless possibilities for creating a unique experience for your guests. With a modern, industrial aesthetic, our venue is a blank canvas that can bring your creative vision to life. Whether you're planning a wedding, a private party, or a company meeting, our event space can be transformed to suit your needs. Our venue can comfortably seat up to 100 guests or provide standing room for up to 150, depending on your layout. Additionally, we offer flexible rental options, including morning or evening time slots and full-day rates, to cater to your schedule and event requirements. With all-day access to the venue, you can effortlessly manage a more elaborate setup.

At Renowned Events, we're committed to making your event seamless and stress-free. Our experienced event professionals will work closely with you to ensure an unforgettable event, from concept to execution. Our open vendor policy allows you to work with your preferred vendors, but if you need recommendations or assistance with event logistics, we're dedicated to providing the support you need to ensure a successful event. We understand that attention to detail is crucial to the success of any event, which is why we're always here to help.

We take pride in providing you with the best possible experience throughout the planning process. Our passion for what we do drives us to constantly improve our services and exceed client expectations. Our numerous five-star reviews across multiple platforms demonstrate our commitment to exceptional service. We strive to provide every client with extraordinary service, no matter the size or scope of the event.

Located in a vibrant area, our venue is surrounded by various restaurants, bars, and coffee shops within walking distance. This makes it easy for your guests to find a bite to eat or grab a drink before or after your event. Our location is easily accessible from the I-15 off the Charleston exit, ensuring convenience for your local or out-of-town guests.

If you're looking for a versatile, elegant, and easily accessible event space in Las Vegas, look no further than Renowned Events. Contact us to learn more about our services and how we can help make your event unforgettable. We're excited to work with you to create a unique event that matches your vision. And if you require a smaller venue, please visit our other space, STE150.Com. We look forward to hearing from you soon!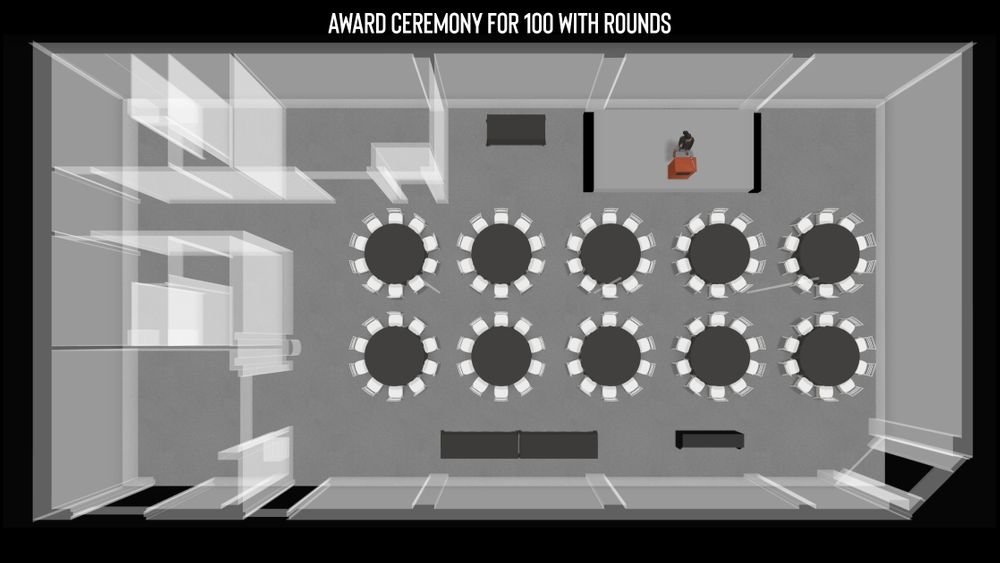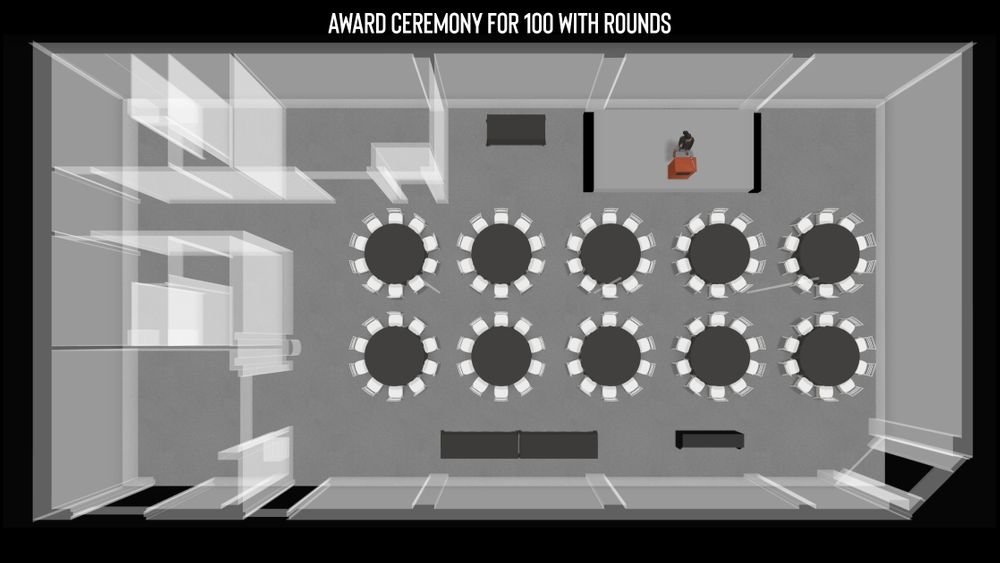 Venue Rental Policies
Outside Vendors:

Allowed -

Clients are welcome to bring their own vendors to help bring their vision to life.

Rehearsal Dinners:

Allowed

Open Flames:

Not Allowed

Outside Catering:

Allowed -

Outside food catering is allowed by licensed and insured caterers. They're welcome to use our prep kitchen area for their needs. However, we do not offer a commercial kitchen. Therefore, there is to be no on-site cooking. We recommend a buffet set up for events with more than 30 guests. Aside from a licensed caterer, only store-bought food/beverage items are permitted. A single food truck is allowed. You or the food truck company you hire are responsible for securing the parking space for the food truck to park. We offer two cones that you can use for this purpose.

Outside Alcohol:

Not Allowed -

All alcohol for the event must be purchased from Renowned Events. No outside alcohol is permitted. All packages include a full-service bar with a bartender, plastic ware, ice, and all appropriate barware.

Smoking:

Not Allowed -

There is no smoking of any kind allowed in our space. This policy also applies to e-cigarettes or vape pens.