Introducing Our New Brand: Weven
Today, Mayflower Venues becomes Weven.
Weven venues put client experience first. Our venue partners care about hosting the best wedding possible for each client, we have seen this firsthand with more venues than ever running their business using our venue management system. That's why they invest in Weven's online tools, to support clients when and where they need them.
Every couple who books a Weven venue gets a free custom planning account to easily stay on track with planning, coordinate with their venue, discover vendors, build a wedding website and more. Weven is "your venue and everything for it." But don't just take our word for it, hear what couples using Weven are saying...
Weven has truly helped us become more organized and figure out what is needed. The built-in vendor recommendations have also been extremely beneficial. We are excited to get to the "fun stuff" and put together the wedding website we get!!
Erica, Weven Bride
Weven's online planning tools mean less phone tag and fewer emails and voicemails for everyone! Because Weven's venue-specific tools reduce this back-and-forth and guide couples through the logistics of planning, venues give it to their clients for free. That's a win-win if we have ever heard one! As one host said...
Weven makes wedding planning so manageable by keeping all wedding business in one place. Our couples can easily correspond with us. No more hunting through emails. All the messages, wedding details, vendor information, documents and details are right at our fingertips.
Laura, Josias River Farm
So Why "Weven?"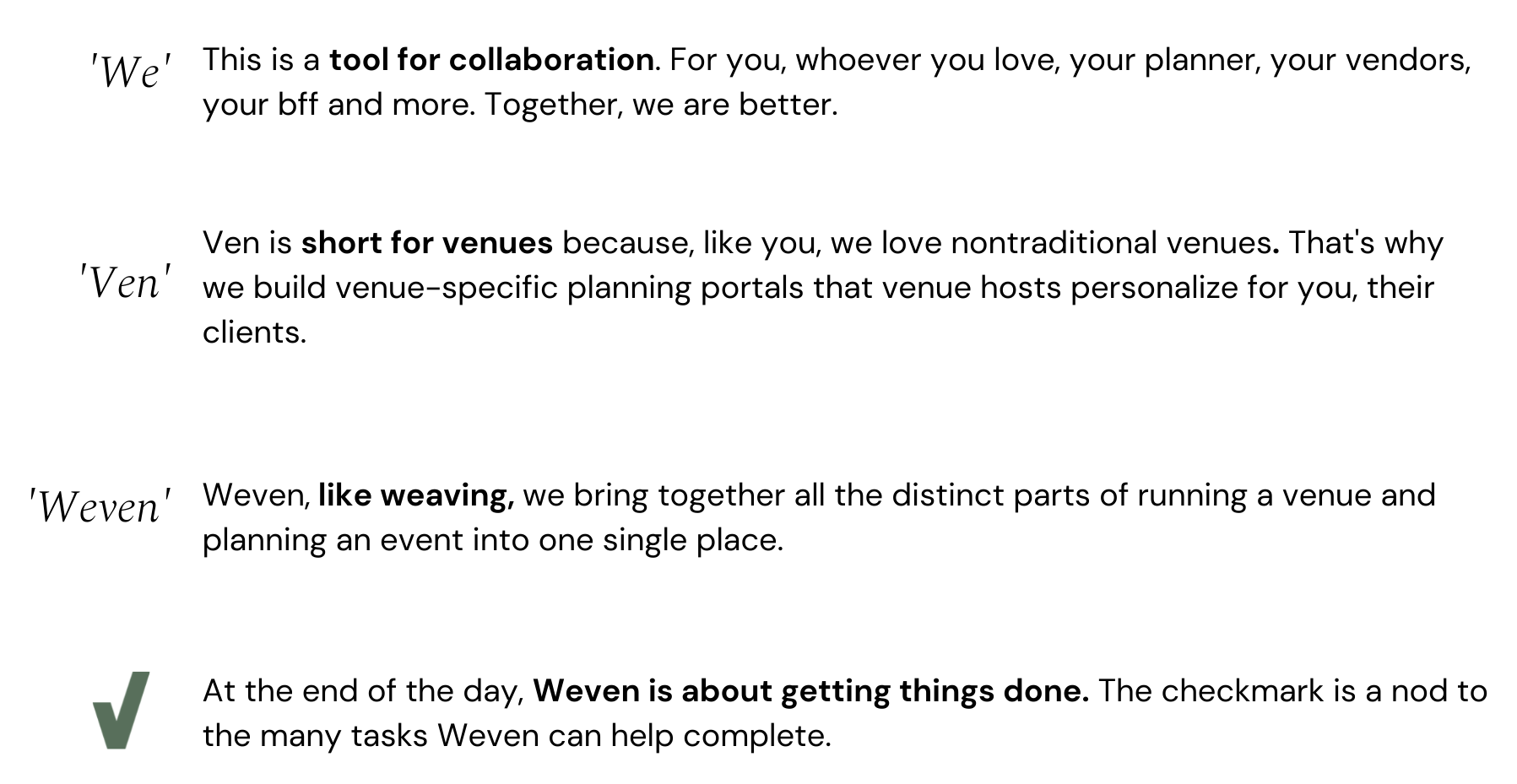 We believe Weven better reflects our goal of helping venues and their clients plan and host the best wedding possible. We are your venue and everything for it.
Happy wedding season!
The Weven Team